I'm often struck by how young Olympians are and how much they've been able to accomplish. Take Toronto swimming sensation Brittany MacLean for example. The 18-year-old made it all the way to the 400-meter freestyle finals in London and placed 7th overall. Not bad for her Olympic début. I wonder how many hours MacLean has spent in the pool during her short lifetime. At her age, chances are she'll spend the better part of her 20s training for several more appearances on the world stage. When she finally does throw in the towel, she'll still be young enough try something new. With her level of discipline, I wouldn't bet against her repeat success.
Kia Byers, a five-time World Cup medalist and two-time national record holder for canoeing and kayaking, found herself at her career crossroads sooner than anticipated.
The 24-year-old Regina, Sask. native made paddling a priority her entire adult life, even though—in the back of her mind—she knew that eventually she'd need a post-sport career.
Last October, after 15 years of intensive training, Byers suffered a major back injury. The blow came just one day before she was supposed to fly to Guadalajara, Mexico to represent Team Canada at the Pan Am Games. Suddenly she needed a plan B.
"It wasn't until I was injured and paddling was gone that I truly tried to figure out what that might be," Byers said.
With her surgery scheduled for January and funding from Sport Canada about to run dry, Byers entertained at least seven different career options including law, political science, education and botany before finally settling on broadcasting.
"It was emotional, but it certainly made me stronger and showed me how to appreciate the opportunities that we're given," she said.
As a carded athlete, Byers was used to living on a tight budget.
"You have to budget because, living in Saskatchewan, it costs a lot to travel (to events). I could support myself, but it wasn't enough to be able to live all on my own."
Byers now plans to pursue a broadcasting career and competitive kayaking at the same time. Kick-starting two separate careers has forced Byers to get creative and stretch every dollar even further.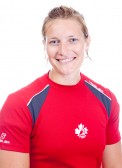 The University of Saskatchewan, where she'll be attending in the fall, doesn't have a kayak team so she'll have to train on her own.
While in training, eating alone costs her roughly $100 per week.
Her coaching job at the Saskatchewan Canoe Club, a bursary from the Investors Group Amateur Athletes Fund and a tuition grant from Sport Canada has to be enough to cover both her schooling and her rehabilitation.
"The money I'm making now I'm not really spending, I'm hoping it will carry over to help me through." She puts away roughly 10% from each paycheque and contributes only what she can to the mortgage that she shares with her fiancé.
"It has to be a conscious effort to try and save money because there is not a lot left over after all the regular life costs get paid for," she said.
Byers may have been sidetracked by her injury but not stopped. If anything, it made her more determined as an amateur athlete and future broadcasting professional.
"I hope to return to full form in terms of kayaking and compete again for Team Canada," she said. "When I hurt my back and paddling was not an option it made me realize that I need to work towards what I can do after sport a little bit harder."