Hooked on debt. It's an apt description for the rising debt-to-income levels currently seen in Canada and a new survey by Manulife Bank highlights there's a high price to our debt dependency—a cost that goes far beyond the low interest rates you see posted online.
Impact on those approaching retirement
One of the biggest contributors to our increased debt-load are rising housing costs. These increased shelter costs make it far more difficult for homeowners to balance paying down their mortgage, while saving for retirement and managing day-to-day expenses, explains Rick Lunny, president and CEO of Manulife Bank of Canada.
According to the new Manulife Bank Canada survey, 37% of homeowners were "caught short" at least once in the past year—meaning they didn't have enough money to cover their expenses. Worse, only 40% of Canadians are confident that they are saving enough for retirement. "For many, not saving enough means relying on their home equity as a significant portion of their retirement package," says Lunny.
According to the new Manulife Bank Canada survey, more than a quarter of homeowners predict their home equity will comprise 80% or more of their household wealth at the time they retire—and almost a quarter of those surveyed were already in their fifties. This information is supported by numbers from Statistics Canada information, which shows half of Canadian homeowners aged 50 to 59 still have mortgage debt, though that number drops to 25% between ages 60 to 69.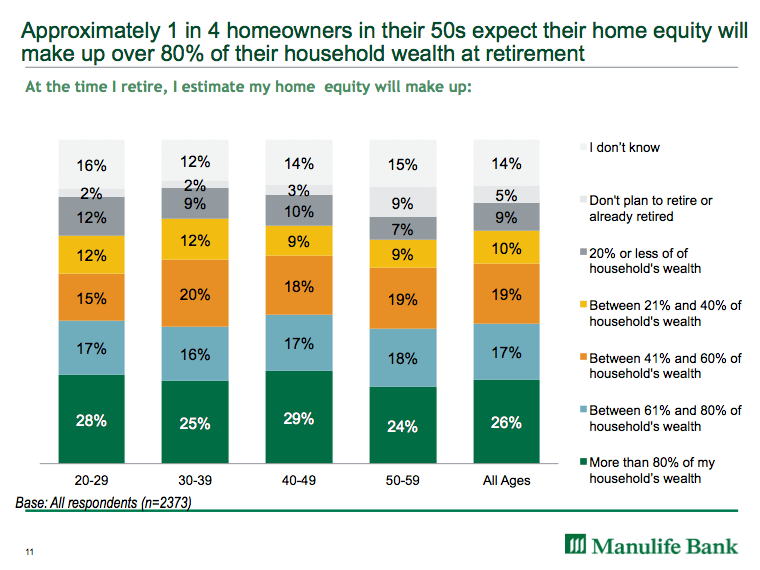 "Our research has consistently found that becoming debt-free is among the top financial priorities for Canadian homeowners, says Lunny. But with stretched budgets and rising housing costs, these homeowners must find a balance between debt repayment and saving for retirement. "So they don't end up house-rich and asset poor," says Lunny.
Why? Because increased debt means some potentially difficult decisions, says Lunny. Those with significant equity in their home and insufficient retirement funds could opt to: retire later than originally planned, accept a lower standard of living in retirement, downsize to a less expensive home, or borrow against their home equity to pay bills and fund their retirement.
Impact on homeowners
Appreciating home values may explain why some Canadians aren't able to weather major expenses. The housing market has been a major driver of economic growth across the country in the last decade and this nurtured consumer confidence in taking on household debt. But this appears to be coming at the expense of retirement savings and even debt repayment.