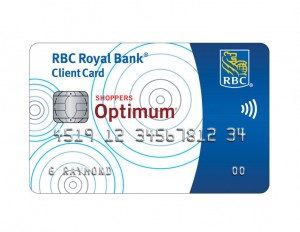 The RBC Shoppers Optimum bank account launches this Saturday. Shoppers Drug Mart/Pharmaprix partnered with the bank to offer debit card holders extra Optimum points. But the bonus points alone shouldn't persuade you to switch from your existing chequing account. Let me explain.
Co-branded points cards are fairly common in credit card land. Consumers are mostly aware of the costs associated with such premium cards, usually in the form of higher annual fees.
Similar to premium credit cards, co-branded debit cards can also come at a cost so it's important to understand your banking patterns.
The RBC Shoppers Optimum account for instance includes unlimited debit transactions and double the in-store Optimum points (20 pts. vs. 10 pts. for each $1 spent). It also comes with a $10.95 monthly fee.
Let's consider that a basic chequing account costs $4 per month at RBC and includes 15 debit transactions. We can assume then that the privilege of having unlimited debit transactions costs account holders an additional $6.95. Fair enough.
If every $1 spent using the RBC Shoppers Optimum debit card earns 20 Optimum points, consumers would have to spend $400 in-store to rack up 8,000 points or $10 off their next purchase. To make up the $6.95 extra you're spending to have the RBC Shoppers Optimum account in the first place, you'd have to earn 5,560 points or spend the equivalent of $278 each month.
Now, if you've been meaning to switch to an unlimited debit account for a while, and shop at Shoppers frequently anyway, the RBC Shoppers Optimum account makes sense.
If however, you rarely exceed your monthly debit transaction allowance and rarely pay the penalties associated with it, the account—or any expensive unlimited account for that matter—may not be for you.
A recent joint RBC-Shoppers poll suggests women in particular are finding debit to be a more convenient way to pay for their day-to-day purchases. Three-quarters of women respondents (76%) typically carry $50 or less in their wallet compared 66% of men.
"We are increasingly becoming a cashless society. Canadians are recognizing that debit is a convenient way to pay and now they can earn rewards points on debit purchases that translate into savings," Wayne Bossert, executive vice-president, Canadian Banking, RBC, said in a release.
Banks are opting to co-brand debit accounts as a way of either luring new customers or cementing loyalty with existing accountholders, said David McVay, a principal at McVay and Associates, a Toronto-based financial services consulting firm.
Roughly 10% of the marketplace switches accounts in a typical year, he said.
"The play is 'how to do we get preferred position among the switching market?'"
To date, only two other major banks have teamed up with retailers on co-branded chequing accounts. Scotiabank partnered with Cineplex Odeon on the Scene ScotiaCard and earlier this year BMO began offering a special no-fee chequing account with bonus Air Miles exclusively to Sobeys members. (PC Financial is a unique case because its parent company, Loblaw Companies, actually set up bank as opposed to partnering with an existing one.)
Here are some other key things consumers should know about the RBC Shoppers Optimum account:
– Earn 10 extra Optimum points for every $1 spent at Shoppers/Pharmaprix on top of existing points offers
-Earn 1 Shoppers Optimum point for every $1 spent at retailers other than Shoppers Drug Mart when you use your RBC Shoppers Optimum debit card
– Earn 50,000 bonus points for setting up automatic payroll or pension deposits to the new account and complete two online bill payments
See RBC's website for more information the RBC Shoppers Optimum card.
MoneySense recently wrote about how to maximize Optimum points.
The RBC-Shoppers survey was conducted by Ipsos Reid between Feb. 21 and 27, 2012 via a random sample of 1,013 Canadians. A survey with an unweighted probability sample of this size and a 100% response rate would have an estimated margin of error of ±3.1 percentage points, 19 times out of 20.