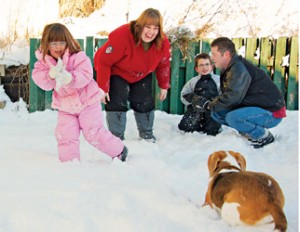 With a little more than 25 centimetres of snow covering my hometown's streets (I live in Toronto) and an even stronger snow storm that plowed into the Maritime provinces over the weekend, I was left wondering what kind of person braves this type of nasty weather to search for their dream home.
Typically, winter is not a popular time to sell or buy homes, but it could be a smart decision.
The single best reason to go shopping for your dream home when the snow hits the ground is that, historically, homes sell for less in December/January than at any other time of the year. Prices are typically 1% to 6% lower in the winter months than in the summer months of June and July, according to the statistics from the Canadian Real Estate Association (CREA).
It was a financial risk a couple we'll call Doug and Tania took last year when they opted to put in an offer on a solidly built semi-detached in an up-and-coming neighbourhood just east of the Toronto Hunt Club. After bidding and losing a few homes in the Leslieville area, the young couple moved further east and quickly fell in love with the wood wainscoting of the two-bedroom home that was only a stone's throw away from the lake. They put in an offer just a tad less than the $375,900 asking price and, with no other buyers nibbling, officially got the home of their dreams on Dec. 23, 2011. Less than six months later homes in the area were selling for more than $400,000.
Waiting to buy in June could cost you an extra $3,500 to $21,000 on a home listed for $350,000 in December, the CREA stats suggest.
Don't assume, however, that as soon as the snow hits the streets of Halifax that prices will drop in White Rock, B.C. (a community south of the booming Vancouver metropolis). A price reduction based on weather really depends on how severe the weather hits a geographic area, explained Helen Hutton, a senior analyst with the Canada Mortgage and Home Corporation (CMHC), in an earlier interview.
Still, if you're buying during the November/December/January months you can often see some sort of price reduction regardless of where you live.
There is another advantage to buying in the winter months: less competition. But this is a double-edged sword as there is also less selection during the lean days of winter.
Sellers can also take advantage of winter—particularly if they have a less than desirable or a unique property.
Sell in the winter and you may not have questions about the roof or foundation, simply because buyers and home inspectors can't these features through all the snow. (That said, a good home inspector should be able to alert you to potential problems.) Also, less foliage can often mean more light, which can give your home a bigger, brighter feel to prospective buyers.
For the seller, then, it's about understanding whether your home will stand up to the competition that usually comes in the spring and deciding whether to take your chances on the winter bargain hunters.