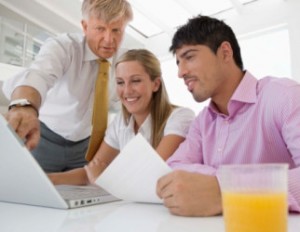 Fanatics do their net worth statement as often as every month. Ostriches have never done a net worth statement  For everyone else, doing a net worth update every six months or so will suffice. However, if you need the motivation to keep saving, by all means check how you're money is growing more often.
There are several net worth calculators on the web, including this one here at MoneySense. Find yourself one that you like and plug in your numbers. You might also want to create your own net worth statement if you're adept at using a spreadsheet so you can keep track of your improvements over time.
People routinely include their "personal effects" as an asset. Do yourself a favour and don't bother. These aren't very saleable and you're just deluding yourself if you give your stuff more value than you could ever realize from selling it.
On the liabilities side of the equation, don't forget to include your overdraft (if you're in it),  buy-now-pay-later purchases on which you still owe money (even if it isn't due yet), back taxes, money you've taken from your RRSP to buy a home or go to school, and (heaven forbid) pay advance loans.
While your net worth isn't the be-all and end-all of your life – it can't measure your job satisfaction or your overall sense of contentment – it is a great tool for tracking where you've been and where you seem to be going. There's nothing like the black and white of the numbers to make you really pay attention. After all, the numbers don't lie.