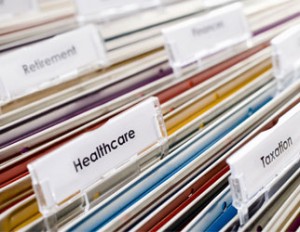 We were lied to. I don't know about you, but between investment accounts, bank accounts, credit card statements, and the millions of other pieces of paper the mailman delivers to my mailbox, I am swamped.
Deciding what to file and what to fling boils down to a couple of things:
• Are you likely to need it again as a reference?
• Are you obliged to hang onto this piece of paper just in case someone official starts asking questions?
If the answer is yes to either one, the item gets filed. If not, it joins the ranks of the shredded.
Your home:
File real estate paperwork and mortgage contracts. Toss everything but your most recent insurance documents. File all records relating to home improvements, repairs and additions. Keep six months' worth of utility bills and fling the rest.
Your stuff:
File the warrantees that came with household appliances or electronics. Fling 'em when they expire.
Your vehicle:
File the most recent version of your car insurance along with a copy of your car registration and ownership. If you can write off automobile expenses on your tax return, file every single itty-bitty receipt for gas, oil, repairs, license fees, and parking.