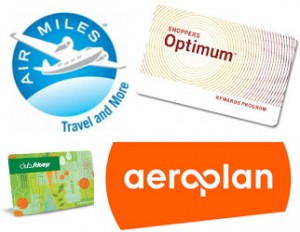 Are you sitting on a mountain of used loyalty reward points? Whether you are collecting points for travel, gasoline, groceries, merchandise or other perks you may find yourself in a frustrating use 'em or lose 'em type scenario. That's because not all loyalty programs allow you to leave points to loved ones when you die, or even gift them to friends and family while you're alive for that matter.
The chart below details whether the some of the biggest loyalty programs in Canada allow you to share your points, under what circumstance and at what cost. We used LoyaltyOne's research on inheritances as a jumping off point, adding additional loyalty programs, points transfers for reasons other than death and options to donate as part of our findings. Hopefully it will help you plan ahead so your hard-earned points don't go to waste.
It's also worth mentioning that even if a program offers free transfer of points upon death, it might not do so automatically. In most cases, a copy of the death certificate is necessary so check with the provider. We also found that, in most cases, points are not divisible in the event of divorce and sometimes points in inactive accounts expire completely after as little as 12 months.
Program
Transfers points upon death
To whom
Fee
Transfers points at any time
Fee
Facilitates points donations
Air Miles Reward Program
Yes
Heir
None
Yes
15 cents per mile
Yes, to select charities
AIMIA/Aeroplan
Yes
Spouse, then heir
2 cents per mile
Yes
2 cents per mile
Yes, to select charities
WestJet Rewards
Yes
Heir
None
Yes
$20-$30
No
Esso Extra




Yes
Heir
N/A
No
N/A
Yes, to select charities
Petro-Points
Yes
Any Petro-Points account
None
Yes
None
Yes, to select charities
Shoppers Optimum
No
N/A
N/A
Yes
None
Yes, to select charities
HBC Rewards
Yes
Heir
None
No (except to same address)
None
Yes, to select charities
Club Sobeys




Y

es

Heir
None
Yes, to a max of 15,000 at once
None
Yes, to select charities
Scene
Yes
Heir
None
No
N/A
No
Best Buy Reward Zone
No
N/A
N/A
No
N/A
No
Plum Rewards
No
N/A
N/A
Yes, min 1,500 points
None
No
There has been a proliferation of loyalty programs in Canada in recent years. A whopping 92% of Canadians report membership in a least one program, according to the folks at Stocard, a new smartphone app that electronically stores loyalty cards. The average Canadian household is a member of 8.2 loyalty programs, according to the soon-to-be-released 2013 COLLOQUY Loyalty Census.
The numbers would suggest digital assets, including loyalty points, are a new frontier in estate planning. According to a recent study by LoyaltyOne (a company that manages loyalty coalition programs) 84% of loyalty program members surveyed have not considered what would happen to their points upon death and a just 3% have developed a plan, such as a will, to allocate points.
"Our research shows that only one in 10 loyalty program members know that they can bequeath accrued points and miles. These points will go unaccounted for unless Canadians work with their families to develop a points and miles bequest plan," says Carlos Dunlap, director of marketing at LoyaltyOne.