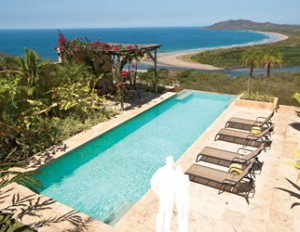 A couple of weeks ago I spoke to a reader who was more than a little concerned over the tactics used by the salespeople at a St. Maarten resort. After a 90-minute tour—and a promise of either a free massage or free dinner—he and his wife were barraged with personal questions regarding their finances and their vacation goals. Throwing out costs and savings—with nothing to back up the assertions—these "hard-nosed" salespeople were trying to convince this reader to buy a $50,000 resort timeshare.
Often, it's these encounters—followed by less than desirable vacation experiences— that give timeshare ownership such a horrible reputation. But the reputation is unwarranted. In fact, a timeshare can be an excellent budget option for vacations, as long as you do your homework.
"Nothing matches the value of a timeshare," says DG Southen, an experienced real estate investor from London, Ont. For the last decade Southen has bought, sold and used timeshares. Southen, and thousands like him, has found ways to make timeshares work as cost effective vacation options.
In the current issue of MoneySense magazine ("Own A Piece of Paradise," June 2013), I touch on the effective use of timeshares, but I want to expand on my coverage. Partly because timeshares are a misrepresented vacation option, and partly to help those interested in purchasing timeshares to make more informed decisions.
What, exactly, is a timeshare?
The idea behind a timeshare is relatively simple. It's an agreement where you share the costs and use of a home, cabin or condo with other people. When you buy a timeshare you are buying the right to use these shared facilities and paying the costs for such rights.
Unlike hotel rooms, and much like resorts, timeshare units offer more than just a place to sleep. Typically they come with full kitchens, are completely furnished, have quick access to indoor and outdoor pools, as well as other resort amenities, such as restaurants, night clubs and even babysitting services.
How do timeshares work?
There are three basic types of timeshares: right-to-use, fee simple, and a point system or vacation club timeshare. The rules are different for each one—and this can dramatically impact the price and resale value of the timeshare (along with other factors that I'll get into later).
Right-to-use timeshares are contracts to lease a property, usually for one or two weeks each year, over a set period of time. During this time you are responsible for all maintenance fees and any special assessment fees, should they arise. (Like a condo, timeshare resorts must maintain a property. At times significant repairs are required and to pay for these repairs, the resort will levy a one-time special assessment fee that is shared by all owners of the timeshare resort.) At any time you can rent, give away, or sell your right-to-use ownership of the timeshare.
A fee-simple timeshare, also known as a deeded timeshare, is essentially like buying the property for a specific period of time each year. You will be responsible for the purchase price, as well as annual maintenance fees or special assessment fees, should they arise. You may also need to pay property taxes or other fees although many timeshares now roll these costs into their annual maintenance fees.
Timeshare point systems or vacation clubs allows you to buy points within a resort network. You can then use these points to "purchase" the vacations available within the specific network. The benefit of a point system is that it doesn't lock you in to a specific property and time each year. Instead these points give you access to multiple properties worldwide and some even allow you to purchase flights, cruises or other types of vacations offered within the system.
What will my timeshare actually cost (resale vs. retail)?
According to industry statistics, 50% to 70% of a timeshare's retail price—the price you pay at the resort after listening to a timeshare sales presentation—goes towards marketing. For instance, if, during one of those presentations, you purchased a timeshare for $20,000 as soon as you walked out of the room, the value of that timeshare would drop to between $6,000 and $10,000, if that.
The easiest way to save money, then, is to buy resale not retail. This is how Southen has kept his vacation costs down and his timeshare value up. There are a number of websites that offer resale timeshares, such as Ebay, Tug2.net and Redweek.com.
Next, you'll need to calculate one-time costs and ongoing fees associated with timeshare ownership. For instance, just to finish the transfer transaction you'll pay between $300 and $500 in closing legal costs, plus another $50 to $300 to the resort. Factor in the annual maintenance fee—fees that cover the operation of the timeshare resort—fees you must pay even if you don't end up using your timeshare. These fees range from $300 to $2,000 (or more) per year depending on the resort, destination and luxury level you've bought into.
You should also be aware of special assessments. Southen went through this with a timeshare he owned in Whistler, B.C. The resort required additional structural repairs and, like a condo, each timeshare owner had to foot the bill. Southen got off lucky. He, and all the other owners, only had to pay $1,000 each to cover the repairs, but it could've been worse. To avoid these unexpected costs call the resort property manager and ask when the last assessment took place and when the next one is scheduled to take place. If the resort waits too long between assessments—more than five years—then, you as an owner, may end up with a hefty one-time maintenance bill.
Where do I start my research?
Start with a pen and paper and make a list of all the amenities and destinations that would suit your family best, along with your ideal times for taking these vacations.
Then start checking the online auctions to see what prices your ideal choices are selling for in the current resale marketplace. "Don't bid on anything, just watch," advises Southen. "You won't miss anything, because there's always another good deal."
At this time also watch and learn how specific auction sites work. For instance, sellers on Ebay can choose to end an auction early, and sell to the highest bidder, once they've achieved a set bid price. Other auction sites won't allow "snipe" bids—bids made in the last minute or so. For instance, Redweek.com will add another 30 minutes to the clock for every "snipe" bid made within the last 10 minutes of the auction.
As you research you may find that some of your top choices are just too expensive for your budget. For example, a two-bedroom, ocean front villa in Myrtle Beach you have your eye on will start at $14,000. Despite the sticker price, any veteran timeshare owner will tell you this is an excellent deal—it's a vacation area that's always in demand and retains its value. But it may be a bit pricey for the budget conscious vacationer. Instead, you could pick up a great two-bedroom at the Sheraton Desert Oasis in Scottsdale, Arizona (which recently sold on Ebay for US$2,000), or a two-bedroom, ocean front, every-other-year timeshare at the Pahio Kauai Beach Villas in Hawaii (which recently sold on Ebay for US$1,300).
The key to getting a good deal is to watch the auctions, learn the system, and do your homework, says Southen. Then match what you've learned with what your family needs and wants and you won't end up overpaying.
Part 2: Get to know the lingo