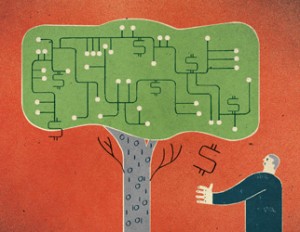 Marc Seeman has long been enamoured with tech stocks. The Toronto-based IT manager started investing in them during the tech craze around the turn of the millennium, and still keeps a large portion of his portfolio in the sector. "I have always been fascinated by young companies focused on building new things—companies with a new or better widget," says Seeman.
He's prized these companies for their growth potential, so when the odd one started paying dividends to shareholders rather than using all available dollars to fund growth, he usually concluded they had passed their innovative prime. "As soon as a company like Microsoft moves to paying a dividend, it fundamentally changes in my mind," he says. "It's not part of my cool, growth technology portfolio."
However, the rules of the game are changing as the sector matures, and a growing number of tech companies promise both growth and yield. In fact, one of the companies Seeman invests in—cloud communications firm j2 Global—began paying money to shareholders last year. "It's a small dividend and they are still reinvesting in the business, but they had so much cash they had to do something with it," says Seeman. "They are innovative and I am going to continue to hold it for a while." Seeman, who is 50, expects his interest in dividend-paying tech stocks will grow when he reaches retirement and needs steady income.
While some tech companies—such as Intel, IBM and Microsoft—have paid dividends for years, more are now joining the fold. Oracle started paying a dividend in 2009 (yield is 0.77%; all figures were current at press time), and Cisco started paying one last year (3%). In August, mighty Apple started paying a quarterly dividend of $2.65 per share (for an annual yield of about 1.57%). That makes it one of the largest dividend payers in the U.S. in dollar value per share.
Does this mean these companies are past their prime, destined to be left in the dust by younger, more nimble companies that are using their war chests for R&D? Not necessarily. Big names like Intel, Microsoft and Cisco have billions on their balance sheets, with plenty of money to pay a dividend and cash left over for acquisitions and development of new products. However….—Edward Trapunski
To continue reading Edward Trapunski's full article "Income gushing tech stocks," including sections on using tech stocks in your portfolio, how to pick a tech stock and the full list of tech stocks with the highest dividend yields, download the Retirement 100 | Fall 2012 package. The download includes a spreadsheet of Norm Rothery's top dividend-paying stocks. Or pick up a copy of the November 2012 issue of MoneySense magazine on newsstands now through mid November. You can also buy digital editions of the magazine for the iPad. "Income gushing tech stocks" is also featured in the MoneySense Guide to Investing in Stocks, available starting Nov.5.
Edward Trapunski is the author of three books, including The Secrets of Investing in Technology Stocks, which reached #1 on the Financial Post best-seller list.