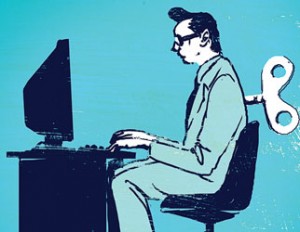 More than half of Canadian baby boomers have started or considered starting a small business prior to retirement, a new TD survey shows. What were the top reasons cited for launching a boomerang career? The chance to make more money (53%) and having a personal sense of achievement (50%). Re-branding in retirement can come at a cost and older workers seem very well aware of this. Forty-two per cent of potential older entrepreneurs said they're worried about securing finances and 38% are concerned about taking on additional debt.
Even the International Monetary Fund is worried about debt levels in Canada. "A sharp or sustained decline in house prices could seriously set back the leveraged household sector and domestic demand," the IMF said.  Head over to Canadian Business to see what else the IMF sees in its crystal ball.
Expecting a new baby or know someone who is? MoneySense contributor and the brains behind Squawkfox, Kerry K. Taylor, created this newborn essentials checklist designed save money by outlining only the baby basics.
Extra! Extra! The November issue of MoneySense magazine hit newsstands Monday. Pick it up for the complete Retirement 100 featuring Canada's top dividend-paying stocks.