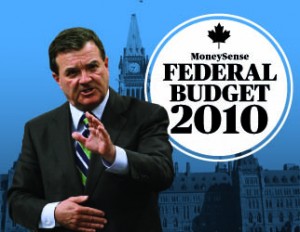 Budget 2010 had to walk a fine line between deficit control and economic stimulus, but Finance Minister Jim Flaherty hasn't reneged on his 2009 promise to deliver $3.2 billion in personal income tax relief.
The continued relief — resulting from changes to tax-bracket thresholds, the basic personal exemption and other items in the 2009 budget —  is welcome news to families, and, with the notable exception of the renovation tax credit, concessions granted to families and individuals in previous budgets (such as the First-Time Home Buyers' Credit) have emerged unscathed.
To begin taming the deficit, the budget proposes a number of initiatives aimed at closing tax loopholes. Many of them apply to businesses but there is some spill over to individual taxpayers — especially, as noted below, those dealing with the medical expense tax credit and employee stock option plans.
Let's now review the new measures announced in Budget 2010.
RDSP revamped
The government plans to amend the Registered Disability Savings Plan (RDSP) . The rules allowing the rollover of a deceased individual's Registered Retirement Savings Plan (RRSP) to a surviving spouse (or to a financially dependent child or grandchild) were extended to permit RRSP rollovers to RDSPs of financially dependent and infirm children or grandchildren. The measure will come into effect for deaths on, or after, March 4, 2010 (for deaths after 2007 and before 2011 special transitional rules will permit an equivalent result). The Department of Finance estimates this revision will save Canadians $20 million in taxes over five years.
Annual contributions to RDSPs attract Canadian Disability Savings Grants (CDSGs) and Canada Disability Savings Bonds (CDSBs). "In recognition of the fact that families with disabilities may not be able to contribute regularly to their plans, Budget 2010 proposes to … allow a 10-year carry forward of CDSG and CDSB entitlements," the budget document says. Tax savings will likely total $175 million over five years, according to the government.
Tweaks to the Universal Child Care Benefit