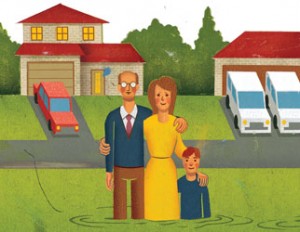 Got debt? Big deal. That's dangerous the attitude being espoused by many Canadians, according to a new poll by bankruptcy trustee Hoyes, Michalos & Associates. This "blasé" attitude has serious consequences. Twenty-six per cent of poll respondents told the firm their debt level is higher today than it was compared to the same period a year ago. And faced with a $2,000 unexpected expense, 92% said they'd likely have to borrow the money. 92%!
Apparently 65% of Canadians polled by RBC think that the average Canadian's financial knowledge isn't very good but 70% consider themselves to be financially savvy. And while most of us agree that financial literacy is important, few of us are willing to take steps to improve our knowledge. The bank's Canadian Consumer Outlook found only 36% of us are willing to speak to a financial adviser, 30% would read newspapers and listen to business reports on TV and radio, 22% would visit websites of banks and investment firms and 13% would consider taking a course. Here's more findings from the study.
There's a new travel rewards credit card program in town. Scotiabank launched three new American Express Cards Monday promising flexible travel points for every dollar spent on gas, groceries and restaurant meals.  According to the bank, the vast majority of Canadians have a loyalty credit card (79%) and that value is paramount. Their study found 69% of Canadians would consider switching credit cards if a loyalty program which better matched their needs or lifestyle became available. Good thing MoneySense has gone through the trouble to rank the country top 100 credit cards. Find out which card best matches your spending habits to maximize your rewards by using our newly updated Credit Card Selector Tool. (Next year, we'll be sure to include these new Scotiabank Amex cards in our study.)
Wealth management firm Canaccord Financial Inc. is closing 16 branches across Canada and sending many of its advisers packing. Email us at

[email protected]

if you're a client affected by the changes.
Canadian Business is predicting Canada's housing market is headed for a crash landing. The argument is pretty convincing.
Want a free copy of the MoneySense Guide to the Perfect Portfolio? Enter below for your chance to win.