Looking to add a bit of razzle-dazzle to your TIFF 2016 experience? Consider splurging for a night at a luxurious hotel.
According to TravelMag.com report that considered the cost of an average night stay in a regular hotel room at select luxury properties in Toronto, the most expensive hotel room is at the Four Seasons, with an average room rate of $697. Of course, go a bit further afield, say King Street West and you can chop a few hundred off the per night cost.
If you do manage to book a room at one of the six luxury hotels listed here, don't expect to find this year's Bask-it-Style in your room. As the official gift basket for the Toronto International Film Festival, Bask-it-Style offers TIFF-attending celebrities various Canadian-inspired gifts.
Once again, A-listers will get to sample Doi Chaang Coffee—a Vancouver-based fair-trade coffee company that helped a Thailand village to pull themselves out of poverty, while producing some of the best coffee in the world (according to Mark Pendergrast). Celebs will also get to wear a piece of Canada's Centennial celebration with a maple-leaf inspired piece from Studio1098. (Read our complete breakdown of the goodies, here).
Even without the gift basket, there's nothing quite like settling into crisp cotton sheets after spending the night with TIFF A-listers. Plus, splurge on a room and you may end up rubbing shoulders with Hollywood royalty as you take the elevator to your swanky digs.
---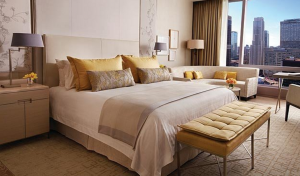 1) Four Seasons Toronto. Ever hear of Yabu Pushelberg? Even if you're not an architecture buff, the 2012 re-opening of this iconic Toronto hotel really set the luxury bar high. With 55 floors, 259 guest rooms, and 42 suites this hotel doesn't disappoint (plus it has an impressive 30,000 square-foot spa). Want to have the ultimate room? Book the Royal Suite. This three-bedroom unit is located on the 21st floor and takes up 3,820 square feet. For those of us with more restrained budgets expect to pay, on average, $697 a night for a room.
Four Seasons Hotel Toronto, 60 Yorkville Ave., 416-964-0411,  fourseasons.com/toronto
---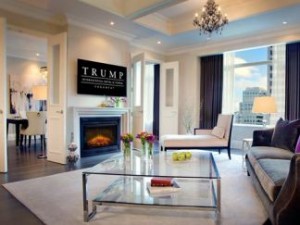 2) Trump International Hotel & Tower. Say what you will about The Donald, but his only Canadian real estate venture has become an anchor property at the corner of Bay and Adelaide. With its safe white, black and champaign colour palette, along with bedside controls for curtains and Nespresso machines. According to Travelmag.com, the property is worth an estimated $500 million and at 65 storeys, it holds the title for tallest Canadian residential building. According to Travelmag.com, average rooms costs were $608, in 2014. The hotel's website lists rooms starting at $650 per night with costs rising to $10,000 per night for a two-bedroom, 2,228-square-foot suite with city view. Trump International Hotel & Tower Toronto, 325 Bay St., 416-306-5800,trumphotelcollection.com/toronto
---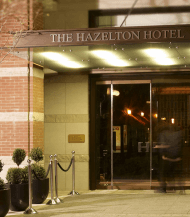 3) The Hazelton Hotel. This Yorkville five-star luxury boutique hotel offers patrons a classy urban stay with easy access to the best the neighbourhood has to offer. Most rooms sit at around the $500 mark during peak season (a potential deal, since Travelmag.com shows average pricing at $485 per night). But to really splash out stay in the 1,860 square-foot Bellair Suite,which will cost you more than $3,500 per night. Of course, for this price you get an LCD television built into the bathroom mirror and an 80 square-foot dressing room with floor-to-ceiling mirrors and two lounge areas—the perfect spot to get dressed for your night out among the stars.
Hazelton Hotel, 118 Yorkville Ave., 416-963-6300, thehazeltonhotel.com
---
4) Sh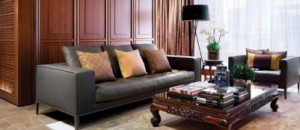 angri-La. If you can get access to one of the private estates above the 66-storey Shangri-La Hotel, located on Adelaide Street, then consider yourself lucky. Rooms boast silk-clad walls, floor-to-ceiling marble bathrooms, automated showers, and absolutely stunning views from glass balconies. But to get a suite at this hotel you may actually need to go on Airbnb. Many suites are privately owned with price tags starting at just under $4 million for a two-bedroom, 2 bathroom, 2,000-square foot unit. If you'd prefer a swank room average rates start at $478.
Shangri-La Hotel Toronto, 188 University Ave., 647-788 8888, shangri-la.com/toronto
---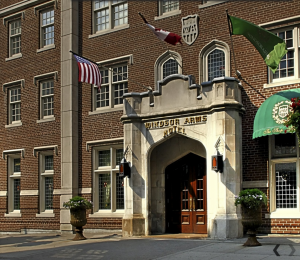 5) The Windsor Arms. For years, the true embodiment of timeless elegance has been the Windsor Arms. It's what we call a grand hotel and it's been a Toronto landmark since 1927. That doesn't mean that the place is dated. It frequently undergoes upgrades and is considered a favourite spot for visiting celebrities. The attraction for the stars is that despite being so close to the lively Yorkville strip, it's still removed—found across the street, a good 30 metres from the hustle and bustle of upscale stores and restaurants. There are 28 newly appointed luxury suites, each with a 24-hour butler service and this hotel actually boasts a staff to guest ratio of 1:6. For a night at this sumptuous mahogany-laden boutique hotel during the TIFF season, expect to shell out at least $715; the price drops to $396 after the celebrities are gone.
The Windsor Arms, 18 St. Thomas Street, 416-971-9666,  windsorarmshotel.com
---

6) The Thompson. This new addition to the five-star hotel crowd is smack-dab in the middle of the King West TIFF locale. Designed by New York's Studio Gaia, the hotel's rooms boast floor-to-ceiling windows with sweeping views of the Toronto skyline and Lake Ontario. Rates for 500 square-feet suites start at $330 and go up, but during this year's TIFF 2016 event expect to tack on another $150 or more per night for just a room.
The Thompson, 550 Wellington Street West, 416-640-7778, thompsonhotels.com
---
Psst. Want to know exactly what goes in those celebrity Bask-it-Style bags? Here's a list of the goods and what they cost.
Read more from Romana King at Home Owner on Facebook »