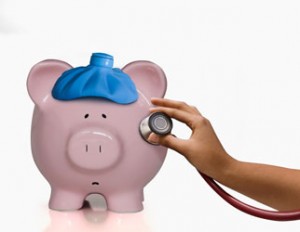 If you're smart, you get an annual checkup to make sure your blood pressure and cholesterol are in line and that you're healthy. Take the same approach to dealing with your money.
You can quickly right whatever has gone off kilter before you have to amputate whole categories from your spending.
1. Is your net worth growing?
Net worth is one of the best barometers for measuring financial health. Subtract what you owe from what you own. Your net worth will improve if you are paying down debts, adding assets, or both. If your net worth has dropped because a particular asset class—like your home—has fallen in value, don't panic. But if your debts are increasing while your assets are not, you're headed for trouble. (Read tomorrow's blog for how to do a net worth statement.)
2. Are you spending more than you earn?
If you don't know the answer to this question—or you're guessing—because you aren't tracking your spending, it's time to grow up. You work hard for your money honey and you should spend some time looking after it. That means knowing where every red cent goes. While tracking your spending may be a tough habit to establish, it'll pay in spades when it comes time to review your spending and see if you're putting your money to the best use. It only takes minutes a day. If you think you can't find the time, it's because you can't find the motivation. Kick yourself!
3. Has anything changed in your life in the last year?
Getting married is a big deal. So are having kids, changing jobs, becoming unemployed or getting sick. Retirement's a biggie too. If you haven't adjusted your financial plan to reflect the changes in your life, now's the time to do it. It's easy to let the plan slide when you're focused on "more important things." But that excuse only holds water for about a month. More than that and you're hoping your plan won't change. Hey, there's no profit in "hoping." Figure out a new plan and keep your financial life on track.
4. Is your insurance still enough?
Any major life changes brings a need to evaluate whether you've got enough insurance. From home insurance to car insurance, from life insurance to disability and critical illness, you should do an annual review. If raising your deductibles would lower your premiums, up your emergency fund to cover the higher deductibles and get busy saving some money.
5. Does your estate plan need tweaking?
If you've had a will and powers of attorney professionally executed (so no Will Kits, please), you'll just need to do a quick review to see that everything is still ticketyboo. If you've had major life changes, like a divorce or widowhood, then a full-on review and rewrite may be necessary. Don't ignore this because it's yucky. It's important.
6. Are you happy?
At its core, financial planning isn't just about the money. It's about what you're doing with the money. If you're not happy, you're doing something wrong. Whether you want to spend more time with your children or wish you could travel more, this is the perfect time to look at your goals and revamp your plan to meet them.