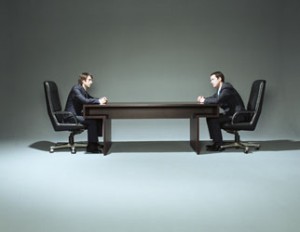 Have you heard the story of Kyle Macdonald from Montreal who bartered his way from a paper-clip to a house? I'm not promising you that anyone's going to give you a house, but there may be things you can use to barter your way to something you really want while saving yourself some money.
If you're parting with stuff you no longer want, then why not give bartering a try. You could swap that stationary bike you never ride for a new guitar or salsa lessons. Trade your extra TV for your son's tutoring. Offer up your bread maker, Crock-Pot or snappy handbag in exchange for something your really need. All you have to do is match what you've got with what you want and you're set.
If what you've got is a talent, make sure you set a value for that talent. "Fitness instructor ready to swap $35 per hour personal training for dog-sitting." Or how about "Tutor looking to exchange five $25 per hour math lessons for professional paint job on kitchen. Will supply paint." Or "Need size 14 wedding dress, will exchange house cleaning for six months."
Websites like U-exchange.com and swapsity.ca, in addition to old standbys like Craigslist, are great places to go looking for like-minded people who want to trade. Want free haircuts? Offer to build a website for a local salon.
Perhaps the best advice for getting what you want is to be very specific. Would you be willing to draw up a will and powers of attorney for someone who would refinish the floors in your house? Are you happy to cook meals for someone in exchange for them blowing the snow out of your driveway? How about swapping the use of your camper for the use of their cottage? Or swap your house in the big-city for someone's home close to a beach this summer and you've eliminated the "hotel" part of your vacation.
You may have to step outside your comfort zone to grab hold of the barter idea, but it that's what's standing between you and something you really need or want, you'll figure it out. Think outside the box.