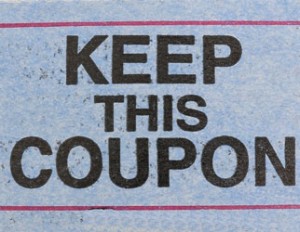 With sites like groceryalerts.ca, save.ca and fabuloussavings.ca offering us ways to find the best deals, we can start clipping and saving with a vengeance. It's still left to be seen if we have the drive to save that our American cousins have shown since Canadians have been as slow as molasses in winter to embrace the coupon-clipping experience.
Groceryalerts, which I think is a very nifty site, goes so far as to produce deal alerts by province and by major cities so that if you live in Calgary you're not wading through the Toronto deals. Of course, it's all for naught if you never use the info to save any money. It's also for naught if having saved $50 by shopping smartly, you don't immediately move that money to "savings" – your RRSP, your emergency fund, the RESP you set up for your kids – so you are actually saving your "savings."
If you're determined to turn your shopping experiences into hunt-for-savings experiences, you might also want to check out greatcanadianrebates.ca. You register and then before you make any online purchases, you go through the site's portal. Every purchase you make through the site means Great Canadian Rebates earns them a commission, which they split with you by sending you cash back. These cheques are issued every two months or can be deposited into your PayPal account (which means you'd end up spending them, right?)
While going to online coupon sites to find online coupon and codes is smart and you can save you lots of money, you're likely going to have to register your email address to gain access to the savings. If you don't want to be inundated with offers because your address has been sold, set up a new email account just for your shopping. Then your personal email won't be buried in an avalanche of "special offers" and spam.