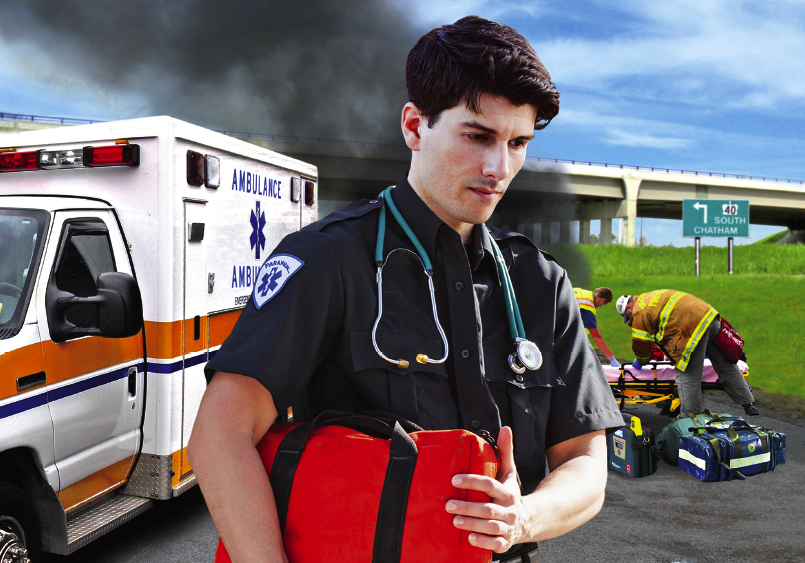 It was a cold, blustery winter day in 2011 when Joel Wilson first realized that the stress of his job was too much for him. The voice on his ambulance radio informed him there had been a 30-car pileup just outside of his hometown of Chatham, Ont., where Joel, 27 at the time, had been working as a paramedic for the past six years. "I remember arriving and people shouting that there was a young kid at the wheel of one of the pickup trucks," he recalls. "He had driven his truck into the back end of a huge transport, and then another pickup had smashed into him from behind. That kid caught fire in his truck cabin right before my eyes, and I couldn't touch him or save him at that point. I kept thinking, 'I hope he died on impact.'"
The mental stress of dealing with such tragedy and distress every month was quickly building to the point where Joel didn't want to be a paramedic anymore. But it was the physical stress of the job that actually forced his hand. Late last year, a rare arterial disease almost cost him his own life. Joel required surgery and several months of recuperation. His wife, Nancy, a 31-year-old medical receptionist, says it came out of nowhere. "He was bent over, fixing a pipe under our kitchen sink, when his knees locked up and he passed out."
Joel has always lived a very physically active life, but he is now on disability. The transition has been tough. "I went from racing an eco challenge in Costa Rica to being bedridden on the couch, all in nine months." While Joel's mobility is slowly improving, the doctors aren't sure he'll ever be able to physically go back to his paramedics job. "Supervisors have sat me down and said, 'You're young, and the job doesn't get any easier. Take some time to think things through.' So I've been doing that."
Joel's big challenge is that he needs to leave the only job he's known in his adult life and retrain for an entirely new career. Meanwhile, there are big bills to pay, including the mortgages on five rental properties he and Nancy have invested in. (We've changed their names to protect their privacy.) They were also hoping to have children soon, and they'd been planning a big renovation to make room in their house. "I'm the major breadwinner and I really want to be able to support my family financially," says Joel. "Starting over in a new career is scary."

Before Joel went on disability, the couple had been earning a household income of about $125,000, most of that from Joel's $85,000-a-year pay (which includes $16,000 in overtime). His current disability payments amount to 70% of his base salary of $69,000, and the paramedics union will continue to pay into his pension and benefits—but only until December 2017. "Then I'll have to make a decision about whether I leave or continue as a paramedic," says Joel.
One option may be to take a desk job in the paramedics office, which pays half of what field operatives make. "I'm trained to be a paramedic and not much else," says Joel. "But I don't want to languish in a low-paying job I don't like just for the sake of having a job with benefits." Still, he adds, "Nancy has no benefits, so the push is for me to stay." Meanwhile, Nancy feels they can scrape by on a household income of $80,000 gross annually if they have to, but she'd prefer to maintain the $125,000 income they're accustomed to. "It's what we are comfortable living on," she admits.
Despite all of the hand-wringing over what Joel should do with his current job, being a paramedic isn't something he ever actually aspired to do. "I saw an ad for it in my final year of high school," says Joel (he and Nancy attended the same high school before she went on to college). "I applied but never thought I'd get in. But then I got picked."
One of his real passions, he's discovered over the years, is real estate investing. To that end, he and Nancy have spent the last seven years putting most of their disposable income towards the purchase of five small rental properties north of Chatham that are all worth a little over $100,000 each. "We think of them as our retirement plan," says Nancy. "They'll be paid off in 25 years. Then we'll use the rents to supplement our retirement income."
But that's not been without its problems either. With the local real estate market flat, the properties have seen absolutely no capital appreciation. And with a hefty total of $400,000 in mortgages on those properties, the couple is starting to question whether they should hold on to them. "If Joel does the maintenance and repairs, the income carries the expenses," says Nancy. "But we're not sure he can keep doing that."
On top of that, it was only last year that the couple spent $210,000 on a two-storey fixer-upper—situated on a leafy street near a great public school—to live in themselves. Before his illness and surgery, Joel had been doing some work on the home, in preparation for the children they had hoped to start trying for. While they still have the $30,000 set aside for renovations to the bathroom, kitchen and main floor, Joel's now wondering if it's time to put those plans on hold, too.
The fact is, that money would come in handy if he did decide to go back to school after his current salary and benefits expire in 2017. But because Nancy has waited a long time for them to start growing their family, he says he'd feel like he was letting her down if they delayed.
All the same, he feels strongly that their future rests in him finding another well-paying job—hopefully, one that is well-suited to him and that he can happily ride out until retirement. In particular, Joel has been giving a lot of thought to a job in business or finance, or possibly even running his own small business. Just recently, he started index investing with exchange-traded funds (ETFs*) and has $48,000 of assets in his RRSPs*, as well as $35,000 in his TFSAs*. "I'm really enjoying it," he says.
---
Compare the Best Savings Accounts in Canada* >
---
What's really holding Joel back is uncertainty. "I would be willing to go back to college or university, provided the end result was worth it. It would have to be a career choice I'm certain I'd love, but not knowing what I'll be earning is stressful. The hope is that I can get back on track with a good job I can do so we can have a couple of kids soon."
Starting a family and living a comfortable life are Nancy's main priorities as well. "Joel has always been the main breadwinner, but I think with some good decision-making now, we can still make our dream of having a comfortable, middle-class family life a reality," she says. "That's what we're counting on."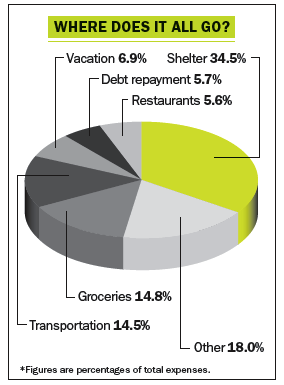 WHAT THE EXPERTS SAY
Life has thrown Joel and Nancy Wilson a curveball. And even though Joel suffered a life-changing health setback last year, he is lucky that his paramedics benefits will last until the end of 2017. But that's not to say he shouldn't get ready for more big changes. "Joel needs to retrain and find a new career that will fulfill his full potential and desire to earn a good living in an industry he is passionate about," says certified financial planner and owner of Niagara Region Money Coaches' Trevor Van Nest. "No one deserves to be stuck in a low-paying job they don't enjoy, just for the health benefits." Here's what Joel and Nancy need to do.
Change careers. "Baby pressure is tough," says Caird Urquhart, a career coach with Newroad Coaching in Toronto."The Wilsons should put off having a baby for two years and instead focus on establishing Joel in a long-term career he'll enjoy." Joel can start by deciding whether he likes business or finance best. The education options will be different. "If he wants to start his own business, he may not have to go back to school," says Urquhart. "A few seminars and workshops may be enough."
Joel should also pay a visit to the guidance counsellors at his local college and nearest university to see what programs are available. Part-time and online courses are also an option. "University degrees are important, but Joel needs to do some research, network with others working in the fields he's interested in, and really examine his choices before committing to a career," says Eileen Chadnick, a certified career coach with Big Cheese Coaching in Toronto. "Once he's picked something, the rest will fall into place."
If he's having trouble deciding, he should seek out a career coach. Most charge by the hour—starting at about $50—and usually work with you for a couple of months. The International Coach Federation website at coachfederation.org offers a free coach referral service.
Cut expenses
The Wilsons need to start trimming back some of their bills. "They will be on a budget for several years once they have kids," says Van Nest. "They can start by getting their budget under control now." Van Nest suggests they cut $600 annually from clothes, $1,000 from vacations, $1,200 from groceries and $1,200 from restaurants, for total savings of $4,000 annually. "That money—along with the $3,519 in annual net income they already have—can go towards paying for retraining for Joel and, once they start their family, for daycare and other expenses," says Van Nest.
If they need more money for Joel's school costs, Annie Kvick, a Vancouver money coach, suggests they dip into Joel's $38,000 RRSP through the Lifetime Learning Program. "They can withdraw $10,000 a year tax-free for two years and put it towards tuition fees," says Kvick. "Another $20,000 can come from Joel's TFSA if needed."
Buy insurance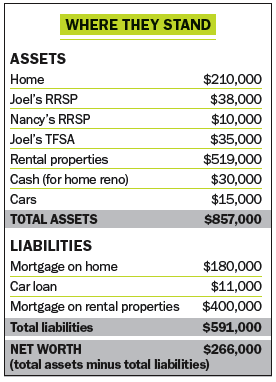 Once Joel's health benefits run out on Dec. 31, 2017, Joel shouldn't take a job simply because it offers benefits. Instead, he should buy insurance coverage through an insurance broker. He's certainly eligible. "Private insurance is available—especially at Joel's young age," says independent insurance broker Lorne Marr. For many people, private insurance is a good—often temporary—solution. Marr notes that health and dental insurance policies will usually exclude pre-existing conditions. Annual premiums for the Wilsons, according to Marr, would cost about $1,900 annually. Most disability plans, too, will not cover pre-existing conditions, but Joel can easily get a good disability policy. "The premiums will depend on the type of occupation Joel chooses," says Marr. Assuming an office job, a policy offering $2,000 a month in benefits with payments ending at age 65 will cost Joel about $80 a month. For Nancy, the cost would be $110 a month.
For life insurance coverage, Joel can get a simplified issue policy where there are no medical tests. Instead, he'll have to answer a short series of health questions. "The more questions Joel can answer 'no' to, the lower the premium," explains Marr. A $500,000 simplified issue term 20 policy for Joel costs about $70 a month. Similar coverage for Nancy costs $23. Total cost for all benefits? $5,296 annually. "The couple would be entitled to tax credits and deductions for some of those costs at tax time," says Marr. "Of course, if Joel gets a new job with full benefits, the private insurance costs will go."
---
Compare the Best Savings Accounts in Canada* >
---
Get a plan for the properties
"The couple has more than 50% of their total net worth tied up in real estate in just one geographical area," says Van Nest. "I wouldn't generally recommend that. But since they seem comfortable just paying the properties off in the long term—and forgoing capital appreciation—it can work." Kvick agrees, but recommends that any future savings be used to diversify their investments using low-cost exchange traded funds, as Joel has just started doing in his TFSA* and RRSP*. "But for now, they should put saving for retirement aside and concentrate on creating the best future possible for Joel and their soon-to-be growing family."
What does the * mean?
If a link has an asterisk (*) at the end of it, that means it's an affiliate link and can sometimes result in a payment to MoneySense (owned by Ratehub Inc.) which helps our website stay free to our users. It's important to note that our editorial content will never be impacted by these links. We are committed to looking at all available products in the market, and where a product ranks in our article or whether or not it's included in the first place is never driven by compensation. For more details read our MoneySense Monetization policy.