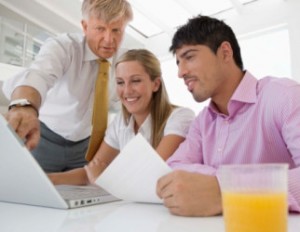 There are four new and important changes every Canadian with a financial adviser—or anyone thinking of hiring one—should know about.
Regulators officially ushered in the Client Relationship Model (CRM) earlier this spring making it mandatory for financial advisers to fully disclose all transaction details, commission and fee breakdowns as well as annualized rates of return. Until now, advisers were only required to provide book and market value updates for client portfolios. (MoneySense's Dan Bortolotti and Preet Banerjee recently published a free, downloadable rate of return calculator for investors.)
CRM also mandates that advisers regularly evaluate whether their clients' investing strategy and risk tolerance matches their goals and time horizon with additional check-ins at certain "trigger" events like steep, prolonged market drops.
"I don't think it goes far enough but it's a step in the right direction," said John De Goey, a Certified Financial Planner (CFP) and author of The Professional Financial Planner book series.
Full CRM compliance will be phased in over two years.
"We're taking a few baby steps when we should be taking a few giant steps," he told MoneySense ahead of the third installment of his book series due out this fall.
In Canada, most advisers get paid by providers for each product they sell and many of these commissions are not evident to the client. Skeptics say the practice entices advisers to push products that offer the biggest payout as oppose to products that are a client's best interest. Commission fees have been banned in the U.K. and Australia as of this year and De Goey would like them see them abolished here too.

"Now in those places, the business of giving advice becomes a true meritocracy where if advisers aren't really adding value, they can't get paid just for selling stuff," he said.
"It'll going a long way to rationalizing the industry, getting rid of some dead wood and turning the industry into more of a bona fide profession."
De Goey is not alone in his views but he's not in the majority either.
Critics argue banning commissions may actually lead to higher costs for investors.
Without commissions, planners will likely look for other ways to make money and that may lead to higher portfolio management, hourly and project fees. Small investors may also be shunned in favour of richer clients with bigger portfolios.
Greg Pollock, CFP, is the President and CEO of Advocis, the Financial Advisors Association of Canada.
He estimates roughly nine million Canadians are getting financial advice these days and the vast majority of that advice is paid for through commissions that are embedded in the cost of products.
"If we were to change that business model overnight, we would have a huge number of Canadians that would not be receiving the financial advice that they now need more than ever," Pollock said. For the record, the no. 1 priority listed in Advocis code of conduct is the client's best interest.
Still, more advisers are opting to go the fee-based route charging an all inclusive 1%-1.5% or by the hour/project. MoneySense provides a free listing of fee-only planners in Canada.
But even fee-only advisers charge some version of commissions, Pollock said. Charging a fee based on assets under management, is essentially a commission, he said, adding there's room for a number of business models in the industry.
Whatever the compensation model, CRM aims to make it crystal clear to investors.
De Goey said the financial services industry in Canada has been deluding itself with regard to transparency "forever." (According to his own estimates, De Goey currently charges commissions less than 10% of the time and only on certain products that are only available to him on a commission basis, such as flow-through limited partnerships, or upon client request.)
When De Goey published his first book, he was considered a "pariah," for supporting fee-based compensation models.
"It was a threat to the people who were fat and happy and making a lot of money by not talking to their clients about commissions," he said.
He suspects it will take 10 years or more before commissions are banned in Canada but expects the transition to be smooth since many advisers are opting for fee-based models already.
Pollock on the other hand, doesn't see commissions falling out of fashion at all.
"Our sense is that most Canadians don't want to pay a separate fee for advice. They like the current system…this way they don't have to take out their cheque book a second time for that advice," he said.