Whitehorse, Yukon

Only two cities in the far north are large enough to qualify for our ranking—Whitehorse and Yellowknife. Aside from being 1,100 km apart as the gyrfalcon flies, the two cities share some similarities. Both are central hubs for government services and serve as launching pads for mining workers and outdoor adventurers. While both cities have populations below 30,000, you'd swear from the constant buzz of activity they must be five times larger.
Photo gallery: Top 25 Best Places to Live »
See the full ranking of 219 cities »
Whitehorse is the larger of the two and it ranks slightly ahead of Yellowknife, in large part because the city is more affordable. Incomes in the Yukon capital are not as high as they are in Yellowknife, but that's of little consequence since homes are that much cheaper, meaning residents get more bungalow for their buck. The data bear this out: More than 70% of residents own homes in Whitehorse, whereas just 50% do in Yellowknife. Having some extra cash is important, particularly in the north where grocery bills can be significantly higher than you'd encounter in other parts of the country.
---
Hover or tap to see the Best Place to Live in each region.
Whitehorse Twitter photo credit: (Courtesy of Whitehorse Tourism)
---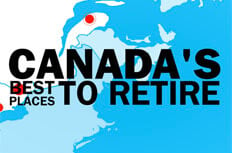 What does the perfect place to retire look like? We feel it should be somewhere with low taxes, a thriving cultural community, quick access to an airport and plenty of doctors. (It should also have 20°C weather in February, but there are some things we can't control.) Here are the Top 10 places with the highest retirement score.
---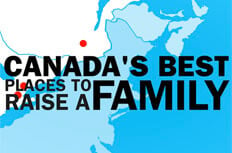 Raising a family is a lot of work, but it gets easier if you have a strong community to back you up. Our ranking looks for access to affordable daycare, high density of school-aged kids and schools, affordable homes and well-paying jobs. Here are the 10 cities that scored the highest for having kids.
---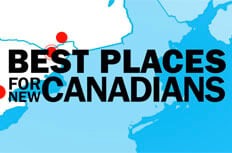 Those looking to start a new life in Canada should place these 10 cities high on their list. What do they have in common? Well-paying jobs, low unemployment rates and plenty of affordable rental properties. They're also culturally diverse, increasing the odds that recent immigrants will forge new connections in the community.
---
Six Canadian cities have household net worths above the $1-million mark—and one of them also cracks the top 10 of the overall Best Places to Live in the country. And get this: The No. 1 city's $3.5-million average household net worth is more than twice as much as that of the No. 2 richest city in Canada.