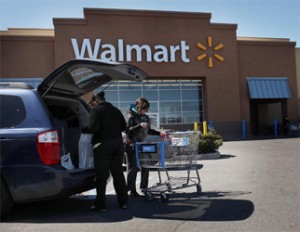 Over 150 Target stores are set to open in Canada this year. But the question investors want answered is, will this popular U.S. chain become the next big box retailer of choice? Jason Hornett, portfolio manager with Bissett Investment Management, says consumer staples stocks are good bets in the current sluggish economy. But if you had to choose one, Hornett says Walmart wins out.
Canadian Tire (TSX: CTC.a) | 10.9% ROE over 1 year
Canadian Tire is the cheapest with an 11.7 P/E ratio. Investors looking for stable dividend-paying stocks (with about a 2% yield) can add the stock to their Canadian holdings, says Hornett.
Target (NYSE: TGT) | 18.5% ROE over 1 year
Target's main appeal is its new store growth and its ROE is more attractive than Canadian Tire's. It's also known as a product innovator and its apparel business is "very strong," according to Hornett.
TOP PICK
Walmart (NYSE: WMT) | 23.0% ROE over 1 year
Walmart wins out because unlike Target, it's a global company and is moving forward with plans to roll out 100 new stores in China over the next three years, putting growth projections high.
*Return on Equity (ROE) measures a corporation's profitability by revealing how much profit a company generates with the money shareholders have invested. It's calculated as: Net Income for common shareholders/Average total common equity.