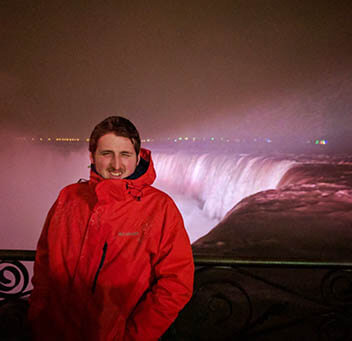 Sam Tanny
AGE: 21
PLACE: Montreal
TFSA TOTAL: $25,415
STRATEGY: Growth and blue-chip stocks
Me and My TFSA
Sam Tanny, 21, of Montreal, is a university student in finance. He started saving in his TFSA two years ago but he only started picking stocks for his portfolio last year. It's now worth $25,415.  "I liked the TFSA because of the tax-free capital gains," says Sam. "I'm in university right now but am looking for long-term growth."
In fact, Sam has been working for several years at odd jobs that include assisting at a daycare, working part-time in his dad's textile company as well as summer work in special care camps. "Plus, I've saved all of my gifts of money from relatives so it's all gone to boost my TFSA," says Sam.
In fact, his family and relatives have been key to Sam's stock picks and he's been able to follow their example. "Everyone in my family does their own stock picking and do their own investing," says Sam. "My parents are long-term investors and they've had TFSAs since they started in 2009."
Since Sam started buying his own stocks last year, he's been talking with his family before each purchase and taking their advice on many of the picks. And he's happy with the returns. "Dollarama (DOL-T), Magna International (MG-T) and National Bank (NA.T) are all up more than 20% for me, not including dividends," says Sam. "Royal Bank of Canada has also performed well for me and I plan to hold for the long term."
Right now, Sam is also considering two smaller stocks—one is a movie theatre industry disrupter and the other makes robotics for the healthcare industry and is seeking regulatory clearance for a surgical robot. "I'm waiting for annual results on these smaller stocks before buying," says Sam, who does his own research and says he's learning more and more about investing every day.
In fact, until quite recently, his TFSA also included a 24% holding in Canoe EIT Income ETF (EIT.UN), which he has since sold. "I'm generally okay with holding ETFs and I might go back into my Canoe EIT income ETF (EIT.UN) at some point but I would really like more geographical representation as well as a couple of tips on how to pick stocks going forward," says Sam. "For me, it's all about perfecting my stock picking and building a good growth portfolio for the long term."
Sam seems like he's got the tools to be a serviceable DIY investor.  Some of the picks seem almost too small to be worthwhile (one holding is for only $70). My observations include:
What the pro says
Sam is off to a great start with his TFSA. But John DeGoey, a portfolio manager with Industrial Alliance Securities in Toronto sees a couple of problems with Sam's portfolio. First, Sam's TFSA is full of Canadian stocks. "This is extreme home bias. 100% of the TFSA money is invested in Canadian stocks. While Canada is up about 5% year-to-date, the U.S., Europe, and Emerging Markets are all in double-digit territory." says DeGoey. So while Sam's returns have been good, he can expect both higher returns and lower overall risk if he adds some foreign exposure, specifically through exchange-traded funds (ETFs). "I'd look to add a foreign ETF first to his mix, perhaps one from Vanguard," says DeGoey.
A couple of good ETF choices for foreign content that Sam could consider include the Vanguard Total World Stock ETF (Ticker: VT) which invests in both foreign and U.S. stocks,  or the Vanguard FTSE Emerging Markets ETF (Ticker: VWO) which invests in stocks of companies located in emerging markets around the world, such as China, Brazil, Taiwan and South Africa.
Second, DeGoey recommends that Sam not over diversify with too many small stock holdings in his portfolio. "I wouldn't buy anything that represents less than 10% of the account—about $2,500 per stock," says DeGoey. This will keep trading fees low and with good choices from different sectors will give him solid diversification as well.
MORE FROM ME AND MY TFSA: