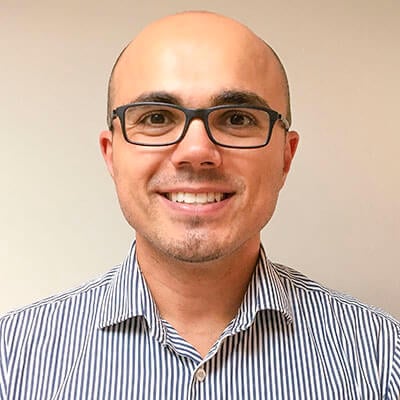 Mike Russo
AGE: 34
PLACE: Mississauga, Ont.
TFSA TOTAL: $52,000
STRATEGY: Mostly Couch Potato with one bank stock thrown in
Me and my TFSA
Mike Russo started contributing to his TFSA five years ago and just maxed out his contribution limit this year. For the first couple of years his TFSA money sat in cash, because he wanted to educate himself on different investment strategies before choosing one he liked. "I was apprehensive of financial planners," says Russo, who works in the health and safety industry. "I wanted to learn to do it myself."
Sign up for our Investing newsletter »
Russo started by reading Andrew Hallam's Millionaire Teacher. "It was a basic introduction to investing but a very good read," he says. Several months ago Russo settled on a strategy, and he ramped up his contributions to add to his TFSA monthly. With this approach Russo allows his contributions accumulate in cash and then around the six month mark he invests the money in index funds.
His index fund of choice are the TD e-Series funds, which he's set up into a quasi-couch potato portfolio. About 15% is invested in a bond ETF, 10% in TD Bank shares, and the remaining 75% split evenly between a U.S., Canadian and international equity. "I'm almost completely in the couch potato now and I've been happy with my returns," he says.
Now Russo is also taking some time to focus on his wife's TFSA strategy. "She's in a lower tax bracket than I am so the TFSA is important to her savings program and I'm trying to help her build up her contributions as well," he says.
As for what he plans to do with his TFSA money, Russo isn't sure. "It's more liquid than an RRSP so I want to use the money for another investment in the future—maybe as a down payment on an investment property or as seed money for my own business," he says.
His own advice for beginners: Be wary of other people's investment tips. "People say they don't have time to invest, but I think they should at least have the time to understand the different investment options available as well as the pros and cons of TFSAs and RRSPs in general," he says.  As you get more hands on you can better manage your expectations.
"For me, I'm happy with the couch potato and once it's in autopilot, it's pretty smooth sailing from there."
Pro Tip
A good start, but there is still more to learn
"Generally I would say Russo has very good diversification in the TFSA portfolio through the TD index funds," says Jon Parry, chartered investment manager with Ironshield Financial Planning in Etobicoke, Ont. "By definition index funds can be more volatile than a diversified mutual fund but Russo seems to understand the risks."
With the Canadian dollar on a bit of a run with this month's increase in Canadian interest rates, Parry wonders if Russo may want to consider hedging some of his exposure to international currencies. "I would also suggest he take a hard look at the duration of the fixed income fund and look to shorten it as much as possible," says Parry. "He may want to look at obtaining some exposure to corporate bonds to soften the impact of future increases in interest rates on the value of his fixed income portfolio."
As well, if Russo is seriously considering opening a business the TFSA is a decent source of funding. Another source of funding for a new business that is often overlooked, according to Parry, is a whole life insurance policy. Parry notes how successful entrepreneur Ray Kroc, the American businessman who joined McDonald's in 1954 and built it into the most successful fast food corporation in the world, used the savings component of a whole life policy to fund some of the startup costs. "Think of it is as your own Private Bank allowing you earn interest rather than paying it to another financial institution," says Parry.
A book Parry would recommend on this subject: What Would The Rockefellers Do? by Garrett Gunderson and Isom G Michael. "This book shows how the Rockefeller family has been able to keep the family fortune in place long after other uber-wealthy families such as the Vanderbilts have long since squandered away their vast fortunes," says Parry. "Now, I'm not saying that whole life insurance is the way to go for Russo, but since he is open to learning, then why not read a bit more!"
Finally, Parry adds: "I would also encourage Mike's wife to become more involved in the family finances. As we all know men are the weaker sex when it comes to longevity."
Have a TFSA strategy to share? Click here to email us »
MORE FROM 'ME AND MY TFSA':