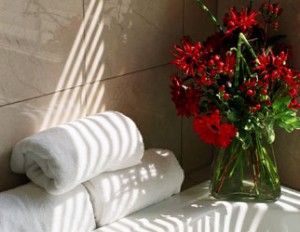 On a book tour at the beginning of this year, I slept in some else's bed 32 days out of 58. I've seen the inside of just about every hotel chain in Canada. And some of the "extra charges" make me gasp. If you want to save on a hotel stay, here are 9 tips:
Look for fees where you least expect them
See that bottle of water on the desk. See the label hanging on it. Read it before you turn the cap. That bottle of water could cost you up to $14. Go get yourself a bucket of ice.
Steer clear of the mini-bar
The hotel industry's version of the grocery store checkout lane, mini-bars count on impulse purchases. The markups are gargantuan. Find out where the closest convenience store is and buy a stash of water, juices and snacks.
Don't touch the phone
The phone rates are exorbitant. Sometimes local calling is free. But long-distance … oy!
Read your room-service bill
Most room-service bills add a 15% gratuity along with a delivery charge. If you order room service, don't make it more expensive by tipping if there's an automatic charge.
Parking can cost a fortune
I've had to pay upwards of $30 a day for parking at hotels in major city centres. If you're willing to stay a little further out from the hub, you can get free parking. Over a four-day stay, that'll save you $120, which will buy you a VERY nice dinner.
The Internet isn't free everywhere
But it may be included if you pick the right room package. Check out the daily Internet fee and then see if booking a slightly better room that includes Internet access will save you some money.
Sign up for points
Every chain has a loyalty program. It may take a while to accumulate enough points, but even if it takes a couple of years, enough points could make your next family vacation considerably cheaper. If you're a member of AAA you might be eligible for better pricing if your hotel has a reciprocal arrangement. Some hotels have reduced rates for people "of a certain age" – yah, getting older does have some benefits – or if you're a veteran or a member of the armed forces.
Be aware of your destination's peak periods
You know about trying to get a room during March Break. But what about if you have to go to a city where there's a big convention happening at exactly the same time. You'll pay through the nose for a room. When the Film Festival is on in Toronto, room rates double!
Book your weekend stay at a business hotel
The same rules of demand and supply can help you get your room at a substantial discount if you book with the property tends to empty out.
Book through an online discount site like hotels.com or Travelocity and save big-time. You've seen the ads. Would Captain Kirk lie?