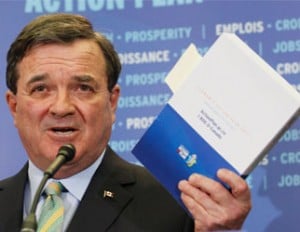 Retirement may be further off than you had planned.
The Conservative government's newly released federal budget confirmed what many had expected: a plan to gradually raise the Old Age Security (OAS) benefit eligibility age in Canada from 65 to 67 starting in 2023.  But few were expecting a proposal by the Harper government to delay Guaranteed Income Supplement (GIS) payments, reserved for the lowest income seniors, as well.
The changes would not affect anyone 54 years of age or older as of March 31, according to the official release. If you are younger than 54, click here to find out exactly the new eligibility rules affect you.
The controversial measures are aimed at reducing the costs associated with this country's aging population. The number of OAS recipients will double over the next 20 years as more baby boomers hit their Golden Years and life expectancies climb, according to government estimates.
"Today it is clear we must take action to ensure the sustainability of the Old Age Security program, which is the largest spending program of the federal government," Flaherty said in his prepared remarks on the budget.
The OAS benefit provides as much as $540.20 monthly to Canadians 65 and older, with higher income seniors getting less. Anyone making more than $112,772 receives no OAS payments. The GIS provides an additional $8,788 for single seniors with incomes below $16,368 and up to $11,655 for senior couples bringing in less than $34,610 excluding OAS payments.
The cost of providing Canadians with OAS benefits will to jump from $36.3 billion in 2010 to $48.3 billion in 2015 before hitting $108 billion in 2030, the government has said.
Parliamentary Budget Officer Kevin Page disagrees with the Harper government on the OAS file. He has said the current OAS program is sustainable because the money used to fund benefits comes directly out of general revenues; as the elderly population and economy continue to grow, so too will revenues.