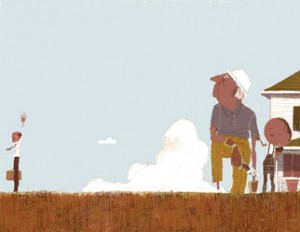 The aging of the Canadian and the global population will mean new business opportunities across a wide range of industries. One that caught my eye recently is a counselling or support service for families who are unable to agree on their elder parent's care.  Even the most caring families may find that a mediator can help.  Misunderstandings can arise about the options preferred by parents who can no longer speak on their own behalf.  Not all disagreements arise between siblings.  Sometimes the siblings are in agreement and the parent is opposed to the decision.  A mediator can help the parent who may feel outnumbered by their children and help ensure that a decision isn't pushed to hard by the children.
Who's that stranger with an opinion?
I believe the No. 1 reason why elder care issues arise is because many families find that they are making important life decisions with a stranger. The person may be their relative according to the family tree, but often these relatives have taken very different life paths.  Some family members may have had minimal or no communications over the decades of their adulthood.  They knew about one another's lives only through their elderly parents' conveyance of information and news.
What they bring to the decision-making process is a history of sibling rivalries or role-playing based on birth order.  Sometimes they also bring along a spouse who has heard these old family stories and has also built up a grudge of some sort based often on lore more than fact.  This baggage gets in the way of making the best decision for mom or dad.
Using a mediator
Eldercare mediation is not an accredited service so it's a bit of buyer-beware.  Some professionals such as lawyers, clergy or social workers will act as mediators.  Services can be expensive, usually based on an hourly fee, although employee assistance plans may cover some or all of the cost.  In other cases, deciding who will pay for these services can become its own mediation issue.
Finding a mediator
Google "elder care mediator + your location" and see what's available in your area.  If you are unable to find mediators a local faith-based group or health care centre may be able to suggest some options.
Becoming a mediator
Elder care mediation may appeal to baby boomers looking for an encore career.  They often have a lot of experience in business negotiations, families dynamics and elder care.  Careers in nursing, human resources and education are some of those that would provide a great foundation for a mediator role.  One place to begin learning more about courses and certifications is at www.mediate.com.
Lee Anne Davies has worked as a consultant for insurance, wealth management, banking and financial education companies. She has a PhD in Aging, Health and Well-being and a Masters of Arts (MA) in Gerontology and Health Studies from the University of Waterloo and an MBA from Athabasca University's Information Technology Management program. She's also successfully completed the Canadian Securities Course and the Professional Financial Planning Course. To read more from Davies, visit her blog Agenomics.