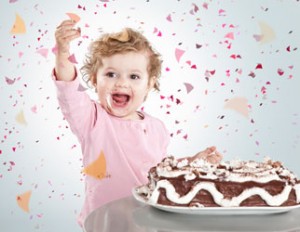 People will sweat bullets when it comes time to throw their kids a birthday party. And the money parents are willing to shell out to prove to the neighbourhood that they're great parents boggles my mind.
Want to throw a great birthday party for your mini-me without busting the bank?
Skip the location party
Lots of parents take kids bowling, to indoor playgrounds, or to lavish party-focused locations. Hold the party at home, in your backyard, or at the park and you'll save a bundle. Yes, there is a lot of cleaning up after, but that's what happens when you have 20 kids over to play. While it's a lot more work, more kids also means more fun. That can make a location party very expensive.
Skip the boodle bags
Stuffed with everything from left over Halloween candy to fabulous (and very expensive) party favours, these suckers can run your budget over. Since parties are all about fun, play games at the party and make sure every child wins a "prize." Try musical chairs, pass the parcel and pin the tail on … anything. Any game where you are IT and the kids can whack you, tag you, or make me do something disgusting will be a winner.
Skip the ordered-in food
Kids love pizza. Kids love ice cream. Kids love cake. Dips and veggies are great too. Make your pizza at home (even from frozen) and cut your costs by half. Make your cake at home and you can have three for the price of a store-bought. And how long does it take to cut up some cheese and throw some grapes in a bowl?
Skip the store-bought balloons
Balloons are cheap, especially when you blow them up yourself. Stick a note inside one and then make a game of seeing who can find the balloon with the prize. Kids love to pop balloons.
Skip the store-bought piñata
Making a piñata is easy and if you get some of the kids who will be at the party involved a few days ahead, you'll build the party buzz.
Don't skip the pictures
Assign this job to one of the parents who chooses to stay and watch your crazy afternoon unfold. For older kids, add a couple of disposable cameras to the mix. Use a picture of a child who attended as a thank-you card writing on the back on the photo.
Throwing a great birthday party shouldn't be about outshining the last party you attended. It should be about parents and children truly enjoying themselves. You can do that without breaking the bank.