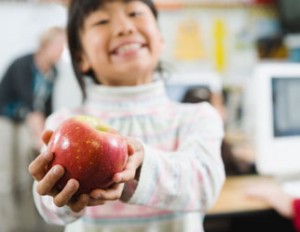 I remember the first time I put together a teacher's gift for the end of school. I chose to go with some of the things teachers have to buy themselves. I put in rolls of SandyLion stickers, which I had bought for pennies on the dollar. I added some coloured pens stuck in a dollar-store mug which I had the kid decorate with some of those stickers.  The teacher loved it!
Sometimes I like to give something a little more personal: bubble-bath and a nice bath cushion; cuddly slipper socks, a mug and some hot-chocolate packages; a candle, holder, and a good book I know my soon to be ex-teacher will enjoy. I've never spent more than $15 on a gift. But I have spent time getting to know my teachers and picking just the right treat to say, "Thank you."
Dollar stores are a great place to start. And look for interesting things that are on sale in places like Chapters, HomeSense and Winners. I once bought a pack of tiny corkboards with adhesive backs — they were four for $2 —  and split them up at home to be used in individual gifts. They were unique so they didn't look cheap. Then there were the gorgeous blue votive holders – four for $2.50 — that were on sale at Pier One. I added one to a half-dozen votives I'd bought on sale, a few small bath bombs, which I got in a large bag for just pennies per bomb, and a loofa sponge I received as a gift with purchase. Total cost of the gift: under $5.
Teachers' gifts don't have to cost a fortune. But if you put some imagination into what you buy and where you buy it, you can create a gift that says you really appreciate all their hard work, without breaking your gift budget.