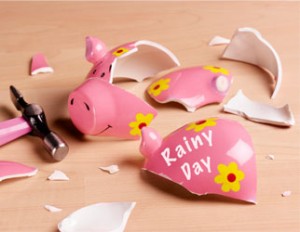 Everyone knows they should have some money squirreled away for a rainy day, but where should you put your short-term savings?
David Sherlock, a portfolio manager and director of product development for Calgary-based McLean & Partners Wealth Management, has been asked that question a lot in the past year. Whether you're building an emergency fund or simply saving for a specific purchase, savers are having a tough time finding a good place to park their cash.
Before the financial crisis it was easy to get a decent return on short-term savings. In January 2007 a two-year government of Canada benchmark bond had a rate of 4.1%. High-interest rate savings account also delivered higher-than-inflation rates. Now, the two-year government of Canada benchmark bond rate is a mere 1.11% and most short-term high-interest savings accounts yield less than 2%.
"It's really unfortunate," says Sherlock. "The best you can do is find an Ally account paying 1.8% and (inflation) is at 2%."
High-interest savings account and GICs
Of course, getting a tiny bit of yield is better than nothing at all, which is why Sherlock recommends to anyone who may need to access their savings within the next 12 months to use a high-interest savings account.
Not only are these accounts protected by the Canada Deposit Insurance Corporation, which insures up to $100,000 of your money if your financial institution goes out of business, but you're typically not charged high fees to maintain the account.
Still, there are some things you need to pay attention to when choosing a high-interest savings account. Mathieu Paradis, an Ottawa-based financial advisor with Raymond James, says investors need to be wary of introductory or teaser rates. He explains that some institutions will offer a higher rate to draw you in and then lower the rate after a few months.
Look at the institution's previous rate history to see if it has a habit of offering enticing rates only to slash them, says Paradis. While you may still want to take advantage of two months of better rates, at least you won't be surprised if it gets cut.