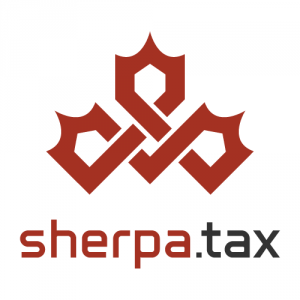 Two years ago, Omeed Asadi was laid off from his full-time digital marketing job at Tim Hortons. Money was tight so he set out to uncover which tax credits he would be entitled to. Not an easy task, as it turned out. Although Asadi knew the information was out there, the CRA didn't have a way of presenting it fast or efficiently. "That's when I decided I could build a tool with a couple of partners," says the 26-year-old, who joined forces with an accountant and a tax expert. "The information was available—we just had to sift through it all and put it together. It took us six months but it's now up and running."
Today, you can go to Sherpa.tax and use the free online tool yourself. By answering a few very quick questions, you can find out which tax credits you're eligible for in about 10 minutes. (I tried it and I'm eligible for about $90 worth). No entering of any tax data is needed.
Of course, it's not a substitute for doing a tax return. It's simply a way of checking what credits you qualify for so you can be sure not to miss out. As of today, about 68,000 Canadians have used the tool. According to Asadi, students as well as young families with a mortgage and two kids are likely to get the most out of the tool. "They're the ones eligible for the most tax credits so it helps sort through them for you," says Asadi. "Public transit passes, day care, camp, we incorporate everything."
As well, the tool is updated automatically as tax rules change and it applies those updates to your profile so that the next time you use sherpa.tax, you won't miss out on any new tax credits.
Asadi has gotten lots of feedback, with users asking for an expansion to include a person's RRSP and pension info, all of which can affect tax credits and refunds available—especially for seniors. He and his partners will be incorporating this new feature for senior credits into the site over the next few months and are confident it will be ready for the 2017 tax year. "Through Sherpa.tax we help you navigate the tax hill," says Asadi, who says the name encapsulates what he and his partners stand for. "The web tool ensures you navigate the tax jungle well and shows you the way."
---
More stories like this: