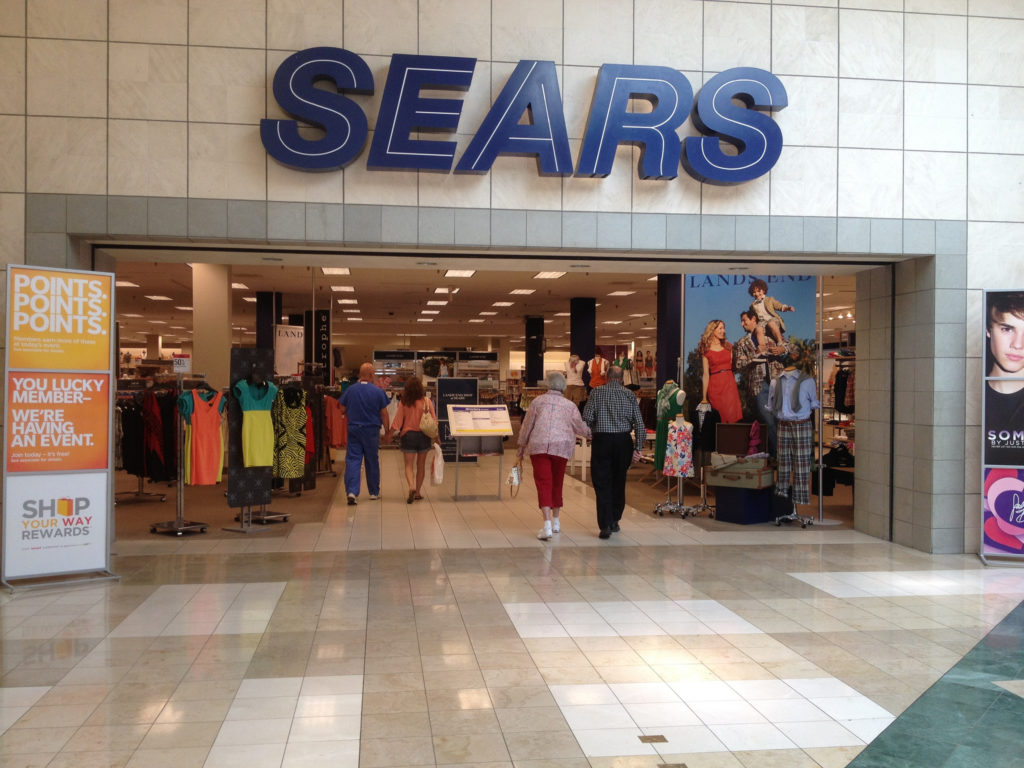 Anyone who's walked into a Sears store over the last few years shouldn't have been surprised to hear that the once-mighty department store chain filed for bankruptcy. The last time I was in one, a couple of years ago at Toronto's Yorkdale mall, it was as mundane a shopping experience as you can get. Grey walls, outdated decor, bland store selection – it didn't have the energy of, say, Nordstrom or even HBC, which has invested millions into revitalizing its stores.
With most people, except maybe Eddie Lampert, the company's billionaire CEO, seeing the writing on the wall – the stock has been on a steady decline since mid-2015 – it's unlikely many people will miss visiting the company's stores. Investors, though, will need to think about what the end of Sears means for the retail stocks they hold. Is this bankruptcy another Amazon-related casualty? Is it because of bad management? Maybe it's both?
Don't blame Amazon
At one time, department stores were a solid investment. They had something for everyone, they held up relatively well in good times and bad and and many generated decent—and in some cases great—returns. Between the recession trough of March 9, 2009 and June 2015, around the time department store stocks began to falter, the S&P 500 Department Store Sub-Index was up 97.8%, just slightly below the S&P 500's 103% gain. Both Nordstrom and Macy's beat the benchmark, with 109% and 147% returns, respectively. However, since June 1, 2015, the index has fallen by 25%. Macy's stock has crashed by 51%, Nordstrom's down 17% and so on.
While it's easy to blame Amazon for the death of the department store, the company only accounted for 5% of all retail sales in the U.S. in 2017. That's certainly growing, and it is responsible for about half of all web sales in the States, but there's more going on than just an increase in online shopping. Many of the stores, and Sears is a prime example, have failed to innovate or update; heavy discounts have resulted in a race to the bottom on price, while much of the merchandise these stores have been selling can be found elsewhere. A 2017 Forbes story says that 40% of the merchandise in traditional department stores are also in other stores.
Sears had the added pressure of being mired in debt. According to its bankruptcy filing, it owes more than US$10 billion and has only US$1 billion in assets. "Sears certainly influenced their own demise," says Izabel Flis a portfolio manager with Franklin Bissett Investment Management. "Did they really even know their target market?"
Be cautious around retailers
It's for these reasons, and not just because of Amazon, why investors should proceed with caution around big box retailers. Some have been aggressively trying to play catch up, including Macy's, which has closed more than 100 stores since 2015 and wants to create exclusive lines people can't buy anywhere else. Its stock is up 51% over the last 12 months, according to S&P Capital IQ, but since August 15, when it reported its Q2 earnings, it's dropped by 8%.
Flis isn't keen on department stores because it's impossible to know what's to come. She likes a retailer such as Dollarama instead because, she says, they know their customers and it's easy to see how they make money. While the company isn't immune to the increasingly competitive retail sector—its stock is down 18% over the last 12 months, though it us up 114% over the last five years—she thinks it will rebound. "We remain confident in Dollarama's ability to weather the currently unfavorable operating environment, given its competitive position, robust business model and diligent focus on operations," she says.
The retailers that will do well are more niche players that can offer customers an in-store experience they can't get elsewhere and have products customers want. Canadian Tire, while certainly a big box store, is a good example of this, despite it stock price being down this year. Customers know to go there when they need skates, tires, bikes or other household or auto-related gear. They also own sports store Sport Chek, which has a certain atmosphere and experience you can't get elsewhere. "Canadian Tire is investing in the experience," says Flis. "That's how you build customer loyalty."