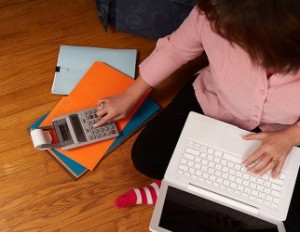 As we come to the close of the year, it's a good time to take stock of how much you're assets have gone up, while patting yourself on the back of your debt-reduction success.
Grab a pen and a piece of paper and on one side write, "What I Own." On the other write, "What I Owe." List everything. Well, almost everything. Don't bother trying to figure out what your "personal effects" are worth. Since they're unable to be resold, you're just trying to pad your net worth statement. And your car isn't worth what you paid for it, it's only worth what someone else would pay you for it, so check the Black Book Value.
Be vigilant about including everything you owe. Yes, that includes your overdraft balance, any buy-now-pay-laters that have yet to come due, but will, back-taxes, and anything you may owe to your RRSP if you used money from it to buy a home or go back to school. Student loans count. Pay advance loans count (ugh!) And loans to family and friends count.
So what are you going to do differently next year? How will you decrease your liabilities so you increase your assets? Do you have a plan? If you don't, you shouldn't expect to see much change in your net worth. If you want to be headed in the right direction, you'll be very specific about what you're going to do to grow your assets and shrink your debt. And you'll write down those goals.
You might:
Set up a preauthorized savings plan and have $25, $50, or $100 automatically debited from your chequing account to a high interest savings account every month.
Take on a second job for as long as it takes to banish the credit card debt that just won't seem to go away.
Cut back on your nice-to-haves for six months and send all the extra money to your emergency fund to bulk it up.
Increase your mortgage payment so that more of your money goes to paying down your principal while you have the flexibility to do so because of low interest rates.