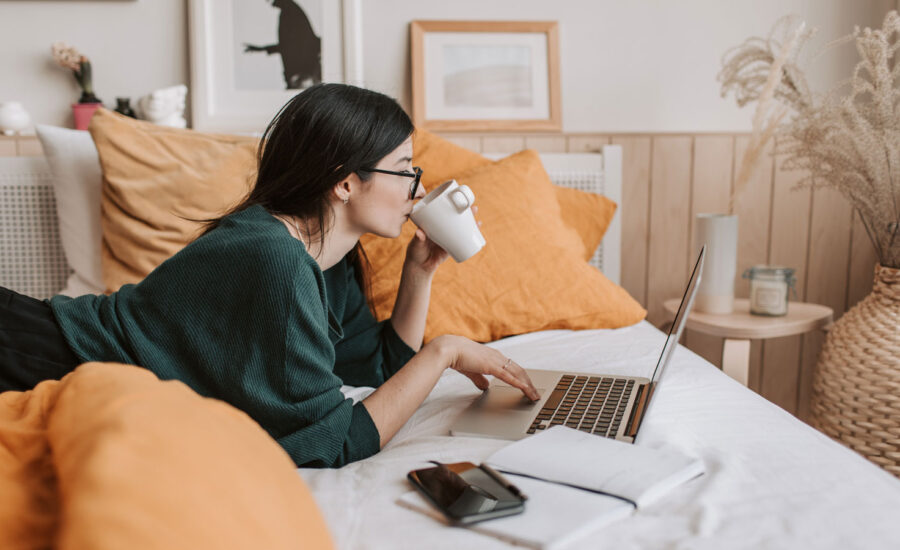 You may not have considered selling your clothes before. But opening the closet during a pandemic has many of us saying "I have no where to wear this," instead of "I have nothing to wear." The fact that we're in and out of lockdown means having a vast collection of gear doesn't make sense today—and likely won't in our post-pandemic lifestyle. We're entering a time when our closet can go lean with a few functional yet stylish clothing items that multitask at home, on Zoom calls and eventually back at the office.
So, let's get started. What clothes could you sell? What should you invest in (aside from more sweats)? 
The fashion resale business is booming and that forgotten blazer at the back of your wardrobe can pad your bank account in today's active reseller market. During the pandemic, eBay Canada's offerings have grown, with the company recording double-digit increases of fashion listings by Canadian sellers in October 2020 (compared to October 2019).
"Getting rid of things started out as clearing out my own closet, but it eventually grew to me helping out my parents, then close friends and family pre-COVID," says Lawrence Levinson. As the president and chair of Customer Experience Professionals Association (CXPA), he's busy with a full-time gig, yet during the pandemic Levinson found the time for a major purge, selling stuff online, including old clothes, musical instruments, and even a car. 
How to make money selling your clothes
Levinson has been a part-time purger for years. In addition to clothing, he has resold musical instruments, furniture, kids toys, even a car on eBay and has made over $25,000 in his 22 years of selling. Of that total, $10,000 was made just from his closet, and it takes him anywhere from one day to two weeks to close a sale and generally, rare or coveted items sell faster. 
"I sold an old Peter Gabriel concert T-shirt with visible stains and signs of wear on it, and [I] highlighted them in the description to be transparent, and it still sold for US$40," he says.  
Selling your gently used items either online through sources, such as eBay and Kijiji, or via consignment stores, can bring in the money to pay for investment pieces (luxury clothes and accessories that you had once treated yourself to). How much can you make? It depends.
If you choose to go the consignment store route, sellers can generally earn up to 25% of the selling price in cash or receive an in-store credit of up to 50% of the selling price. LAB Luxury Designer Consignment is one of the reputable online consignment stores in Canada, which also include Mine & Yours, The Upside and Valamonde.  
Kijiji, Facebook Marketplace and other similar buy-and-sell websites offer quick and primarily local selling opportunities, while eBay, an online marketplace that has been around since 1995, allows sellers access to local and international buyers.
"Even if you've never sold [clothes] online before, you can list your item in minutes," says Camille Kowalewski, head of communications at eBay Canada. "Listing is free, and you only pay a fee if your item sells, so there is no risk of trying." The fee is 9.15% of the sale, so if your item goes for $100, you'll owe $9.15 to eBay. 
What to toss, what to sell
With all of your clothes and accessories in one room, divide everything into categories, such as shirts, jackets, pants, workout clothes, etc.  
Then, ask yourself the following questions, says Janice Meredith, a contributing fashion expert on the popular lifestyle TV show Cityline:
Do you like it?

Does it still fit? And if it doesn't

quite

fit, will it ever fit?

Does it fit well? Think about ditching jeans that always fall down and shirts that constantly ride up)?

How often do you wear it?

Is it too hard to maintain—for example, is it dry-clean-only or does it need ironing every time you wear it?
With these questions in mind, pitch each item of clothing or accessory into one of five piles:
To keep.

To toss: Anything with holes, rips or stains.

To resell or to donate: Items in good to great condition. (This is referred to as "gently used" on websites.)

To store: Only enough to fill one bin of emotional keepers, such as your favourite shirt from university or a sentimental hand-me down from a parent.

To alter: Anything that needs buttons replaced, hemming, etc. Once mended and fixed up, these items can be moved to pile 1, 3 or 4.
Put all your "keep" items back into your closet, organized by category and colour. This way, you'll see everything you own, and it'll be obvious which key items you're still missing. (We'll get to that next.)
Invest in the clothes you need
You may notice we said invest here. That is because COVID calls for a minimalist closet.
"It's always better to get fewer quality items than poorly made ones," says on-air style advisor Afiya Francisco, who makes appearances on CTV Morning Live and Breakfast Television Toronto. Initially your cost-per-wear will be high compared to (the cost of the item divided by how many times you will wear it), but because your investment pieces will last longer, the cost-per-wear will become lower the longer your own each piece. This saves money in the long run and also helps you be discerning with your purchases, she adds, swearing by her best investment piece—a classic camel vintage blazer which matches all of her other must-haves. "Although it's a vintage piece, the cut is modern. And the fit and quality surpass some of the newer ones I've seen today. It's the perfect finisher for many outfits, so I get a ton of wear out of it."
Prioritizing a minimalist wardrobe also means that you won't feel the need to replace trendy items every season. Instead, you'll have a closet of quality, go-with-everything pieces that will save you time in the morning because you aren't poring over dozens of items. Bonus: buying fewer clothes is better for the environment. 
What a minimalist wardrobe means
Creating a minimalist wardrobe means owning pieces that all work together. Francisco says what's considered essential will be different for everyone, depending on stage of life and lifestyle but, generally speaking, the following items are great basics for every age and gender.
Slim fit joggers
"The new normal dictates that jogging pants can actually be taken seriously," says Francisco. The difference between jogging pants for work and the ones for play are that workwear styles tend to be slimmer and tapered—almost recreating the look of pants—but still comfortable enough to lounge during your lunch break.
The classic blazer
A sweater-style blazer in a tailored cut allows for more comfort and movement when you're at your computer, plus it dresses up jogging pants or jeans and a T-shirt. Look for quality construction such as solid and secure stitching, with no pilling. Francisco prefers natural fabrics like wool and cotton as they tend to age better. She adds that blends are OK and that pure synthetics have a place, but know that they don't breathe as well.
The fine-knit sweater
This minimalist must-have makes an excellent layering piece and works on its own, too. Francisco recommends finding one in the best material that you can afford, as long as it's made of a natural fibre, like cotton, merino wool or cashmere. Casual sweatshirt versions are also popping up in finer knits, affording a polished option during Zoom meetings that are also comfortable if you want to pair them with a blazer and joggers.
The essential winter coat
Anyone notice that they are walking more? Polished dress coats seem unnecessary right now, too. Time to invest in a topper that will keep you warm. "You want a piece that looks great but is practical," says Francisco, who likes a streamlined puffy coat that you can casually dress up. If your style verges more on classic, Meredith recommends a wool or cashmere notched-lapel collar coat that works for every occasion.
Wearable shoes and boots
Francisco swears that white shoes really go with everything. "In colder months swap them out for a military-style boot that can accommodate thick socks or choose one that has an interior lining of faux fur or shearling for added warmth."
A classic white tee and button-down shirt
You may need to replace these every few seasons, so be conscious of how much you spend. "A slightly oversized button-down is perfect and can be worn and styled a variety of ways," says Meredith.  "Just avoid [buying one with visible] puckering or curling around the collar." 
Flattering jeans
Before you buy online. it is good to know what works best for your body shape, especially with jeans. This includes where the pockets sit on the bum, the amount of distressing, and the colour of the denim. Versions with spandex or Lycra allow for more ease of movement—suitable for now and after lockdowns. A classic straight cut in a darker wash will withstand the test of time over more trendy cuts and finishes.
Watch: Why you need a USD account