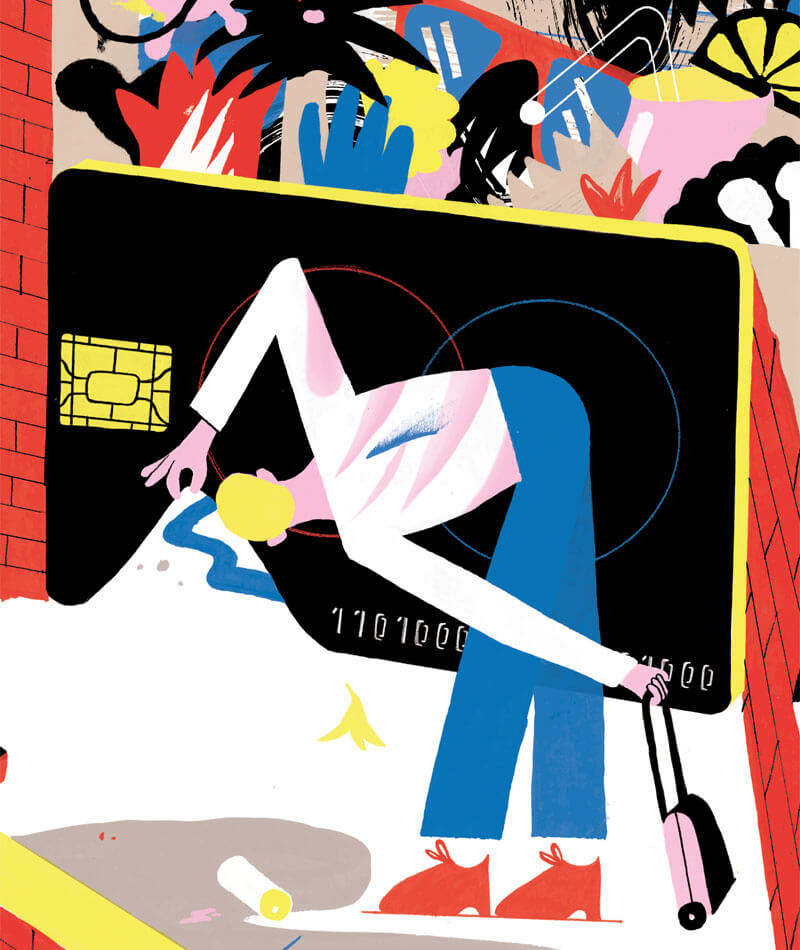 How many loyalty programs are you signed up with? The average Canadian keeps adding more, reaching almost 14 in 2016, according to research from Bond Brand Loyalty. How about if we were just talking loyalty credit cards? Odds are it's still way too many.
Find your next credit card*
See cards tailored for you from over 12 banks and card issuers
No impact to your credit score
Get an answer in under 60 seconds
You will be leaving MoneySense. Just close the tab to return.
Some of us will spend years, even decades, collecting points that we'll never redeem. One easy way to improve your benefits is to reduce your loyalty credit card count and focus on the one that best matches your spending habits. But the bigger problem is that for the ones you already have, you are probably using them wrong. It's time to stop wasting your time and leaving money on the table.
There is a whole subculture around collecting points and MoneySense spent time exploring the forums and talking to some of the savviest point collectors in Canada to learn the secrets of the game.
What did we learn? That among the various loyalty programs, those tied to credit cards offer the most upside for points hacking; it's possible to collect up to a million points in a year with minimal spending. An average cardholder might spend years to collect 200,000 reward points—that's child's play for the pros.
The experts taught us one key thing—that it's really not about how much you spend but how you game the system. Here are some of their best secrets.
All 'stores' are not equal
If you are a member of RBC, Aeroplan or Air Miles, there's a good chance you are missing out on easy rewards. Many consumers don't know that these three programs also operate online shopping portals that function as electronic malls with access to hundreds of major retailers. If you want to accelerate your rewards just by shopping there, here is how it works. Rather than going directly to a retailer online, enter your favourite store via one of these virtual malls. Once you're in, you'll have the same experience as if you went to the online store directly.
More importantly, you'll earn additional points at retailers you might not associate with a given loyalty program. For example, the Apple Store won't ask if you collect Aeroplan or Air Miles points, but you'll get them if you visit the store through Aeroplan.com or AirMiles.ca.
Consider the following: Let's say you bought a $500 iPad using an Aeroplan or Air Miles card. For that purchase you'd receive 500 Aeroplan points or 25 Air Miles on a typical credit card. But by shopping through one of these portals you could earn an extra 2,500 Aeroplan miles or 125 Air Miles on the purchase (enough to cover approximately 10% of a flight between Toronto and New York)—not counting any points you'd earn anyway on your credit card purchase.
These electronic malls offer promotions all the time and are a great way to accumulate rewards, says personal finance blogger Stephen Weyman. The best deals for this strategy tend to come around Christmas, he says, but if you want an even better payoff from your online purchases, he suggests skipping the shopping portals run by the credit cards and shopping a third-party portal like Ebates instead. Ebates works in a similar way to the points providers' portals in that you'll still earn points when you use your credit card but it also gives consumers up to 10% cash back on purchases. Since the payout is cash, Ebates isn't going to help you max out your loyalty points, but do the math and you'll see the payout is higher than what you'd typically get through one of the points portals.
Don't sit on your points
A colleague of mine, I'll call her Nicole, spent the past decade collecting Air Miles for an African safari, a once-in-a-lifetime trip she admits now she may never take. Like most collectors she started small: a fill-up here and a grocery trip there, making no concerted effort to accumulate reward miles.
More recently she racked up thousands more as she and her husband were able to steer some large purchases to the cards. Today, they have enough points to pick almost any destination they choose, short of their dream safari and they also have a larger family to consider, with two boys who weren't in the picture when they hatched this points plan. Just including the kids would add 9,000 Air Miles to the tab. And to complicate things, they are now being pressured to spend points quickly before Air Miles cancels them.
Nicole will still enjoy spending her points but her plan didn't come true because she didn't set reasonable goals for her rewards. If you want to be serious, base your plan on your current spending habits—because spending for the sake of rewards is just silly—and come up with a realistic estimate of how long it will take you to achieve it. If it's more than five years then it's probably in your best interest to consider changing programs or adjusting your goal to something more achievable.
Any longer than five years and you risk reward program changes, or losing your focus and saying yes to the next letter in the mail that offers you a different card for a different loyalty plan. And something else few loyalty members consider: Even if the points don't expire, they can depreciate. As an illustration, 2012 holders of the RBC Signature Rewards Card needed to redeem 12,000 points for a $100 gift card. Today that will cost you 14,000 points—a 14% decrease in the value of each point.
Churn up the sign-up bonuses
While Nicole has waited a decade to take her first flight on points, Matthew Lau has been to Japan, Miami, Europe, Hawaii and Vancouver on his Aeroplan points, all in the past two years. Lau, co-founder and chief editor of Pointshogger, a site devoted to leveraging loyalty programs, made those trips after collecting more than 250,000 points. It sounds like a lot but not to serious credit card points collectors. "I don't like to brag about that because I think that's a pretty small number," he says. His strategy is to chase sign-up bonuses, lots and lots of sign-up bonuses; he signs up for up to 10 cards a year. Lau figures that's where 60% of the 250,000 points came from. We put that strategy to the test and a quick tally of the sign-up bonuses of 11 Aeroplan-branded or American Express cards—all of which allow holders to transfer points on a one-to-one basis, would net you 230,000 points.
While many of these cards come with sign-up fees, these are often waived for the first year, meaning it's pure profit. That's key, though on rare occasions it may even make sense to pay the annual fee to get the sign-up bonus, says Weyman. Consider The Platinum Card from American Express* which comes with a hefty $699 fee. The card offers up this welcome bonus: Earn up to 80,000 membership rewards points when you spend $7,500 in the first 3 months.
Plus you'll get to eat and drink for free in all of the airport lounges, just for having that card. All told, you could squeeze a conservative $1,265 out of the card in the first year for a $699 fee—a net benefit of $566.
But a word of caution: Be wary of what churning can do to your credit score. Weyman says when he opened four new accounts in a six-month period, on top of a used car loan, he saw his score drop quite a bit. But if you're just opening a few cards a year it likely isn't much of a concern.
---
Get more details about The Platinum Card from American Express *
---
Want more points? Just ask
Most consumers know that they can often get a better deal on contracts if they apply a bit of pressure on the customer service rep. You can do the same thing for credit cards and it's one of Lau's favourite tricks. Some companies might offer a discount on the annual fee while other companies may offer bonus points, which in some cases can be more valuable, he says.
Ideally, time your call to when your annual fee is due. Lau's advice: Don't go in with a set of demands. Instead, be polite and say you want to keep the card but explain that you're looking for ways to lower your costs. "It depends on how you negotiate; there is some tact to it. "Threatening to cancel is not always to your advantage." Dragging out the conversation as long as you can should be helpful too. After 20 minutes or so he says most agents will be looking for ways to get rid of you. Some will eventually give in since they're not allowed to hang up.
MoneySense found it was even easier than that. We tried it out and in less than five minutes we were offered a 50% reduction on a $120 annual fee.
Enroll smarter
Credit card firms will go to great lengths with sign-up offers to gain your business, but for very little added effort you can find ways to boost the offer size. Third-party comparison websites regularly run sign-up promotions for credit cards, offering an additional bonus worth $100—and that's on top of any sign-up bonus features that are normally being offered with the card.
Referring friends to the card you already use is another way to top up your rewards even further.
Leverage spending
One points hack is to "manufacture" spending. While no credit card offers points on cash-like transactions, such as buying lottery tickets or withdrawing cash, experts have found ways to earn points without racking up a hefty credit card bill. For instance, a cardholder could buy gift cards at a retailer to earn points and then immediately liquidate them to pay off their bill.
That is a crude illustration of how it could work. Travel hackers have come up with much more efficient means, but they keep those close to their chest as the industry is known for closing those loopholes as soon as they become apparent. It's risky too. If you make a miscalculation you could be left with a pile of goods you can't liquidate or the issuer may not award the points for the transaction. It only works if you can leverage it so that your rewards are more than the cost of the transaction. It's complicated, costly and requires quite a bit of planning so this strategy may not be for everyone. [See "Turn $245 into $1,100"]
Take advantage of conversion programs
Looking to make one last push to get the points you need for that dream vacation? There's still more you can do. A number of credit card companies allow cardholders to convert their points into another loyalty program, often with bonus point promotions. One such promotion run by Aeroplan will give cardholders up to 55,000 bonus points when they transfer their hotel rewards into Aeroplan miles. Proof it pays off? Lau says about 20% of the 250,000 points he accumulated last year were due to transfer bonuses alone.
Best cash-back cards »
Best low rate cards »
Best retail rewards cards »
Best student card »
Best travel rewards cards »
Best business cards »
What does the * mean?
If a link has an asterisk (*) at the end of it, that means it's an affiliate link and can sometimes result in a payment to MoneySense (owned by Ratehub Inc.) which helps our website stay free to our users. It's important to note that our editorial content will never be impacted by these links. We are committed to looking at all available products in the market, and where a product ranks in our article or whether or not it's included in the first place is never driven by compensation. For more details read our MoneySense Monetization policy.