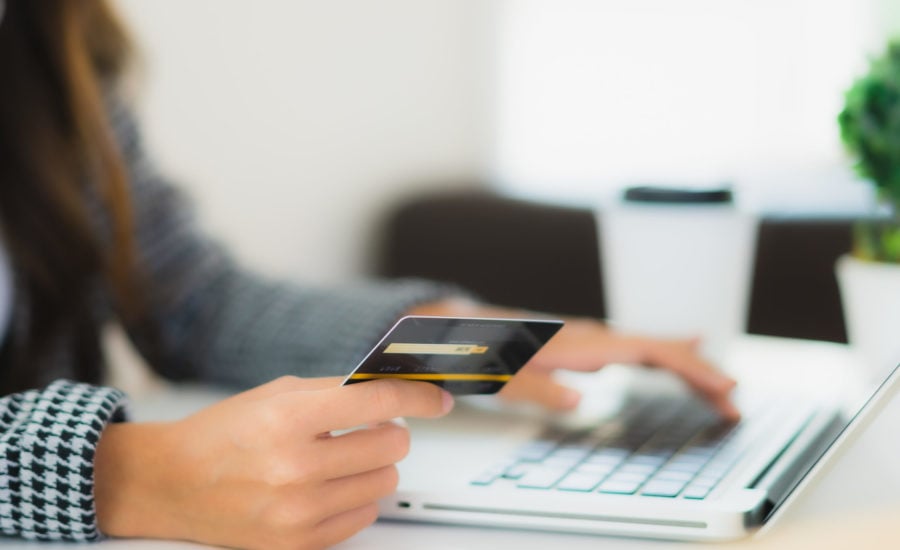 If you're dreading your credit card bill, you're not alone. According to the Bank of Canada, 30% of us carry a balance from month to month, accruing interest, on average, at an eye-watering 19.99%. Simply put, we're in the red, with an average of $23,800 per Canadian owing on credit cards, lines of credit, loans and other non-mortgage debt, according to Equifax Canada.
Find your next credit card*
See cards tailored for you from over 12 banks and card issuers
No impact to your credit score
Get an answer in under 60 seconds
You will be leaving MoneySense. Just close the tab to return.
Those stats are from the end of 2019. Since the COVID-19 pandemic took effect, Statistics Canada reports that more than one million Canadians lost their job in March, taking the unemployment rate from historic lows to 7.8%. The job loss is a decline not seen since the 1980s. 
What does that mean to our day-to-day financial lives? One in three (34%) Canadians are worried that they may miss rent or a mortgage payment or have to borrow money, according to an Angus Reid survey, released March 25. In addition, the survey found that 37% of households who have experienced job loss say that they aren't equipped to handle an extra $100 expense in the next 30 days. 
With all this in mind and no set date for the country to reopen, we're all looking to pare our expenses down. That means cutting back on unnecessary expenses, as well as reducing food waste by cooking everything in the pantry. If, after doing that, you're still short on cash to cover necessities, you might want to consider deferring payments where you can, including on credit cards. 
What does credit card deferral mean?
Before you make that decision, it's important to understand what deferring payment means. It's not a wiping out of debt, as when Chase Canada exited the market and forgave all credit card debt for its customers. While you won't have to make any payments now, you will have to pay your balance eventually. Plus, while you're deferring payments, interest is still accruing on your balances. 
Canada's Big Five banks, and other financial institutions, are offering credit card payment deferral upon approval. That means even if you think you need the financial breathing room that temporarily not having to pay your credit card bill would provide, your credit card issuer may not agree. The amount of time you can defer payment varies from issuer to issuer, generally one to six months.
Will deferring payments affect my credit score?
Once you officially contact your financial institution and get approved for deferral, a skipped payment will not affect your credit score. 
What deferral options are available from major credit card issuers?
Let's look at the deferral options some of the major credit card issuers are offering for personal credit cards, and what that means for you if you are approved.  
What is the offer? 
An approved applicant can get up to three months of payments deferred. 
Criteria for qualification
You cannot have received a previous interest rate relief option due to COVID-19 on your credit card. You must be the primary account holder and it can't be a business credit card. You also have to be approved for the Canada Emergency Response Benefit (CERB), be receiving Employment Insurance (EI), or show other proof of financial hardship.
How does the interest deferral work? 
Interest will still accrue, but TD states that it will credit you 50% of the interest charged for three months. The credit could take up to 30 days to show on your statement. 
What is the offer? 
An approved applicant can temporarily waive payment on their credit card for one month. For longer relief periods, you'll have to book time with one of RBC's advisors. 
Criteria for qualification
RBC doesn't list the criteria on their website, instead encouraging customers to log in, select the 'Need to defer a minimum payment due to COVID-19' link below your credit card information, and to follow the instructions to apply. 
How does the interest deferral work? 
If you defer payment, the interest will continue to accrue at your annual interest rate and be added to your balance. That could increase your minimum balance. RBC does say very clearly that they do not charge interest on accrued interest. As with TD, RBC will reimburse 50% of the interest charged during the relief period. 
What is the offer? 
Any customer who is affected by COVID-19 and has a credit card can apply for relief. Once approved, you won't have to make minimum payments during the deferral period, which is up to three months. 
Criteria for qualification
You have to sign up or sign into your Scotiabank account online or via the app. From there, it's a four-step process. First, select the credit card you want to defer payments for. Then, follow the prompts to "request assistance" and select your credit card (you'll also see other banking products you may be eligible to defer payments for). If you have  missed your last three consecutive payments, you may not qualify for deferral. 
How does the interest deferral work? 
Scotiabank has what looks like a different offer from TD and RBC. Interest will accrue, but once you're approved, the bank will temporarily reduce the interest rate on purchases and cash advances to 10.99% during the deferral period. It will look like an interest credit and you'll receive it every month of the deferral period. It's very similar to the 50% reduction in interest from other banks. If you have creditor insurance on your card, the premiums will continue to be charged. 
What is the offer? 
You can defer your credit card payment for up to three months, once approved. 
Criteria for qualification
You have to fill out a form with your name, contract information, verification of choice (last 4 digits of one of your 16-digit CIBC credit cards or the last 4 digits of your 16-digit CIBC debit/client card), and choose the credit card option. CIBC will get back to you with next steps (they don't say when due to high volume).
How does the deferral work? 
Interest will accrue and, apart from the deferral, you will get a lower rate of 10.99% during this period of time, which will be applied as a rebate on future statements. For business credit cards, CIBC encourages holders to fill out a form for assistance. 
What is the offer?
If approved, BMO credit card holders could get up to six months of deferral. 
Criteria for qualification
There is no set criteria. The bank says you can request a deferral through online banking or by filling out this form if you don't use online banking. 
How does the deferral work? 
BMO offers the longest deferral period of the major banks. Interest will be accrued and added to your balance. 
What is the offer? 
Interest and principal can be deferred for up to six months, and interest is  temporarily reduced to 10.9% for the period of the deferral. 
Criteria for qualification
Every request is taken on a case-by-case basis but to qualify you need to: 
Have contracted COVID-19 and can't work

Be in quarantine

Have been laid off or lost your job

Can't go to work due to travel restrictions

Be affected financially by other issues related to COVID-19
How does the deferral work? 
Interest will accrue during the deferral period and added to your balance; during that period, you'll have a lower interest rate of 10.9%.
Bottom line
This is an overview but there are several similarities between the banks. Most are offering a three to six month deferral period along with either a reduced interest rate or a reimbursement of 50% of the interest accrued. While deferring payments is an option, it's one of last resort so make sure you read the fine print. If you can, continue to make payments on your cards, and use deferral only if you truly need to.
 Related articles: