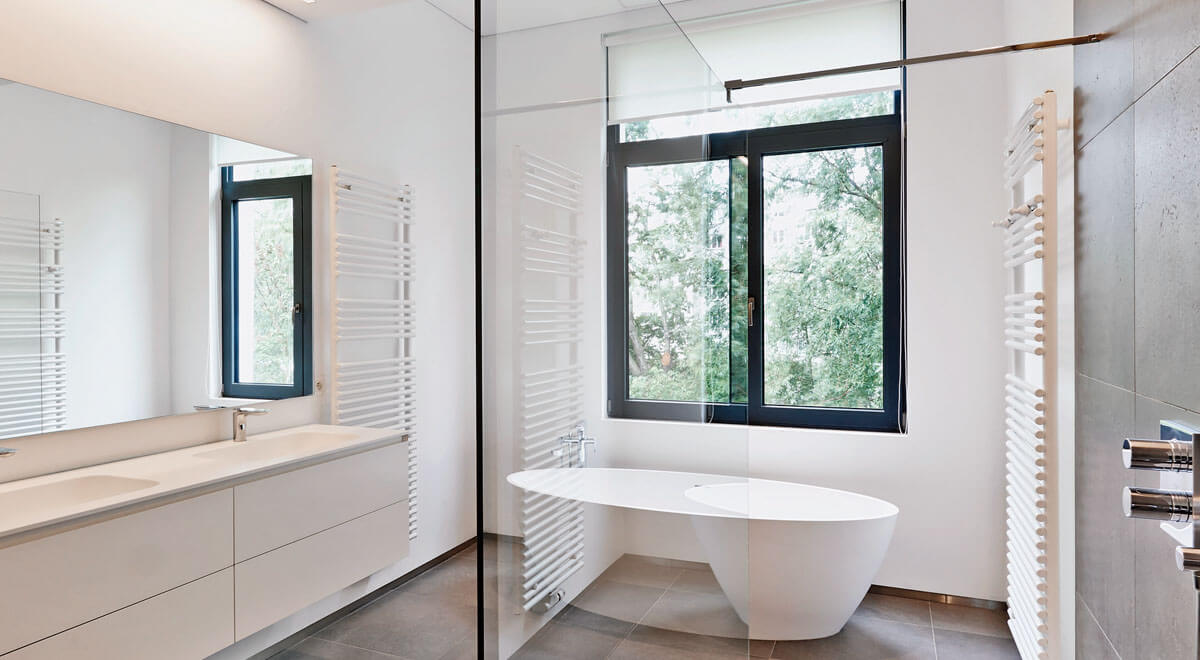 You can recoup as much as 65 to 71 cents for every $1 you spend on a bathroom reno. Good news, considering last year Canadians spent an average of $23,300 on a large bathroom remodel, according to Houzz. But not all updates are created equal. "Don't rip out a bathtub or enlarge a bathroom by removing a bedroom if you plan on moving in five years or less," says Pervan. Fewer bedrooms and a lack of small-child bathing options make a home unappealing to young families. Instead, focus on creating a "spa-like" atmosphere with a soothing colour palette, clean, modern lines and upscale-look finishes.
Glass doors
Glass is a custom fit, custom ordered material which often stops renovators from adding it to the material list. Yet, as a building material, it's relatively cheap, explains Pervan. Expect to pay under $2,000 for the installation of a custom-fit door, including hardware, for a standard-sized tub opening. "Yes, it's pricier than a $50 shower curtain rod, but it really adds that spa-like, higher-end feel to a bathroom," says Pervan.
Pro tip: Full frameless looks amazing—like floating glass—but you'll pay a premium. Instead, consider a thinner glass door, installed by a pro, as the best compromise between off-the-shelf cheaper products and high-end custom
Tile
It pays to hire a pro when it comes to a bathroom upgrade, as long as they're willing to pass on some of their material discounts. For example, the price of one brand of glossy-glass subway tile is $8.25/square foot for DIYers, while accredited pros can get the same tile for less than $2/sq. ft.
Pro tip: Bathrooms are, for the most part, smaller rooms, so splashing out on a really good, long-lasting tile can add some luxury and increase the perceived value of your home.If marble is outrageous, consider a porcelain tile which can mimic the look of marble, but at a fraction of the price
[ Splurge! ] Self-cleaning toilet
Tired of the big yellow gloves and the toilet bowl brush? Splash out with an American Standard self-cleaning toilet. It'll set you back about $1,000 (plus installation) and the $20 cartridge lasts just under two months.
Top basement & garage upgrades »