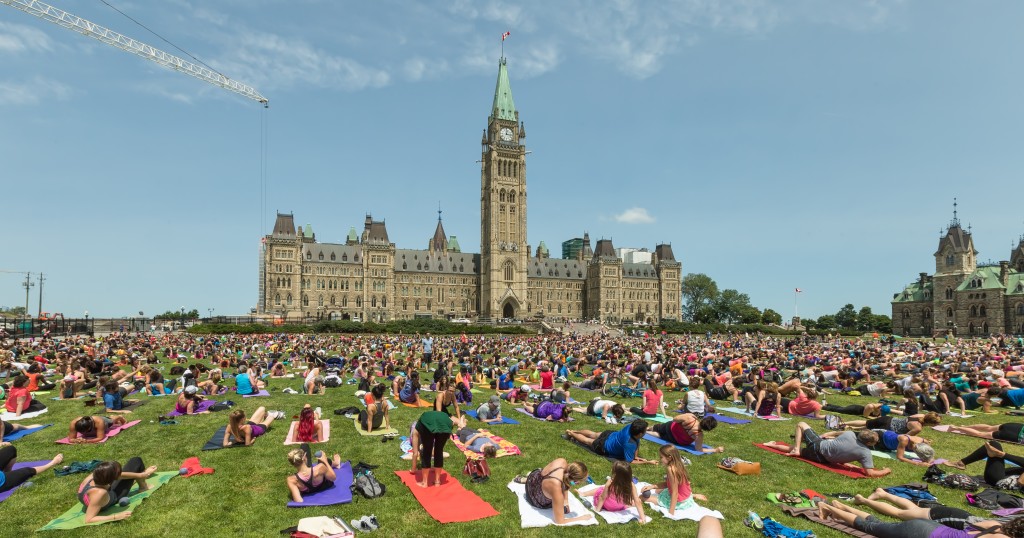 Access to health care isn't something that's typically at the top of people's checklists when they're looking for a place to live — but maybe it should be.
Living far from an urban centre might mean long trips and expensive overnight stays if you or someone in your family needs specialized care. Ambulances might take longer to reach you in emergency situations. And in some parts of the country, you might find yourself on a long waitlist for necessary treatments.
---
PHOTOS:
---
The Best Places to Live ranking has always included access to health care as an indicator, but this year, we beefed it up. We added data on health care wait times at both the regional and provincial level, awarding high marks to cities where residents can expect faster access to surgeries, cancer therapy and other treatments.
The results are clear: If you want plenty of family doctors, proximity to top hospitals and reasonable wait times, Ottawa is the place to be. In fact, five of the other cities in the top 10 best places for access to health care are within easy driving distance of Canada's capital.
Thanks to the fastest health care wait times in the country, Ontario is also the clear winning province. Sherbrooke, Que., is the only one of the top 25 cities for access to health care that's outside Ontario, thanks to its hospitals affiliated with the Université de Sherbrooke Faculty of Medicine and wait times for hip and knee replacements among the top 10 shortest in the country.
The access to health care category is worth 11 per cent of the main Best Places to Live ranking. The category considers the number of family doctors and specialists, the number of doctor's offices, regional and provincial health care wait times and proximity to hospitals. For more information, please see the methodology page.
---
The Top 100
Search to filter by city or province:
| Rank | City | Province | Family doctors per 100,000 residents in health region | Specialists per 100,000 residents in health region | Doctors' offices | Days on wait list for a hip replacement [1] | Days on wait list for a knee replacement [1] | Days on wait list for bypass surgery [2] | Days on wait list for cataract surgery [2] | Days on wait list for breast cancer surgery [2] | Days on wait list for lung cancer surgery [2] | Days on wait list for colorectal cancer surgery [2] | Days on wait list for bladder cancer surgery [2] | Days on wait list for radiation therapy [2] | Days on wait list for hip fracture repair [2] | Days on wait list for prostate cancer surgery [2] |
| --- | --- | --- | --- | --- | --- | --- | --- | --- | --- | --- | --- | --- | --- | --- | --- | --- |
| 1 | Ottawa | ON | 142 | 149 | 779 | 83 | 83 | 7 | 67 | 15 | 16 | 19 | 24 | 7.7 | 86 | 34 |
| 2 | Cornwall | ON | 142 | 149 | 74 | 83 | 83 | 7 | 67 | 15 | 16 | 19 | 24 | 7.7 | 86 | 34 |
| 3 | Thunder Bay | ON | 135 | 78 | 192 | 77 | 65 | 7 | 67 | 15 | 16 | 19 | 24 | 7.7 | 86 | 34 |
| 4 | Hawkesbury | ON | 142 | 149 | 22 | 83 | 83 | 7 | 67 | 15 | 16 | 19 | 24 | 7.7 | 86 | 34 |
| 5 | Pembroke | ON | 142 | 149 | 21 | 83 | 83 | 7 | 67 | 15 | 16 | 19 | 24 | 7.7 | 86 | 34 |
| 6 | North Dundas | ON | 142 | 149 | 10 | 83 | 83 | 7 | 67 | 15 | 16 | 19 | 24 | 7.7 | 86 | 34 |
| 7 | Greater Sudbury | ON | 120 | 76 | 151 | 69 | 87 | 7 | 67 | 15 | 16 | 19 | 24 | 7.7 | 86 | 34 |
| 8 | Sault Ste. Marie | ON | 120 | 76 | 141 | 69 | 87 | 7 | 67 | 15 | 16 | 19 | 24 | 7.7 | 86 | 34 |
| 9 | Kingston | ON | 137 | 131 | 189 | 95 | 101 | 7 | 67 | 15 | 16 | 19 | 24 | 7.7 | 86 | 34 |
| 10 | Carleton Place | ON | 142 | 149 | 8 | 83 | 83 | 7 | 67 | 15 | 16 | 19 | 24 | 7.7 | 86 | 34 |
| 11 | North Bay | ON | 120 | 76 | 80 | 69 | 87 | 7 | 67 | 15 | 16 | 19 | 24 | 7.7 | 86 | 34 |
| 12 | Sherbrooke | QC | 130 | 133 | 183 | 53 | 65 | N/A | 41 | 19 | 21 | 20 | 26 | N/A | N/A | 35 |
| 13 | Belleville | ON | 137 | 131 | 98 | 95 | 101 | 7 | 67 | 15 | 16 | 19 | 24 | 7.7 | 86 | 34 |
| 14 | Kenora | ON | 135 | 78 | 21 | 77 | 65 | 7 | 67 | 15 | 16 | 19 | 24 | 7.7 | 86 | 34 |
| 15 | North Glengarry | ON | 142 | 149 | 6 | 83 | 83 | 7 | 67 | 15 | 16 | 19 | 24 | 7.7 | 86 | 34 |
| 16 | North Grenville | ON | 142 | 149 | 6 | 83 | 83 | 7 | 67 | 15 | 16 | 19 | 24 | 7.7 | 86 | 34 |
| 17 | Mississippi Mills | ON | 142 | 149 | 6 | 83 | 83 | 7 | 67 | 15 | 16 | 19 | 24 | 7.7 | 86 | 34 |
| 18 | Timmins | ON | 120 | 76 | 40 | 69 | 87 | 7 | 67 | 15 | 16 | 19 | 24 | 7.7 | 86 | 34 |
| 19 | Brockville | ON | 137 | 131 | 48 | 95 | 101 | 7 | 67 | 15 | 16 | 19 | 24 | 7.7 | 86 | 34 |
| 20 | Markham | ON | 95 | 77 | 238 | 72 | 78 | 7 | 67 | 15 | 16 | 19 | 24 | 7.7 | 86 | 34 |
| 21 | South Glengarry | ON | 142 | 149 | 2 | 83 | 83 | 7 | 67 | 15 | 16 | 19 | 24 | 7.7 | 86 | 34 |
| 22 | The Nation | ON | 142 | 149 | 2 | 83 | 83 | 7 | 67 | 15 | 16 | 19 | 24 | 7.7 | 86 | 34 |
| 23 | Richmond Hill | ON | 95 | 77 | 184 | 72 | 78 | 7 | 67 | 15 | 16 | 19 | 24 | 7.7 | 86 | 34 |
| 24 | Newmarket | ON | 95 | 77 | 131 | 72 | 78 | 7 | 67 | 15 | 16 | 19 | 24 | 7.7 | 86 | 34 |
| 25 | Prince Edward County | ON | 137 | 131 | 26 | 95 | 101 | 7 | 67 | 15 | 16 | 19 | 24 | 7.7 | 86 | 34 |
| 26 | Granby | QC | 130 | 133 | 35 | 53 | 65 | N/A | 41 | 19 | 21 | 20 | 26 | N/A | N/A | 35 |
| 27 | Prince Albert | SK | 126 | 66 | 97 | 43 | 65 | 3 | 59 | 21 | 16 | 19 | 18 | 7 | 82 | 50 |
| 28 | Quinte West | ON | 137 | 131 | 21 | 95 | 101 | 7 | 67 | 15 | 16 | 19 | 24 | 7.7 | 86 | 34 |
| 29 | Trois-Rivières | QC | 110 | 88 | 192 | 63 | 60 | N/A | 41 | 19 | 21 | 20 | 26 | N/A | N/A | 35 |
| 30 | Temiskaming Shores | ON | 120 | 76 | 14 | 69 | 87 | 7 | 67 | 15 | 16 | 19 | 24 | 7.7 | 86 | 34 |
| 31 | West Nipissing | ON | 120 | 76 | 10 | 69 | 87 | 7 | 67 | 15 | 16 | 19 | 24 | 7.7 | 86 | 34 |
| 32 | Drummondville | QC | 110 | 88 | 91 | 63 | 60 | N/A | 41 | 19 | 21 | 20 | 26 | N/A | N/A | 35 |
| 33 | Aurora | ON | 95 | 77 | 31 | 72 | 78 | 7 | 67 | 15 | 16 | 19 | 24 | 7.7 | 86 | 34 |
| 34 | Montréal | QC | 124 | 221 | 1059 | 86 | 94 | N/A | 41 | 19 | 21 | 20 | 26 | N/A | N/A | 35 |
| 35 | Georgina | ON | 95 | 77 | 27 | 72 | 78 | 7 | 67 | 15 | 16 | 19 | 24 | 7.7 | 86 | 34 |
| 36 | Greater Napanee | ON | 137 | 131 | 10 | 95 | 101 | 7 | 67 | 15 | 16 | 19 | 24 | 7.7 | 86 | 34 |
| 37 | Shawinigan | QC | 110 | 88 | 67 | 63 | 60 | N/A | 41 | 19 | 21 | 20 | 26 | N/A | N/A | 35 |
| 38 | Victoriaville | QC | 110 | 88 | 54 | 63 | 60 | N/A | 41 | 19 | 21 | 20 | 26 | N/A | N/A | 35 |
| 39 | Magog | QC | 130 | 133 | 11 | 53 | 65 | N/A | 41 | 19 | 21 | 20 | 26 | N/A | N/A | 35 |
| 40 | Peterborough | ON | 81 | 66 | 187 | 71 | 78 | 7 | 67 | 15 | 16 | 19 | 24 | 7.7 | 86 | 34 |
| 41 | Cowansville | QC | 130 | 133 | 9 | 53 | 65 | N/A | 41 | 19 | 21 | 20 | 26 | N/A | N/A | 35 |
| 42 | Oshawa | ON | 81 | 66 | 115 | 71 | 78 | 7 | 67 | 15 | 16 | 19 | 24 | 7.7 | 86 | 34 |
| 43 | Gaspé | QC | 198 | 100 | 4 | 40 | 47 | N/A | 41 | 19 | 21 | 20 | 26 | N/A | N/A | 35 |
| 44 | Whitby | ON | 81 | 66 | 81 | 71 | 78 | 7 | 67 | 15 | 16 | 19 | 24 | 7.7 | 86 | 34 |
| 45 | Ajax | ON | 81 | 66 | 80 | 71 | 78 | 7 | 67 | 15 | 16 | 19 | 24 | 7.7 | 86 | 34 |
| 46 | Westmount | QC | 124 | 221 | 78 | 86 | 94 | N/A | 41 | 19 | 21 | 20 | 26 | N/A | N/A | 35 |
| 47 | Les Îles-de-la-Madeleine | QC | 198 | 100 | 3 | 40 | 47 | N/A | 41 | 19 | 21 | 20 | 26 | N/A | N/A | 35 |
| 48 | New Tecumseth | ON | 95 | 77 | 13 | 72 | 78 | 7 | 67 | 15 | 16 | 19 | 24 | 7.7 | 86 | 34 |
| 49 | Elliot Lake | ON | 120 | 76 | 3 | 69 | 87 | 7 | 67 | 15 | 16 | 19 | 24 | 7.7 | 86 | 34 |
| 50 | Pointe-Claire | QC | 124 | 221 | 61 | 86 | 94 | N/A | 41 | 19 | 21 | 20 | 26 | N/A | N/A | 35 |
| 51 | Kawartha Lakes | ON | 81 | 66 | 58 | 71 | 78 | 7 | 67 | 15 | 16 | 19 | 24 | 7.7 | 86 | 34 |
| 52 | Pickering | ON | 81 | 66 | 50 | 71 | 78 | 7 | 67 | 15 | 16 | 19 | 24 | 7.7 | 86 | 34 |
| 53 | Sept-Îles | QC | 172 | 76 | 12 | 37 | 77 | N/A | 41 | 19 | 21 | 20 | 26 | N/A | N/A | 35 |
| 54 | Oakville | ON | 91 | 73 | 220 | 77 | 100 | 7 | 67 | 15 | 16 | 19 | 24 | 7.7 | 86 | 34 |
| 55 | Rouyn-Noranda | QC | 139 | 89 | 41 | 81 | 83 | N/A | 41 | 19 | 21 | 20 | 26 | N/A | N/A | 35 |
| 56 | Baie-Comeau | QC | 172 | 76 | 10 | 37 | 77 | N/A | 41 | 19 | 21 | 20 | 26 | N/A | N/A | 35 |
| 57 | Mont-Royal | QC | 124 | 221 | 25 | 86 | 94 | N/A | 41 | 19 | 21 | 20 | 26 | N/A | N/A | 35 |
| 58 | Barrie | ON | 105 | 68 | 195 | 95 | 104 | 7 | 67 | 15 | 16 | 19 | 24 | 7.7 | 86 | 34 |
| 59 | Milton | ON | 91 | 73 | 63 | 77 | 100 | 7 | 67 | 15 | 16 | 19 | 24 | 7.7 | 86 | 34 |
| 60 | Cobourg | ON | 81 | 66 | 20 | 71 | 78 | 7 | 67 | 15 | 16 | 19 | 24 | 7.7 | 86 | 34 |
| 61 | Dollard-Des Ormeaux | QC | 124 | 221 | 19 | 86 | 94 | N/A | 41 | 19 | 21 | 20 | 26 | N/A | N/A | 35 |
| 62 | Val-d'Or | QC | 139 | 89 | 20 | 81 | 83 | N/A | 41 | 19 | 21 | 20 | 26 | N/A | N/A | 35 |
| 63 | Vancouver | BC | 177 | 299 | 958 | 94 | 127 | 7 | 78 | 18 | 24 | 21 | 23 | 9 | 84 | 40 |
| 64 | Dorval | QC | 124 | 221 | 18 | 86 | 94 | N/A | 41 | 19 | 21 | 20 | 26 | N/A | N/A | 35 |
| 65 | Hamilton | ON | 100 | 118 | 569 | 116 | 106 | 7 | 67 | 15 | 16 | 19 | 24 | 7.7 | 86 | 34 |
| 66 | Saguenay | QC | 132 | 102 | 168 | 80 | 106 | N/A | 41 | 19 | 21 | 20 | 26 | N/A | N/A | 35 |
| 67 | Clarington | ON | 81 | 66 | 17 | 71 | 78 | 7 | 67 | 15 | 16 | 19 | 24 | 7.7 | 86 | 34 |
| 68 | Kirkland | QC | 124 | 221 | 17 | 86 | 94 | N/A | 41 | 19 | 21 | 20 | 26 | N/A | N/A | 35 |
| 69 | Windsor | ON | 93 | 64 | 378 | 69 | 110 | 7 | 67 | 15 | 16 | 19 | 24 | 7.7 | 86 | 34 |
| 70 | Côte-Saint-Luc | QC | 124 | 221 | 15 | 86 | 94 | N/A | 41 | 19 | 21 | 20 | 26 | N/A | N/A | 35 |
| 71 | Orillia | ON | 105 | 68 | 69 | 95 | 104 | 7 | 67 | 15 | 16 | 19 | 24 | 7.7 | 86 | 34 |
| 72 | St. Catharines | ON | 100 | 118 | 201 | 116 | 106 | 7 | 67 | 15 | 16 | 19 | 24 | 7.7 | 86 | 34 |
| 73 | Amos | QC | 139 | 89 | 16 | 81 | 83 | N/A | 41 | 19 | 21 | 20 | 26 | N/A | N/A | 35 |
| 74 | Burlington | ON | 100 | 118 | 197 | 116 | 106 | 7 | 67 | 15 | 16 | 19 | 24 | 7.7 | 86 | 34 |
| 75 | St. John's | NL | 130 | 148 | 250 | 92 | 149 | 6 | 63 | 14 | 23 | 12 | 21 | 12 | 87 | 34 |
| 76 | La Tuque | QC | 110 | 88 | 6 | 63 | 60 | N/A | 41 | 19 | 21 | 20 | 26 | N/A | N/A | 35 |
| 77 | Collingwood | ON | 105 | 68 | 44 | 95 | 104 | 7 | 67 | 15 | 16 | 19 | 24 | 7.7 | 86 | 34 |
| 78 | Halton Hills | ON | 91 | 73 | 27 | 77 | 100 | 7 | 67 | 15 | 16 | 19 | 24 | 7.7 | 86 | 34 |
| 79 | Uxbridge | ON | 81 | 66 | 11 | 71 | 78 | 7 | 67 | 15 | 16 | 19 | 24 | 7.7 | 86 | 34 |
| 80 | Adjala-Tosorontio | ON | 95 | 77 | 0 | 72 | 78 | 7 | 67 | 15 | 16 | 19 | 24 | 7.7 | 86 | 34 |
| 81 | Niagara Falls | ON | 100 | 118 | 94 | 116 | 106 | 7 | 67 | 15 | 16 | 19 | 24 | 7.7 | 86 | 34 |
| 82 | Brantford | ON | 100 | 118 | 94 | 116 | 106 | 7 | 67 | 15 | 16 | 19 | 24 | 7.7 | 86 | 34 |
| 83 | Midland | ON | 105 | 68 | 34 | 95 | 104 | 7 | 67 | 15 | 16 | 19 | 24 | 7.7 | 86 | 34 |
| 84 | Sarnia | ON | 93 | 64 | 80 | 69 | 110 | 7 | 67 | 15 | 16 | 19 | 24 | 7.7 | 86 | 34 |
| 85 | Chatham-Kent | ON | 93 | 64 | 75 | 69 | 110 | 7 | 67 | 15 | 16 | 19 | 24 | 7.7 | 86 | 34 |
| 86 | Port Hope | ON | 81 | 66 | 8 | 71 | 78 | 7 | 67 | 15 | 16 | 19 | 24 | 7.7 | 86 | 34 |
| 87 | Alma | QC | 132 | 102 | 39 | 80 | 106 | N/A | 41 | 19 | 21 | 20 | 26 | N/A | N/A | 35 |
| 88 | Bracebridge | ON | 105 | 68 | 24 | 95 | 104 | 7 | 67 | 15 | 16 | 19 | 24 | 7.7 | 86 | 34 |
| 89 | Trent Hills | ON | 81 | 66 | 6 | 71 | 78 | 7 | 67 | 15 | 16 | 19 | 24 | 7.7 | 86 | 34 |
| 90 | Huntsville | ON | 105 | 68 | 23 | 95 | 104 | 7 | 67 | 15 | 16 | 19 | 24 | 7.7 | 86 | 34 |
| 91 | Welland | ON | 100 | 118 | 42 | 116 | 106 | 7 | 67 | 15 | 16 | 19 | 24 | 7.7 | 86 | 34 |
| 92 | Roberval | QC | 132 | 102 | 25 | 80 | 106 | N/A | 41 | 19 | 21 | 20 | 26 | N/A | N/A | 35 |
| 93 | Lévis | QC | 106 | 87 | 59 | 85 | 94 | N/A | 41 | 19 | 21 | 20 | 26 | N/A | N/A | 35 |
| 94 | Leamington | ON | 93 | 64 | 36 | 69 | 110 | 7 | 67 | 15 | 16 | 19 | 24 | 7.7 | 86 | 34 |
| 95 | Scugog | ON | 81 | 66 | 4 | 71 | 78 | 7 | 67 | 15 | 16 | 19 | 24 | 7.7 | 86 | 34 |
| 96 | Saskatoon | SK | 118 | 161 | 602 | 114 | 152 | 3 | 59 | 21 | 16 | 19 | 18 | 7 | 82 | 50 |
| 97 | Saint-Georges | QC | 106 | 87 | 44 | 85 | 94 | N/A | 41 | 19 | 21 | 20 | 26 | N/A | N/A | 35 |
| 98 | Corner Brook | NL | 139 | 90 | 45 | 92 | 140 | 6 | 63 | 14 | 23 | 12 | 21 | 12 | 87 | 34 |
| 99 | Beaconsfield | QC | 124 | 221 | 3 | 86 | 94 | N/A | 41 | 19 | 21 | 20 | 26 | N/A | N/A | 35 |
| 100 | Kitchener | ON | 99 | 68 | 249 | 95 | 148 | 7 | 67 | 15 | 16 | 19 | 24 | 7.7 | 86 | 34 |
[1] Median days in health region
[2] Median days in province