The recreational property market got off to a slow start again in 2015—for the second consecutive year. The slower sales pace is due, in part, to harsh weather delayed in most regions that lasted well into the spring buying season. Still, as soon as the sun broke through brokerages and agents that specialize in cottage, cabin or chalet properties got a rush of activity as buyers made up for lost time.
According to the 2015 Royal LePage Recreational Property Report,  released today, all property types have experienced a strong start to the recreational property buying season. Consistent with previous years, the demand for waterfront properties continues to produce the greatest price appreciation. Experienced agents are quick to point out that waterfront is finite and there is only so much property to go around.
The Royal LePage Recreational Property Report compiles information from a cross-Canada survey of brokers and agents who specialize in the recreational real estate market. Advisors across the country are reporting a surge of interest from buyers who have already absorbed a good deal of the available inventory, including many listings that sat unsold last year. In spite of another long winter, buyers have come out in droves in late spring, encouraged by asking prices that have remained relatively flat, year over year. However, brokers warn that prices could begin to climb again as new inventory has not kept up with sales volumes.
"Today's low interest rate environment has supported discretionary, aspirational purchases in a number of sectors," continued Soper. "Our agents that serve the urban luxury home market have been extremely busy this year. Further, adult Canadians have accumulated considerable wealth. They are buying luxury automobiles and products like expensive smartwatches in record numbers. While a cottage is clearly a non-essential purchase, in many ways it's less selfish, as the benefits of a country get-away accrue to the entire family."
"In a roundabout way, the fall in oil prices is supporting the recreational property market this year," concluded Soper. "Cheaper gasoline makes the prospect of a weekend commute to the lake a more affordable proposition. And cheap oil means a lower Canadian dollar, which has more people looking at Muskoka, Tremblant and the B.C. interior and fewer casting covetous glances at Florida and Arizona. We are even seeing money making its way north, particularly in British Columbia, Alberta and Atlantic Canada, as the strong U.S. currency has increased American buying power."
While each community has its own unique characteristics, the brokers and agents who specialize in the sector agree fully on one important factor when searching for a recreational property: the need to do your homework before purchasing. From understanding shorelines to septic systems, owning a cottage is a different proposition to that of a city property. Each region has its own regulations that cover renovations; your ability to rent the property to others; and environmental obligations. While banks will provide financing to purchase a second residence, the requirements and loan terms will be different. It is highly recommended that buyers take their time to assess what is most important to them, from commute times to sun exposure to affordability. To do all this, it is essential to engage an agent that specializes in the local recreational property market who can walk buyers through the complex process.
The charts below show the price range for standard recreational properties across Canada in 2015. (The prices listed from left to right show: waterfront access by land, waterfront access by water, and inland)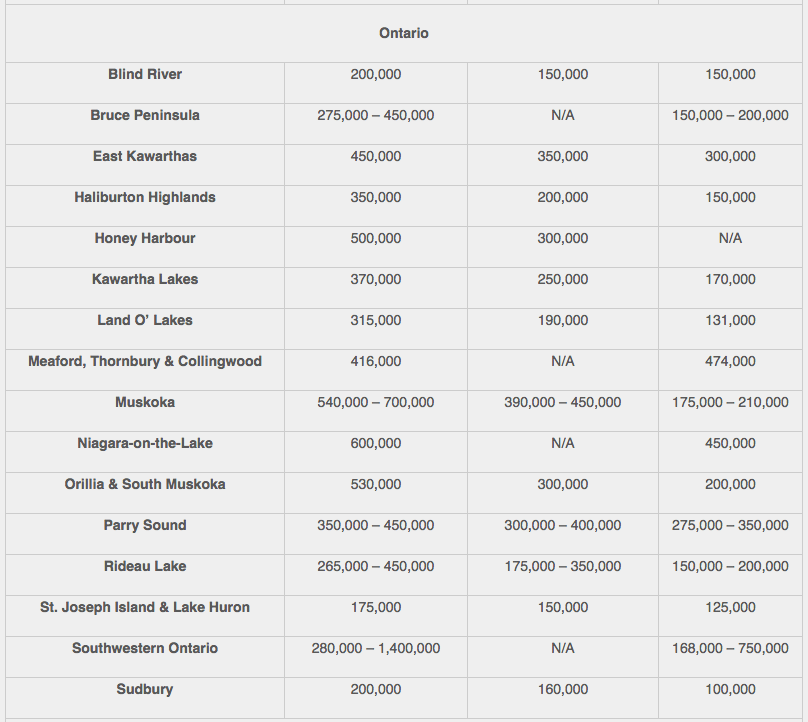 ---

---

---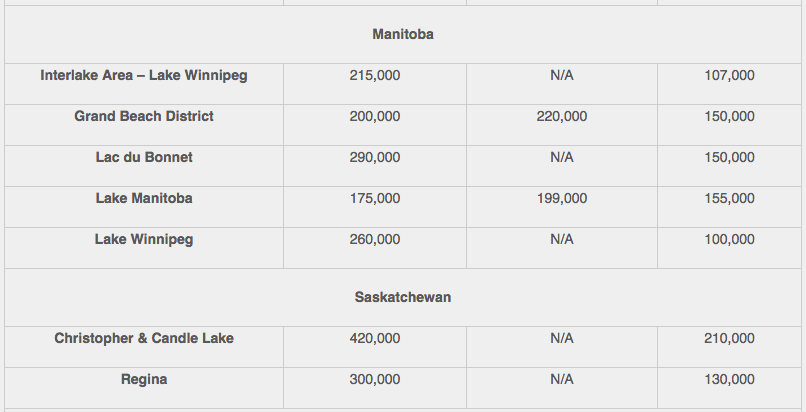 ---

---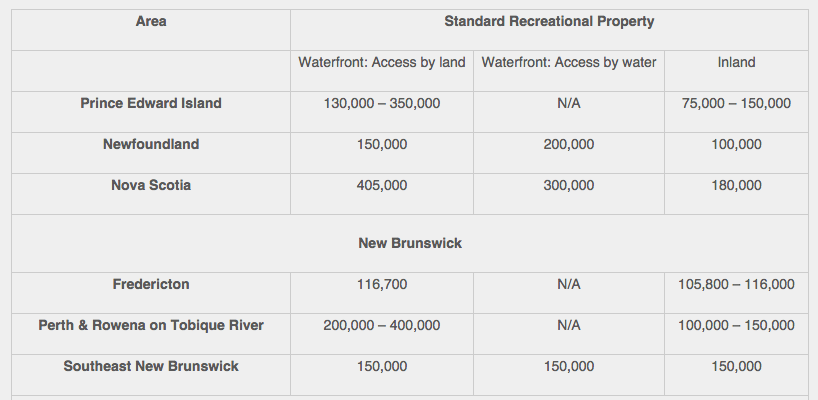 Read more from Romana King at Home Owner on Facebook »