The Canadian immigration website crashed yesterday. Yep. There was that much web traffic trawling the federal government site on the process of moving to Canada.
In light of the interest, some real estate agents and brokerages also saw a big spike on the inquiries of how to buy Canadian property as an American citizen (for some tips, see our Ask a Real Estate Expert answer here).
Zoocasa.com, a nationwide Canadian broker, reported a "significant spike in U.S. visitor traffic" in the early morning of November 8 and well into yesterday evening. Prior to Donald Trump's election to the office for President of the United States, inquiries to Zoocasa.com by Americans accounted for 4% of traffic. In the last two days U.S. traffic had accounted for 30% of all traffic on Zoocasa.com.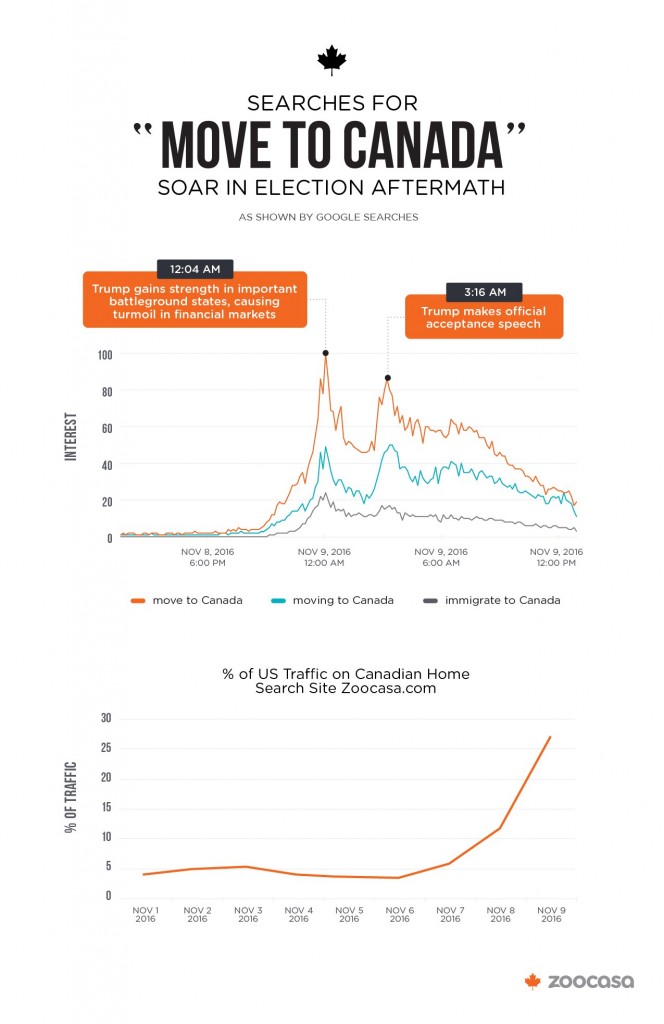 A substantial number of those inquiries were through the hours of 11 p.m. EST on Nov. 8 and 5 a.m. EST on Nov. 9. "Many of our callers stated they either have family in Canada that they wish to join, or are holding Canadian passports or dual citizenship," said Dan Lee, a Zoocasa customer service representative. He added, "They were very thankful for those connections."
For the Trump-averse U.S. citizens, they can either go after permanent residence in Canada or, try to get temporary status in Canada (such as through a work permit or study permit)—just until the next U.S. presidential election. There are other federal immigration programs, but many are under review, meaning for those without prior connections to Canada a move north may not be so simple. For tips, see: Thinking about moving to Canada? Not so fast.
If you're thinking about giving it a go, you may want to check out our ranking of the Best Places to Live in Canada.
---
More on Trump:
Ask your property or real estate question here »
---
Read more from Romana King at Home Owner on Facebook »