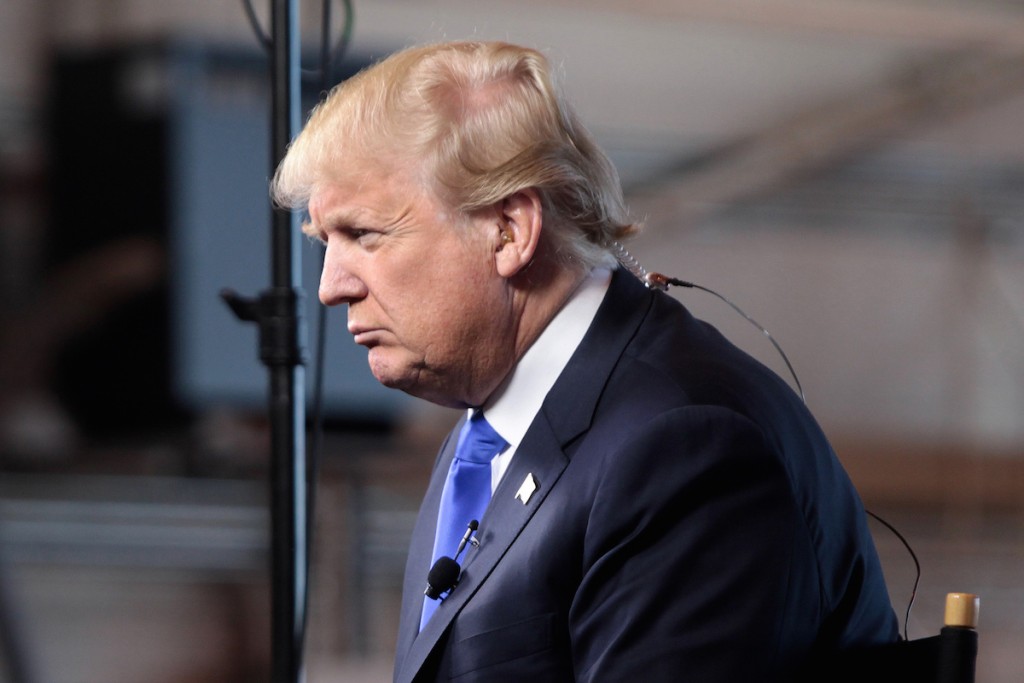 It's been eight years since the U.S.-spawned financial crisis unleashed misery around the world. Now angry U.S. voters have thrown another giant wrench into the sputtering machinery of the global economy: president-elect Donald J. Trump.
With the S&P 500 Index posting its biggest two-day rally since June in the run-up to Tuesday's vote, investors were clearly betting on Hillary Clinton to win the White House based on the Democratic candidate's recovering poll numbers in the campaign's final days. Instead, Trump's surprise, come-from-behind victory has set the stage for dramatic sell-off when North American markets resume trading Wednesday morning, and likely in the days and weeks to come—not unlike the big swoon that followed the U.K.'s unexpected Brexit referendum results last spring.
The signs are all there for extreme short-term volatility. Futures for the Dow Jones Industrial Average plunged more than 700 points, or around 4.1 per cent as Trump's victory emerged, while S&P 500 futures fell by five per cent. If the S&P 500 falls by that much when markets open, it will wipe out the equivalent of nearly $1 trillion in investors' wealth, according to an analysis by Citigroup. Meanwhile, the price of gold, seen as a safe haven, jumped close to US$50 overnight.
The loonie will be in for a rough ride, too. Many of Trump's key economic policies, from ripping up trade agreements to levying huge tariffs on U.S. imports, suggest an America that will no longer be open for business—at least not to the same extent. That doesn't bode well for Canada, given the U.S. is our biggest trading partner, with more than US$670 billion goods and services flowing across the border last year.
But all of that is just the beginning. Over the coming weeks and months, investors and businesses everywhere will need to wrap their heads around the idea that a bombastic real-estate mogul and former reality TV star, with a clear disdain for demonstrable facts and a bizarre sensitivity about the size of his hands, will now play a key role in deciding the future path of an $18-trillion economy, the world's biggest and most important.
One sure victim of Trump's surprise victory is the U.S. Federal Reserve's hopes of escaping the low-interest rate trap it unwittingly laid for itself following the 2009 recession. The Fed was expected to raise rates in December as the U.S. economy continues its long, shaky recovery. But now amid the uncertainty generated by Trump's unlikely win, the Fed is almost certain to stand pat. Also uncertain: the future of U.S Fed chair Janet Yellen, whose monetary policies were criticized by Trump on the campaign trail and whose term is up for renewal in early 2018. If Trump decides to replace her (assuming she doesn't resign first), it will raise serious question about the central bank's all-important independence, which is key to America's economic stability.
Longer term, many argue Trump's policies, if actually implemented, could pose a serious risk to the U.S. economy as well as those of the countries with which the U.S. does business, including Canada. "His threat to rip up existing treaties and impose new tariffs—even if there are limits to what can actually be accomplished under executive authority—would disrupt global supply chains, jeopardizing the integrated international trade system that has been the key foundation of decades of global growth and prosperity," warned Stephen Rogers, an investment strategist at Investors Group, in a white paper released before Americans cast their ballots.