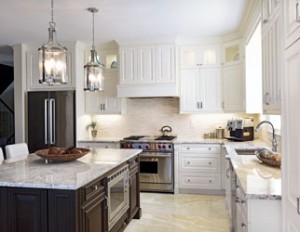 Home renovation shows tend to follow a set formula. The real-life couple is overwhelmed by a problem in their home—say a lime green 1970s kitchen or a water-damaged basement. The heroic host arrives on the scene, and with some tough love and a small army of contractors, transforms the home beyond recognition in almost no time, despite running into some unforeseen problems. The finished project is revealed to the couple, who are overwhelmed with joy when they see their gorgeous new home.
We all know what we see on television isn't real, but just the same, a steady diet of home renovation shows over the last decade or so has changed our expectations. We are more educated about design, and increasingly we want the beautiful granite countertops and sleek open interiors we see on TV. But over the years, many homeowners have also picked up misconceptions about the renovation process. If you want to avoid frustrations and disappointment while doing your own home improvements, make sure you know how the TV shows differ from real life.
The costs on TV aren't realistic. On a typical show, you might see a complete renovation of the main floor of a house for $35,000 or a high-end kitchen installed for $20,000. But are those figures realistic? "We don't know what's really factored into those numbers," says interior designer Jutta van der Kuijp. "Is all the labour in there? Are the design fees in there? Are all the materials at cost?"
Robert Koci, associate publisher of Canadian Contractor magazine, is skeptical that the budgets you see on TV could be replicated in real life. "The show I tend to get caught up in most often is Love It Or List It. When I see their budgets sometimes I'm scratching my head. It seems like it costs half of what it normally would." Koci says viewers should be aware that TV show costs could be lower because they might get donated materials and labour from contractors. "These shows are on really tight budgets," he says. "The likelihood is they're bringing in tilers and drywallers who are doing the work for the exposure." (For a real breakdown of a TV budget, see "Warning: May Not Be Exactly as Shown.")
In order to make a realistic budget for your own project, do research before you commit to a number. "Don't set limits in your head if you're not informed," advises Tyrone Stanley, a carpenter and general contractor in Toronto. He says people tend to get anchored on a specific cost before they really understand the scope of the work. "They might think a kitchen renovation is going to cost $7,000, because they saw it on a TV show. Then later they realize that for it to be done correctly, it costs more, but they don't want to do it right because they're set on that $7,000."
Renée Verret, a Toronto financial planner, advises her clients to start off by window shopping for materials so they know what they cost before they commit to a project. Then, she suggests, you should bring in a few contractors to get labour estimates. "We usually recommend people apply a 20% to 40% top-up on the labour quote because you never know what you're going to run into in a reno," Verret says. When you go out to buy the materials, make sure you bring your budget with you so you'll stay on track.


Renovations take a long time. On TV, renovations go from conception to perfection in a few short weeks. But there are things the camera doesn't show. "The stuff you see on TV always looks way better than the results you see on the ground," says Koci, who once witnessed almost the entire renovation for a major Canadian show. "They did the big reveal at the end and the customer acted like, oh wow, they've never seen anything so beautiful. But at least 20% of the work hadn't even been finished."
Many renovation professionals complain that TV's shortened timelines set up heightened expectations. "Some shows manage to have a renovation done in three days. There's no way! Those would have been prepared for months in advance," says van der Kuijp. "People are surprised when I tell them it will be eight weeks before their kitchen cabinets are built. The reality is it doesn't happen faster than that, but the whole HGTV phenomenon has made it seem like they can build your whole kitchen in your driveway in a weekend and you'll be entertaining on Monday. It's unreasonable and it makes it very hard for us to do our jobs."