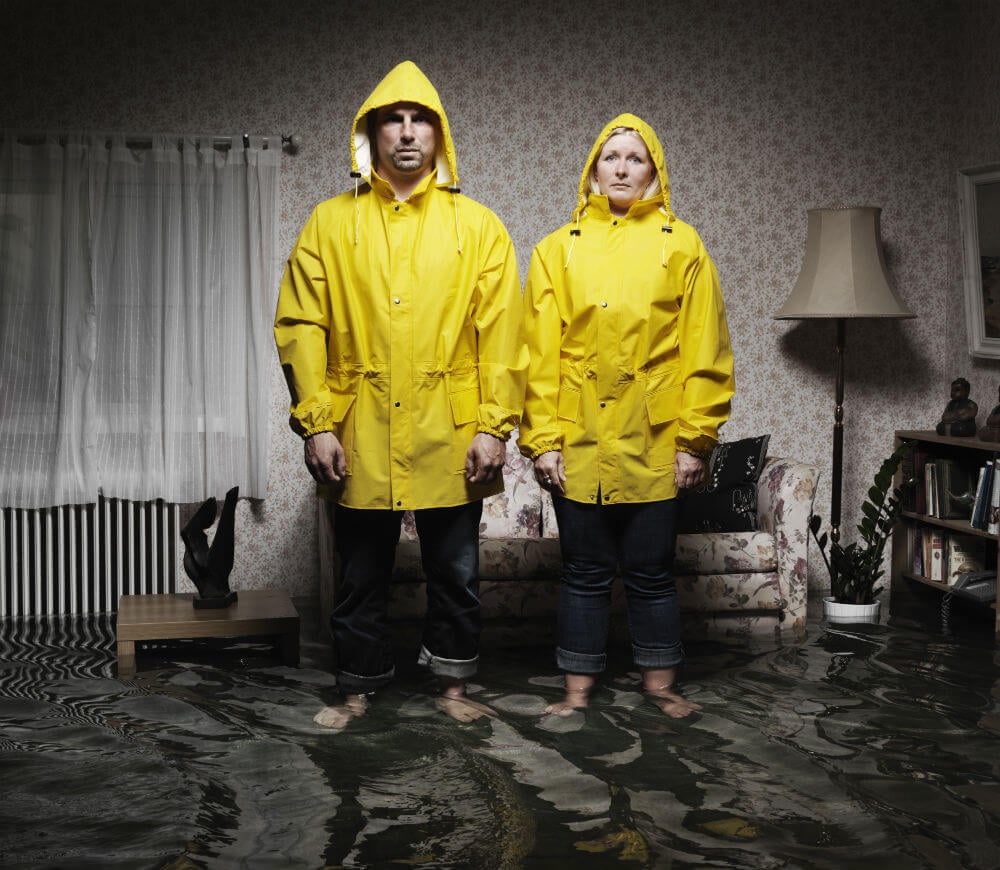 Renovating or remodelling your basement? Then you'll need to consider water. That's because the biggest nemesis for any basement flooring is water damage—and this threat comes with a hefty price tag.
Last year, the average Ontario water claim cost $28,000—and this average includes a lot of $5,000 clean-up jobs as well as a few massive $150,000 claims that require five or six months to repair, says one insurance insider. For cost-conscious homeowners, then, planning a basement renovation or remodel needs to include materials that water-resistant (or, at the very least, hold up well under damp conditions). Let's start with flooring—the area most prone to pooling and water damage.
---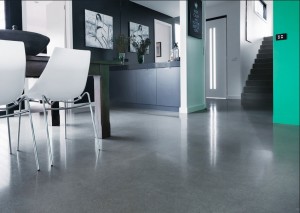 Thumbs up: Concrete & Ceramic Tiles
The best flooring options when it comes to waterproofing is sealed concrete (with epoxy paint or sealer) or ceramic tile. Sealed concrete is durable but a bit pricey—for a 20×20 foot room you're starting price for a finished job is $3,500. Ceramic tile is not as durable—it can chip or crack—and will cost about the same as concrete. The problem, of course, is that concrete and tile floors don't really fit our modern family-den or personal-retreat standards—unless you're going for a modernist or minimalist look (something my husband keeps threatening to do if I don't tame the paper-dragon and the kids' don't pick up their toys). Thankfully, there are other options. So let's run through the list.
---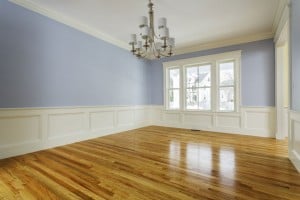 Thumbs down: Hardwood
It's beautiful. It's got a warmth and comfort. And it's terrible for use in basements. The biggest reason not to use wood in a basement is that wood flooring is ruined by flooding. And rooms that are below grade are prone to flooding. But even if you discount any potential future flood (don't!) wood is still a poor basement option because it's a material that needs to move and sway based on humidity levels. The more the extreme the humidity, the more the wood needs to swell and contract—and the greater the chance for splits, cracks and fissures.
---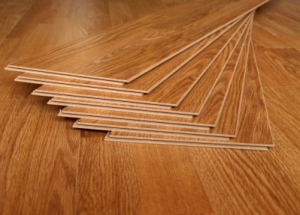 Thumbs down: Laminate
Once marketed as a great alternative to hardwood in places like the basement, we now know this is not really the case. While laminate does a bit better than hardwood when it comes to moisture tests—primarily because there is so much glue holding the product together—it's the layer underneath the laminate that essentially self-destructs as soon as water touches it. For this reason alone, laminate it one of the worst flooring options for your basement.
---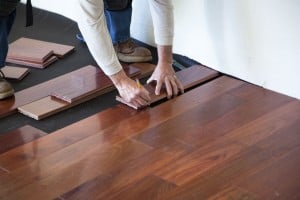 Thumbs down: Engineered Wood
A notch up from laminate, engineered wood is more water resistant because it has a plywood base, but any prolonged or sustained contact with water will pretty much destroy this flooring option.
---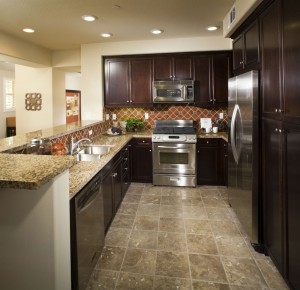 Thumbs up: Linoleum
As an oil-based product linoleum is good at repelling water, but to maintain its look (and repellency), lino floors need to be maintained over time. Still, for those that want the nostalgia of linoleum, you can always coat your new lino-floor with an acrylic sealer—just be sure to recoat once a year, explains ThisOldHome.com expert Walt Bamonto (who is also the owner of Merlin Flooring in Farmington, NY). Despite it's tired, great-grandma's house image, lino is actually a popular choice for daycares, hospitals and some retail stores—partly because of its natural bacterial qualities and partly because it's highly durable . "You can get it wet," says Bamonto, and you don't have to worry about dents or cuts, like you do with vinyl. But stay away from this flooring option if you're prone to allergies or dislike the strong odour of linseed oil. Also, expect to pay $2 to $4 a square foot, installed, for sheet linoleum. Less for tile linoleum (as the labour is not as intense, although you may want to opt for the sheet style because the fewer seams in your floor, the less chance for water penetration.)
---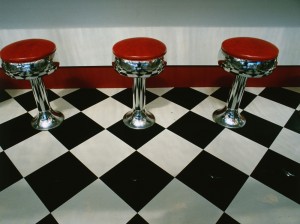 Thumbs up: Vinyl
I'm going to be upfront: I'm a big fan of vinyl. B-I-G fan. When my husband and I bought a house in the west-end of Toronto we needed a floor for our totally renovated basement. We needed something cost-effective which meant we wanted something that would last, not necessarily something that was cheap. We opted for industrial vinyl tiles. At the time, the material cost us about $3.50 per square feet—easily more than sale-priced hardwood—but it was worth it. Like linoleum, vinyl floor comes in sheets or tiles, but unlike lino vinyl flooring is plastic product, making it an exceptional water-resistant product.
While the options on vinyl used to be dated (and, quite truthfully frightfully horrid), these days there's a wide selection. I found that the best options can actually be found in stores that cater to commercial as well as residential clients (for instance, we purchased our tiles from a family-owned flooring shop on Danforth Avenue, near Main Street, in Toronto's east-end).
Personally, I favour wood-look vinyl tiles. They are used in high-traffic stores but still look like wood (no joke! Just go to any Chapters or Indigo store if you want to see the type of vinyl tile I'm talking about.)
If you do opt for vinyl tiles, remember that the seams have no adhesion, making them a susceptible to water seepage. To get around this you can always use a floor adhesive, but this will require additional labour and materials (which means more cost), or you can opt to install vinyl by the sheet (less seams means less chance for water penetration).
---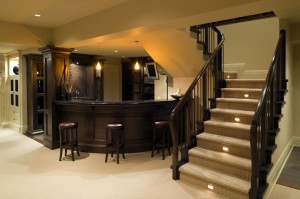 Thumbs up: Carpet
Yep. You read it right: Carpet gets a thumbs up when it comes preventing water damage, but there's a caveat.
Unlike other flooring types, carpet is easy to lift up and air out making it a cost-effective flooring option when it comes flood-prone basements. (Unless, of course, the flood was caused by a major sewer back-up.)
---
Approximate starting costs to install new floors in 20×20 room (excluding taxes):
$3,450: Concrete
$3,800: Ceramic tile
$2,500: Hardwood
$700: Laminate*
$2,100: Engineered wood
$1,300: Linoleum
$1,100: Sheet vinyl
$1,800: Tile vinyl*
$700: Carpet*
(*Assumes DIY-installation. Expect to pay more if you opt to have this floor professionally installed.)
Read more from Romana King at Home Owner on Facebook »