The second-costliest component in a kitchen renovation is the cost of new appliances. Part of the problem is that home reno shows have altered how we view—and value—our homes.
Dubbed the HGTV-effect, more and more home owners and buyers are spending money to get the shiny, sparkling kitchens that are splashed across magazine pages and on television shows.
One quick way to achieve this modern look is to replace your kitchen's appliances. "Buyers can get so hung up on stuff like stainless steel appliances," explains one Toronto realtor, even when the appliance costs only a fraction more than the same model in white.
Still, realtors and renovators will agree: Spend $20,000 or $30,000 renovating and updating a kitchen and you could add $100,000 to your home's sale price.
With that in mind, you'll need to allocate some of your kitchen renovation funds towards new appliances. Keep in mind: The latest styles and technology may cost more, but don't necessarily translate into better value.
Do your research
Gail Vaz-Oxlade suggests doing research on appliances before you actually need to make the purchase. If you need the appliance immediately, "you're far less likely to do your research, comparison shop and make a smart decision."
Vaz-Oxlade also suggests timing your kitchen renovation with the expiry of major kitchen appliances. Not only will you have a longer time to save for your reno, but you'll also squeeze the most life out of your old appliances.
For a quick reference, check out the chart below. It's from an analysis done by Florida-based International Association of Certified Home Inspectors, who analyzed various home components, including appliances, cabinets (with a lifespan of 50 years) and countertops.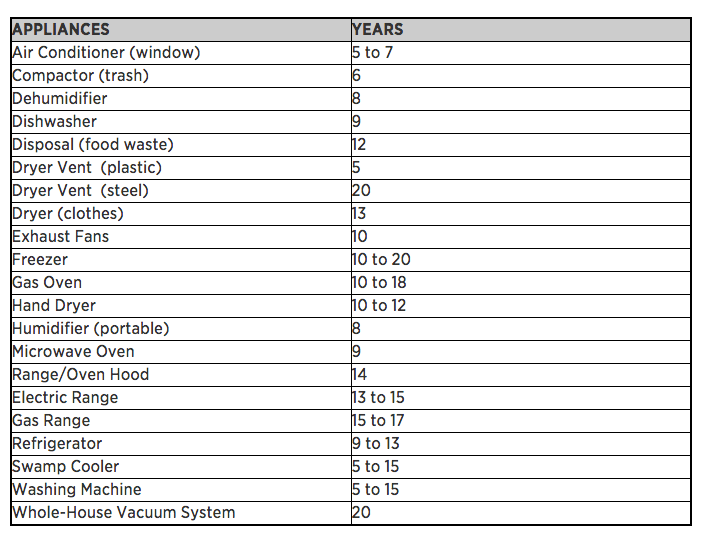 Another advantage to updating all your kitchen appliances at once is the opportunity to buy appliances in packages. Buy the major appliances—fridge, stove and dishwasher—in a package and you'll save at least 15% off the total price. Time it during sales and you could easily shave $600 or more off your the purchase of just these three appliances.
Read the sticker information
When shopping for new appliances pay attention to the big yellow stickers. These are Energy Efficiency reports and offer specifics on how efficient the appliance delivers its results. Since appliances account for 14% of energy use and are the third biggest draw on hydro bills, this information should play a critical role in the selection of your new appliances. The key is to read and understand the Energy Star label.
For example, let's examine a dishwasher Energy Guide label. These days every dishwasher shows usage based on a scale that runs from 194 to 531 kilowatt-hours per year (kwh/year). About a decade ago, when the Energy Star program was in its infancy, a dishwasher with a score of 374 kwh/year was good enough for the Star qualification. But this score was lowered to 331 kwh/year in 2014, due to advances in technology that help save more energy.
Also, keep in mind that with certain appliances, such as dishwashers and washing machines, the Energy Star rating doesn't take into consideration water consumption usage.
Most Energy Star dishwashers use an average of four gallons of water per cycle (versus six gallons for a non-Energy Star rated dishwasher). But this reported energy usage is only for the standard or normal cycle. Some dishwashers will actually use as much as eight gallons for other cycles, such as sanitizer or heavy wash, even if Energy Star compliant. (One way to conserve water is to dry scrape your dishes and avoid sink rinsing. This will save approximately 20 gallons of rinse water at the sink each year.)
Consider built-in timers
Another feature to consider when buying new appliances is a built-in timer. Just by using a built-in timer on your dishwasher, dryer or washing machine, you can program the machines to only run when electricity rates are at their lowest. Why bother? According to Natural Resources Canada, buying an Energy Star appliance will save you the equivalent of a year's worth of energy over that appliance's life.
What's hot in kitchen appliances
Energy and water conservation aren't the only reasons to do your research when shopping for new appliances. You'll also want to avoid new, hyped-up technology that doesn't quite hit its mark. For instance, a $1,200 microwave and a $1,700 range actually performed much worse than a $60 slow cooker, according to analysis done by Consumer Reports.
Instead, stick to contemporary trends. One example would be French-door fridges. Designers love this fridge because it combines streamlined side-by-side accessibility with a bottom-freezer. It's designed with a small footprint, but still serves a family's needs. Its continuing popularity is due, in part, to the fact that it epitomizes our move away from large, hulking design to more modest-sized decor.
Another design option that's really captured would-be buyer interest is wall-ovens paired with cooktops. In a traditional range the oven sits below the cooktop, making it hard for two or more cooks to work at the appliance at the same time. But with a separate wall-oven and cooktop, not only will you do less bending over and heavy-lifting, you'll also allow for more breathing room between chefs.
Consumer Reports also sees a lot of value in ranges and ovens that include induction cooking technology as well as ultra-quiet dishwashers.
And don't get stuck on stainless steel, says a Vancouver realtor. "Buyers take a complete view of the home. The kitchen has to match the home's style and that style can affect the choice of appliance finish. For instance, a Cape Cod-style home may lend itself to white appliances, while a modern, minimalist design is better for stainless steel. "I'm seeing more black appliances these days," says an Ajax-based realtor. "Like stainless steel, it goes with a lot of things, but it doesn't show fingerprints and dirt quite as quickly as a white appliance."
Appliance budget
Basic kitchen remodel: When you've selected basic stock cabinetry it doesn't make sense to splurge on appliances. Instead, consider whether or not you want the appliances to give the kitchen a clean, fresh image, or make a bold statement, or perhaps you just want the appliances to blend in and serve a function (say, for a basement remodel where a tenant will be living).
For basic, white appliances, budget $1,500 to $1,700 for a package deal (stove, fridge and built-in dishwasher). Add another $200 to $400 if you want black or stainless steel options. (Taxes and delivery costs are not included in budget prices.)
Semi-custom remodel: This is where you'll want to squeeze as much value out of your appliance budget as you can. Consider timing your appliance package purchase for either late December/early January or July. This is when most big-box stores offer sales on these products.
Also, ask for discounts if you purchase more than two products from the same store. Sears is well-known for offering bulk-buy deals, allowing you to save 10% to 30% of your overall purchase. (These negotiations are up to you, though, and depend on the sales person and the inventory.)
Expect to pay at least $5,000 for a new fridge, stove, dishwasher, and microwave. Add another $1,700 (at least) if you plan on buying a new washer/dryer set as well.
Custom remodel: Would you pay $6,000 for a fridge that offered water and ice on-demand, as well as sparkling water? What if I told you you could program the four temperature zones to different settings, allowing you to convert freezer space into fridge space, as needed. With a custom remodel, you'll probably be spending $10,000 or more on just the fridge and stove. But no matter what your budget, do your research. For years, Consumer Reports has cautioned buyers on the few advantages offered by high-end appliance manufacturers. Truth is: a higher price tag doesn't necessarily mean a better product.
To help you get a good deal, you may want to consider buying a membership to Consumer Reports—an independent test and review organization that offers monthly and annual memberships to consumers. The $30 you spend on the membership will more than pay for itself if you avoid buying a defective $5,000 oven.
[brightcove video_id="6056483727001″ account_id="6015698167001″ player_id="lYro6suIR"]
More on the Ultimate Kitchen Renovation Guide:
The ultimate guide to buying kitchen cabinets »
Picking the perfect kitchen appliances »
How to save on countertops »
Kitchen sink and faucet 101 »
Read more from Romana King at Home Owner on Facebook »