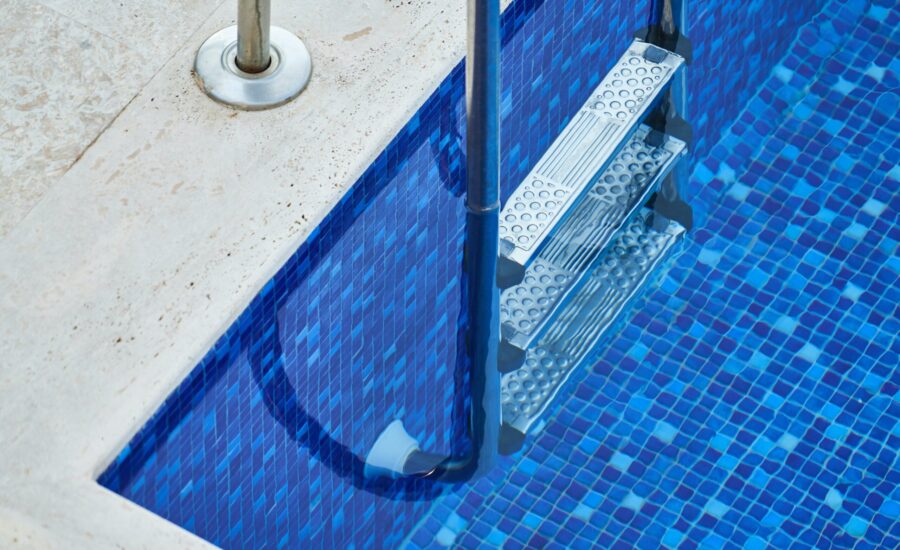 Mara Rubinoff and her partner bought their first home together knowing they would want space for their blended family to congregate. Rubinoff's partner had always wanted a backyard pool, and naturally that became part of their plan. 
You're 2 minutes away from getting the best mortgage rates in CanadaAnswer a few quick questions to get a personalized rate quote*
And when COVID-19 hit, they were glad they had put down a deposit with their pool contractor in late 2019. With lockdowns underway, the couple knew they'd be spending a lot more time at home and they had beat the spring 2020 rush for pool installations. They took their first swim in July.
Today, many pool contractors are fully booked for 2021, and even for 2022, as Canadians who are missing the ability to travel and socialize look for ways to enhance their backyard spaces, as Rubinoff has. 
If you're interested in getting an inground pool, it's important to know upfront there are numerous choices in pool styles, shapes and sizes along with pool decking (the patio material surrounding your pool)—and they all affect pricing, which can also differ greatly from one provider to another. Rubinoff decided on a fibreglass pool over the other options. "Originally, we budgeted $80,000 and they laughed at us," Rubinoff shares. "There are costs you don't think of [and] cheaper isn't always better."
As with most major purchases, it's best to shop around, do your homework and get detailed written estimates before signing a contract. This guide will help you through the process.
Vinyl, fibreglass or concrete: Which is the best option?
Most pool shoppers start with choosing from among the three most common pool materials: vinyl, fibreglass and concrete (also called shotcrete or gunite). Each type has pros and cons in terms of cost, construction, and seasonal or long-term maintenance fees, which can also vary depending on frequency of pool use, quality of upkeep, and the quality of the pump, filtration and sanitation systems. Here are some average price ranges to help you make that initial decision: 
Vinyl-liner pool
Fibreglass pool
Concrete pool
Cost to install

$70,000 to $90,000

$85,000 to $100,000

$95,000 to $130,000

Cost to maintain seasonally

 

$1,200 to $2,000 

$1,000 to $1,800 

$2,500+
Pump needs to run twice as long as other pool types, using more electricity

Cost to maintain long-term

New liners usually needed after 10 years: $4,500 to $6,000

May experience cracks (infrequent), which cost around $3,000 to repair

Replacing gel coat on the interior can run $15,000 every 20 to 30 years

Resurfacing/sealing needed every 20 to 30 years, which can cost approximately $15,000

Pros

Most economical

Can be custom-shaped and -sized

Can be installed in as little as a few days

Lasts longer than vinyl-liner style

Customizable size and shape

Can be the longest-lasting of all pool types

Cons

Can take longer than some fibreglass pools to build

Some experts say vinyl pools cannot accommodate salt water

Pets can tear the liner

Interior finish can require resurfacing after 20 years

Lack of ability to customize shape and size

Most expensive option

Needs more chemicals and pump run time to stay sanitized 

More expensive to build and maintain

Takes the longest time to build
Building an "outdoor living room" to go with your pool
If you want your pool to be the centrepiece of an outdoor living oasis, you may want extras like fire pits or tables, a cabana, a roof or other covering for your patio area, an outdoor kitchen space or a bar. These items aren't included in standard new pool price packages and their costs can differ greatly among pool contractors.  
Pool decking, water features and landscaping
Sometimes referred to as landscaping, along with the trees, flowers or shrubs around your pool area, the decking—or material you use to cover the ground around your pool—may be equally as, or more expensive than the pool itself. Marc Luff, Co-Owner of Betz Pools in Stouffville, Ont., notes that, on average, premium interlocking stones in a large format can cost $27 to $33 per square foot through his firm, while imported natural stone can run about $40 to $45 per square foot. Flagstone laid on concrete is about $50 to $55 per square foot, and natural Canadian dimensional stone is $65 to $75 per square foot. Decking prices vary among pool and landscaping companies, so these prices are only an example of what you might expect to pay. You may be surprised that wood decks are the priciest option, clocking in at around $80 per square foot; that's because wood on its own would rots quickly from the pool water, and therefore needs poured concrete installed underneath. 
Flowing water fountains provide a zen ambience, but even a small one can add $5,000 or more to your total cost, depending on the materials you choose. 
Some pool installation packages include a certain number of lights in the pool, but more will cost extra (on average, around $1,500 each), as will replacement bulbs when needed—anywhere from $300 to more than $1,000, depending on the type of bulb. 
Greenery landscaping (trees, shrubs and flowers) is yet another way you can spend enormous amounts of money on your pool installation. (Note that the pool installation itself may obliterate your existing lawn or shrubbery.) Define your budget for greenery landscaping after finalizing the costs of the pool and its decking, add-ons and fencing (if needed)—then work with a professional to help you choose best for your style and budget. 
Tech add-ons
Tech has entered the pool world as well. Phone-accessible pool controls are available for added cost, and Marcos Borges of BC Pools in North Vancouver says automated pool covers are also popular, running on average from $15,000 up to $20,000. 
Additional costs you may need to cover
The following are important considerations that need to be researched and discussed with your potential contractor, as they can also affect pricing of a new pool:
Municipal construction permit(s): "Some areas may have special zoning or geographical permit requirements, so check with your applicable municipality then discuss with your pool company, who will obtain the permits," advises Marc Luff of Betz Pools.  
Fencing: Most municipalities require pools to be surrounded by locked fencing for safety. If you have existing fencing, it may need to be partially removed and rebuilt upon pool completion, along with grass replaced or walkways redone, which can both get damaged by excavation access to your site. 
Location: If your property has sloping land or other issues, special (read: more expensive) design considerations may be required. Difficult access (for example, a driveway that's too narrow to allow machinery to pass) can add to the cost as well.
Excavation concerns: Some sites may require tree trimming or even removal to allow for the installation. Others may have rocky land under the surface—or lie below the water table, which homeowner Mara Rubinoff discovered only when her pool was being installed. She recalls: "They had to dig extra deep and fill it with material to prevent future problems." In addition, she says, "we have a tight backyard so the dig took a week. There are costs you don't think of, like electrical, gas and the diggers."
Accessibility: If it's difficult to get to your yard because of the proximity of neighbours' houses or other challenges, it could affect how excavation is done or even the type of pool you can choose. 
Utilities: Do you need to move sewer or electrical lines? This requires planning and possibly permits in advance. 
Changes to the original contract: After a contract is signed, changing your mind can mean an increase in price. 
Insurance: If you want personal injury coverage added to your homeowner's policy, that will raise your premiums. As well, your existing policy may not cover flooding damage to your house caused by a pool, or the replacement cost of your pool if your home needs rebuilding. Discuss your existing insurance with your provider to see what might need upgrading. 
Utility bills: Is the initial water to fill the pool included in your contract? If not, it's best to check how much water is needed and calculate the cost. Be aware your usual utility bills will increase during pool season.
Long-term pool upkeep and repair costs
Most installation costs include the basic mechanical equipment needed to operate your pool, but these machines don't last forever and will require replacement after time. 
"In our experience, every few years you'll probably need to replace something expensive like a liner or pump for thousands of dollars," says Andrea Traynor, creator of the website MommyGearest.com, who has a vinyl-liner pool. 
As much fun as pools provide, they come with ongoing work and expenses you need to budget for over the life of the pool. Kara Redden of R&R Pools Ltd. in Timberlea, NS, confirms: "Taking care of your pool makes it less costly to maintain in the long run." Here's an idea of what those equipment replacement costs can look like:
Mechanical components
Average replacement

price range

 (installation not included)

Considerations

Pump

$400 to $2,500

Comes in varying speeds

 

Heater

Natural gas: $1,350 to $3,850 

Other options include

propane, electric/heat pump and solar

 

Filters

Cartridge: $380 to $1,500 

Sand: $300 to $1,200 

Pros and cons of each filter type

Sanitation

Salt: $400 to $1,700 

Ozonator: $1,000 to $3,500 

Ionizer: $500 to $1,100 

Chlorine/bromine feeder: $100 to $1,200 

Some pool experts believe not all

sanitation options

are suitable for all pool types

Chlorine and salt are most common

Vacuum

Automated: $1,000 to $1,600 

Manual: $200 to $350  

Pros and cons of a manual vacuum
Don't overestimate your pool's return on investment
Lastly, it's important to be realistic about expectations on the financial return of a pool. As Borges cautions: "A house value does not increase with a pool, especially not to the cost of the pool." 
However, most pool owners agree the work and expense are usually worth the summers of outdoor enjoyment and exercise in your own backyard. 
MORE ON REAL ESTATE RENOVATIONS AND MAINTENANCE:
What does the * mean?
If a link has an asterisk (*) at the end of it, that means it's an affiliate link and can sometimes result in a payment to MoneySense (owned by Ratehub Inc.) which helps our website stay free to our users. It's important to note that our editorial content will never be impacted by these links. We are committed to looking at all available products in the market, and where a product ranks in our article or whether or not it's included in the first place is never driven by compensation. For more details read our MoneySense Monetization policy.