Adding a bit of smart home technology to your bathroom usually means focusing on your shower and bath experience. However, there are some technologies that are relatively unobtrusive, but can help increase your clean personal hygiene regime (while protecting your home).
---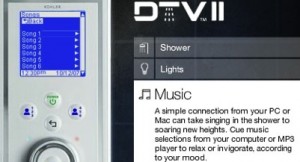 → A more app-centric morning routine
Are you particular about your shower experience? Does the temperature, lighting and fragrant smell have to be just right? Consider installing a Kohler customized shower system. Starting at $565, the touchscreen-controlled shower system lets you set and control water temperature and intensity, as well as steam treatment, in-shower lighting and sounds. Plus, the more advanced DTV system lets you connect to the music on your PC or Mac which can be played, at the touch of a button, while you're in the bathroom.
---
→ Shower scald protection
Not so crazy about controlling sounds, light and music but want a lot more control over your shower and bath water temperature? Consider a Kohler Loure Rite-Temp shower and bath kit. Starting at $1,050, the system not only maintains a steady water temperature but allows you to preset a high-temp setting, which can eliminate scalding.
---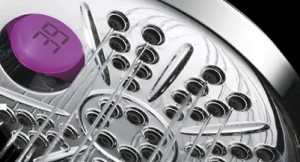 → Know your colours
Want a visual cue for how hot or cold the water is? Consider a Delta Temp2O shower/bath-head. Using an easy-to-read LED display, the shower head (or bath faucet) tells you the temperature of the water and assigns a colour indicator for quick, easy reference. For instance, if the water is 23°F, the display will be blue, but as it creeps up to 39°F it switches to purple and as soon as it hits 46°F the light is bright red, alerting you to potential of scalding. Off-the-shelf Temp2O showerheads start at $100 and go up.
---
→ Neutralize odours
Have a busy bathroom? You may want to consider installing a Purefresh toilet seat from Kohler. The built-in carbon filter helps to neutralize odours, while the integrated fan will direct the filtered air over a scent pack which is conveniently integrated into the system. The cost of the seat starts at $153, while the refill carbon packs cost $12.
---
→ Automatically keep the humidity down
Running a fan after a bath or shower helps to remove moisture from your bathroom—an integral step if you want to prevent mold and mildew in your home. But it's hard to guess when enough is enough. Fan timers simply shut the bathroom fan down after a pre-set time limit, but that doesn't mean all the moisture is gone. To alleviate this guessing game, consider installing the Broan-NuTone Sensaire Technology fan. When turned on, this fan will turn off and on automatically depending on the the moisture levels at the ceiling of your bathroom (where steam and humidity naturally rise). It's the perfect solution for high-traffic bathrooms. Starting at $180, it's a very cost-effective deterrent against cosmetic and structural problems that can arise from excess moisture.