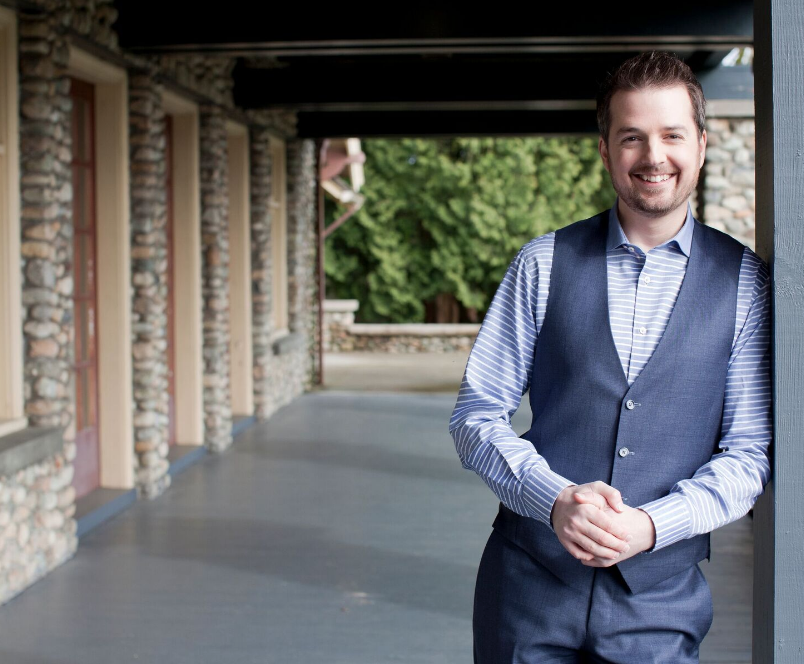 Todd Talbot really does love it.
The exuberant co-host of HGTV's Love It or List It: Vancouver, can't get enough of real estate. Ever. 
"Even before I was on TV, my wife and I were HGTV junkies," confesses Talbot. "For us, it was inspirational. We looked at the shows to keep the juices flowing. To look for what we loved and liked."
At that time, Talbot was a new real estate agent cutting his teeth in the lower mainland, B.C. market. Now, he's a successful realtor, real estate investor, speaker (he's presenting at this weekend's Vancouver Home + Design Show), and co-host of one of HGTV's most successful reality shows. 
Each episode of the series focuses on a different set of B.C.'s Lower Mainland homeowners, who are considering whether to remain in their current home or put it on the market. Just like Vancouver's current property market, there is a competitive nature to the show as the two hosts, Talbot and co-host and interior designer Jillian Harris, go head to head, putting their respective expertise to the test. Each episode has Harris work on the property owner's reno wish list; the hope is to make the home more livable and appealing. That is the "love it" component of the show. Talbot is the "list it" side, trying to tempt the homeowners to sell their home and move to another that better suits their needs.
While bragging rights and quick quips are key ingredients to the show's recipe for success, so is the glimpse into one of Canada's most expensive real estate markets.
Read more: Milos Raonic on how I learned to save 90% of my income »

Can't boil down a real estate market, says Todd Talbot
These days the biggest request Talbot gets is to sum the current real estate market into a nice, digestible sound bite. "People are looking for a way to encapsulate what is happening in this current market," says Talbot, who adds, "but for the most part, trying to distill market conditions does a disservice to the complexities at play."
Talbot should know. While the 43-year-old achieved fame as the co-host of HGTV's popular real estate/reno program, he's only been a real estate agent for about 15 years. Prior to that, he was a TV and stage actor, getting his start as a teenager in the hit series Fifteen for Nickelodeon at Universal Studios Florida.
Eventually, however, housing won out, but not simply because Talbot loved property but because of how his parents and his extended family dealt with money.
"When I was a young teen, my uncle and aunt gave me The Wealthy Barber. I read it front to back and the biggest lesson I learned: To ask questions," recalls Talbot. His inquisitive nature was also nurtured by his parents. "They talked to us about money and about family finances," says Talbot. "The rule was we openly discuss it as a family, but that we didn't discuss family finances outside the home." Inclusion in the family's money decisions helped Talbot appreciate the importance of discussing finances in an open, honest manner.
Take responsibility for money decisions, says Todd Talbot
Ironically, dealing with massive home prices in lower mainland B.C. has made Talbot an even bigger fan of financial literacy.
"The process of real estate is relatively simple," he says, "but the dynamics that motivate the market can oftentimes be very complex. People end up dealing with such large numbers and there's a real dichotomy between people really trying to figure it out and those with a real lack of knowledge."
Read more: Mortgage secrets revealed »
Talbot isn't totally surprised. "Money is a whole area that we're all guilty of shirking our responsibility on," says Talbot. "I see it all the time on the show. Clients will defer to someone else, either because they don't want to do the work or they want to take someone else's word for it." He adds, "let's be truthful, when dealing with tons of money, like we are in the Vancouver real estate market, at the end of the day it doesn't matter what some professional suggests. You're the one that has to live with this decision."
Read more: Documents you need to get the best mortgage rate »
Tips from a real estate star: What Todd Talbot has learned
Anyone asking Talbot for advice may be surprised at the fact that he probably won't start the conversation by talking about real estate. "Read books, ask questions, start talking about money," he suggests. "We all have weird sensitivities when it comes to money and this leaves us at a disadvantage." For people just thinking about about buying their first home, he often starts by asking them: "Do you have a credit card?"  He explains, "the key is build up your credit score, to learn the rules." Hopefully, then, the first home won't be "baptism by fire."
Read more: 9 personal finance books you need to read now »
Getting back to real estate, Talbot is also quick to remind both his own clients and anyone on the show: Don't get sold on staging. "I can't tell you how many times I've seen people blown away by staging." Talbot's response: "Back up the bus!" Time and time again he helps people understand, when you take out the pretty pillows, their reaction to the home is completely different."
Finally, Talbot reminds us that when it comes to any decision that involves finance, it's often about compromise. "If television is complicit about one thing, it's projecting the idea of perfection. But that's entertainment," says the host. "To be truthful, I'm not a big believer in a 'forever home'. It's like a forever job—it just doesn't exist anymore."
And, yes, Talbot takes his own advice. "We live in Lion's Bay," on the sea-to-sky highway, 45 minutes from downtown Vancouver. Yet, drive 10 minutes south to West Vancouver and the price of Talbot's home doubles. "It was a decision based on a compromise," he explains, "more commute for a cheaper purchase price."
Read more: Pay $500 to find out your home's fair market value »
Talbot is one of the celebrity presenters at the Vancouver Home + Design Show, being held October 27 through 30, 2016, at the Vancouver Convention Centre.  
Ask your property or real estate question here »
---
Read more from Romana King at Home Owner on Facebook »