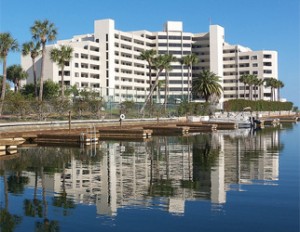 Housing prices in the sunshine state are rebounding but there are still bargains to be had, according to a local realtor specializing in snowbird properties.
"Southwest Florida has become very active," Phillip Wood, president of John R. Wood Realtors based in Naples, Fla., told MoneySense while on a recent media visit to Toronto.
"A lot of people are looking right now partially because prices are just starting an upward climb." The strong loonie combined with low interest rates has also compelled Baby Boomers to consider a vacation home in Florida, much like their parents. Thirty-one per cent of all recent foreign buyers in Florida are Canadian, according to a report by the National Realtors Association.
"They do recognize that the market is starting to move there and it might be a good time to step in and do something if they want that second home," Wood said.
Residential real estate prices in South Florida have risen more than 4% in the last year, far outpacing the national average, according to the S&P/Case-Shiller Home Price Index. Still, prices are 45% off all-time highs seen in late 2006, early 2007. The average condo in popular Southwest Florida now sells for $315,000 while the average single-family home now sells for $450,000, Wood said.
That's the average selling price however. Average selling prices can be skewed by a minority of very expensive sales and areas like Palm Beach, Naples and Miami are favourites among luxury buyers.
Vacation properties can sell for much less than the average. Indeed, the overwhelming majority of Canadian buyers spent less than $200,000 on their Florida purchase this past year while the median price range was $100,000-$199,000.
A portion of these were properties in foreclosure. In fact, these so-called "distressed sales" account for roughly 20% of total sales in Southwest Florida.
"Sometimes they can be good buys but they can be difficult to buy also because you're dealing with the bank, there are usually multiple offers and typically you don't get an answer on your offer right away. It can take weeks," Wood said.
But even these more complicated distressed sales are fewer and farther between these days.
"It's dropped a lot though from where it was." At the height of the housing crisis, homes in foreclosure accounted for 50% of all properties on the market.
January through March is Florida's busiest buying season as snowbirds from across the Northern U.S., Canada and Europe descend on the Sun Belt.
Here are some of Wood's top Florida buying tips:
Location, location, location. Look for a property that's either close to a nice beach or near sought-after amenities like a golf course. This will help protect the resale value of the home.
Prospective out-of-town buyers needn't spend thousands on multiple trips south either. "Surprisingly, we're having more sales via the web where people actually turn in a purchase contract subject to an in-person inspection within 10 days," Wood said, adding it's important to see the property in person at some point before the deal closes.
Know your costs. Canadians would be wise to hire a Certified Public Accountant (CPA) or foreign tax attorney to discuss extra fees including title insurance. There's also closing fees and annual condo maintenance fees to consider.
Some 90% of Canadians don't finance their purchase and instead opt to pay in cash for their Florida home, according to the Florida division of the National Realtors Association. If you are going the mortgage route however, you should know that mortgage lending is a little different in the U.S. For a second home, mortgages are usually capped at roughly 65% of the purchase price and at fixed of 4% for 30 years, Wood said. Arranging a mortgage through an Canadian bank with a U.S. subsidiary can open the door to more flexible financing however.
Be competitive. One of the most common mistakes Wood has seen is buyers coming in with ridiculously low-ball offers believing that sellers will bite.
"That's just not happening now. Maybe three of four years ago it might have worked."
For more detailed information on the ins and outs of buying U.S. investment properties, see Romana King's story from our February/March issue entitled, Be an American Landlord.