Want to cash-in on the festivals and events that draw people to your home city? You may be a prime candidate for the sharing economy.
According to recent Airbnb data there are more than 15,000 hosts in Ontario that make money off the sharing economy and more than half of these home-hosts are in metro Toronto. And why not? Rent out your place for just three or four nights per month and you could pull in an extra $3,900 per year—the average take-home of a host, says Airbnb.
But if you really want to make some dosh, consider getting into the luxury rental business. We swept the Airbnb listings for the most expensive places you could stay in Canada, for a last-minute one-night stay*:
---
British Columbia luxury Airbnb stays
Vancouver: $10,072 per night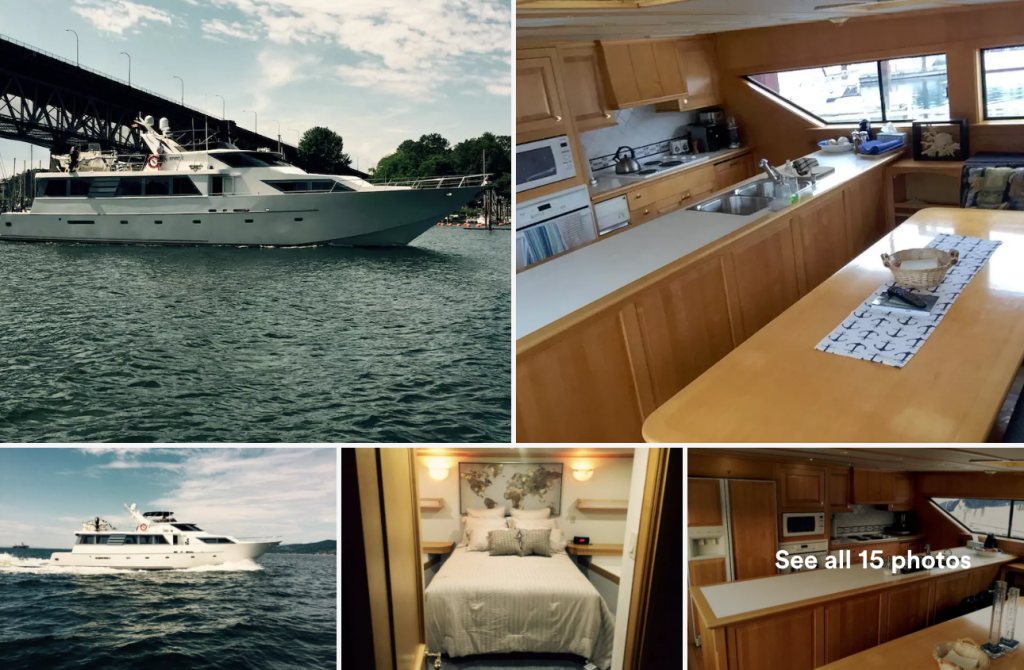 Luxurious 95-foot yacht: It doesn't come with Internet, or a proper kitchen, or even a TV (according to the Airbnb posting), but there are three bedrooms and five bathrooms, which can accommodate up to 10 guests on a massive Vancouver, B.C.-based yacht.
---
Vancouver: $2,457 per night

Heritage Woods, Port Moody: Want a place with your own personal home theatre? Consider this five bedroom, four bathroom home in Port Moody, near Vancouver, B.C. There is no pool, but you do get to use a hot tub as well as a personal, private gym and a tanning bed. There is also a large, gourmet kitchen as well as an office with a desktop, four laptops and three iPads that are available for guest use.
---
Victoria: $622 per night
WorldMark Penthouse: Looking for an upscale stay in downtown Victoria? Consider booking a two-bedroom penthouse condo-suite that offers two bedrooms and accommodation for up to six people.
---
Victoria: $542 per night

Downtown: While this Airbnb hosts only asks $359 per night, the cleaning fee of almost $125 and a service fee of just under $60 pushes a one-night stay to just under $550 for this three-bedroom downtown Victoria townhouse. The space offers room for up to six adults to stay and play. It has on site-parking but guests may prefer to walk the two short blocks to local restaurants and stores.
---
Alberta luxury Airbnb stays
Calgary: $1,500 per night

Inner city gem: Need a place for up to six guests, this three bedroom is close the city and public transportation and offers a large backyard deck. But don't bother booking if you're bringing pets or have kids between the ages of two and 12. (For more, see the host's site.)
---
Canmore: $802 per night

Side-by-side loft: Are you planning a ski or snowboarding trip to Banff/Lake Louise this winter? Well, you may want to consider the side-by-side loft option in Banff. It can sleep up to 16 guests in 10 beds spread out over four bedrooms. But the real treat is that the condos boast "walls of glass" and a shared rooftop hot-tub! Located in Canmore, you're only minutes to Banff National Park gages. It may be worth it, however, to plan more than one night stay, considering the one-time cleaning fee is $248  and the one-time service fee is $85.
---
Canmore: $732 per night

Two-bedroom condo near Banff: Taking a ski-trip or just taking in the Banff National Park sights? A stay at a two bedroom Worldmark suite, by Wyndham Resorts, will set you back $732 per night. Exclude the $129 cleaning fee and factor in the fact that the condo can comfortably sleep up to six people in the four beds (2 bedroom) suite and this luxury Airbnb rental could be more cost-effective than a hotel. It's only seven miles from Banff National Park and less than an hour's drive to the world famous Lake Louise. Even better, this condo is close to downtown Canmore. (For more, see the host's site.)
---
Canmore: $643 per night

One-bedroom condo: This one-bedroom in Canmore offers two beds and comfortable sleeping arrangements for up to four guests. The fact that it's located on a resort means the grounds are well kept and the security is top-notch. Plus, if you rent the place in the warmer months you can use the private pool located on the grounds. But with a service and cleaning fee just under $200, you may want to consider either a longer stay. (For more, see the host's site.)
---
Ontario luxury Airbnb stays
Toronto: $7,904 per night
Waterfront luxury villa: With nine bedrooms and eight bathrooms, this luxury villa is close to the city airport and right on the water. The host imposes a minimum one-night stay along and each stay includes an almost $1,000 cleaning fee (including in my per night total) but oh, my what a view! With a private pool that overlooks Lake Ontario, along with terraced decks, a sumptuous hot tub, and a private gym, this Toronto villa offer it all.
---
Toronto: $7,686 per night
Yorkville private luxury: A few blocks from Bloor Street and some of Toronto's best downtown restaurants, this "ultra-minimalist" luxury Yorkville loft offers four bedrooms and five bathrooms. Among the inclusions in this 6,500 square feet are wireless Internet, free parking, an indoor fireplace along with 24-hour check-in. Plus, you'll be staying in a place where Suits has filmed episodes and where Gigi Hadid and Chanel have held events.
---
Ottawa: $1,393 per night

Pinehurst Manor: While not technically in Ottawa, this manor is located just 20 minutes west in Almonte, Ont. The seven bedrooms and five bathrooms can accommodate up to 16 guests (there are nine beds, so you do the math) and is considered an historic residence. In fact, you may recognize Pinehurst as many films have shot scenes in and around the manor. Build in 1890 by the Rosamond family, this is a 7,500-square-foot home that sits on 7.5 acres of land that overlook two waterfalls and the Mississipi River. If you opt to stay for a week or more there is a 20% discount.
---
Ottawa: $671 per night

Tranquil Acres guest house: For only $599 per night (plus service fees) you can rent a four-bedroom home located on 9-acres of land just outside of Ottawa, our nation's capital. Just 30 minutes from downtown, this spot offers a workshop where retreats, family functions and custom-tailored events can take place. Or just gather up seven of your closest friends and rent out the 9-acre slice of tranquility that includes Internet (and doesn't charge extra for additional people).
---
Belle Province luxury Airbnb stays
Montreal: $1,453 per night

Penthouse: Want a one-bedroom (two bathroom) condo close to Quartier des Spectacles and Place des Arts? Consider this condo that comes equipped with two beds and can accommodate up to four guests. There is a 25% discount for monthly stays. (For more, see the host's site.)
---
Montreal: $1,437 per night

Large Plateau condo: Want to stay in the heart of Plateau-Mont Royal? Consider this 1,800-square-foot, two-bedroom, one bathroom condo. Walking distance to just about everything, this Airbnb rental doesn't offer weekly or long-term discounts but does state that it can accommodate up to six people in the two beds. (For more, see the host's site.)
---
Quebec City: $1111 per night

Large prestigious home: Built in 2014, this large, luxury four-bedroom home offers four beds that can accommodate up to eight guests (it also has four bathrooms, so no one is left banging on the door). Built with 9-foot ceilings with massive windows, this home comes complete with Apple TV and toddler "equipment" should you need it. There is only a $116 service charge and no discounts for longer stays, so this is a good option for short-stay luxury retreats. Better still, this private home is just 10 minutes from downtown Vieux-Quebec. (For more, see the host's site.)
---
Quebec City: $672 per night

Chalet Nordique: Located 30 minutes from downtown Quebec City, this four-bedroom home can accommodate up to 12 guests on the six beds. It comes equipped with 2.5 bathrooms, a large kitchen, a living room with cathedral ceilings, and even a billiard room. Better yet, it's only 200 metres from the Stoneham Nordic Spa and just steps from Quebec's famous forested wilderness. Still, you may want to consider stays longer than one night, as the cleaning fee of $300 and the service fee of $72 makes this an expensive one-night option.  (For more, see the host's site.)
---
East Coast luxury Airbnb stays
St. John's, Nfld: $784 per night

Serenity by the river: Want to escape from it all in the East Coast of Canada? Consider renting the three-bedroom home near South River, NL. For $599 per night (plus a one-time cleaning and service fee of $185) you and five friends can bunk down in the three-bedroom, four-bed home that's surrounded by water. Just minutes away from Bay Roberts, this cottage-home offers great access to hiking and fishing on the Salmon River. (For more, see the host's site.)
---
St. John's, Nfld: $560 per night

Professional space: A large party of up to eight adults can easily fit into this four-bedroom (with six beds), three-bathroom home. For families, the host even provides a high chair and playpen. However, you'll need to factor in the $30 per night extra fee for each additional person past seven that stay in the home and the cleaning and service fee will cost you about $160 per stay.  (For more, see the host's site.)
---
Halifax, NS: $699 per night

Classic century home: Planning an east-coast, Halifax trip with a large number of people? Consider renting this six bedroom home near Tatamagouche, NS. Sitting on 100 acres, this farm-home can accommodate up to 16 guests in the eight beds, but plan wisely as the one-time cleaning and service fee is just under $200. Still, to rent and stay in a classic, country farm east-coast home that's been updated to include a large deck, a gazebo, laundry, wireless Internet and TV. It's also close to beaches, golf courses and hiking and biking trails.
---
Halifax, NS: $560 per night

Luxury home on Lily Lake: Don't mind driving 30 minutes from Halifax to Mount Uniacke? Consider a stay at this three-bedroom home, 2.5-bathroom home. This lakefront property allows guests access to nearby vineyards or opportunities to spend the day fishing or swimming or just relaxing by the lake. To help you take advantage of the lake, this home comes equipped with a canoe, kayak, bikes and horseshoes. There is no cleaning fee, but a service fee of $60 per stay applies. (For more, see the host's site.)
---
Cape Breton, NS: $784 per night

Private ocean front cottage: Want your own private beach getaway during your vacation? Consider booking this Boutiliers Point cottage. While you spend the day on your private beach, you're also just around the corner from local restaurants and stores. The three bedrooms will accommodate up to six guests and pets are welcome. (For more, see the host's site.)
---
*We searched for Canadian Airbnb accommodations for one night and one guest for a stay scheduled between Sept. 15 to Sept. 16, 2016. If no host site link is attached that  accommodation option is no longer available.
Read more from Romana King at Home Owner on Facebook »