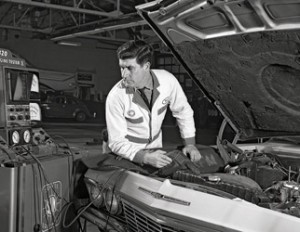 1. You don't need an oil change yet. Mechanics tend to recommend oil changes every 5,000 km. That's a bit excessive, says Car Help Canada executive director Mohamed Bouchama. An oil change every 6,000 to 8,000 km should suffice.
2. I'll get you on the upsell. When business is slow, garages push additional maintenance, including transmission, fuel injection and coolant flushes. Oil-change shops do this upselling as a matter of course because margins are razor thin, says Carmen Martino, owner of C. Martino Auto Centre in Vancouver. Trouble is, many of these services have little value. "Coolant flushes are a waste of time," he says, whereas full transmission service is only required every 80,000 to 100,000 km.
3. Aftermarket parts are just as good. These parts are made by third parties rather than the original car manufacturer. Often the only difference is the sticker, Martino says. Aftermarket parts are rated Tier 1, 2 and 3, with Tier 1 considered equal in quality to branded parts. "As long as you get the best aftermarket parts, you'll be fine," Bouchama says. Plus, you'll save 20% to 30% with a Tier 1 part.
4. You're better off at the dealership. It's important to maintain a relationship with the people who sold you the car, at least for the first few years. You'll want the dealership on your side in the event of a problem, especially if the warranty has recently expired. "If you don't go to them at all, they're going to give you a hard time," says Bouchama.
5. Certifications matter. The highest level of certification that an auto service technician can get (outside Quebec) is the Interprovincial Standards Red Seal. The seal indicates a mechanic has completed a minimum number of work hours and has passed an exam. Bouchama also prefers a mechanic who upgrades his skills frequently because "car technology keeps changing."