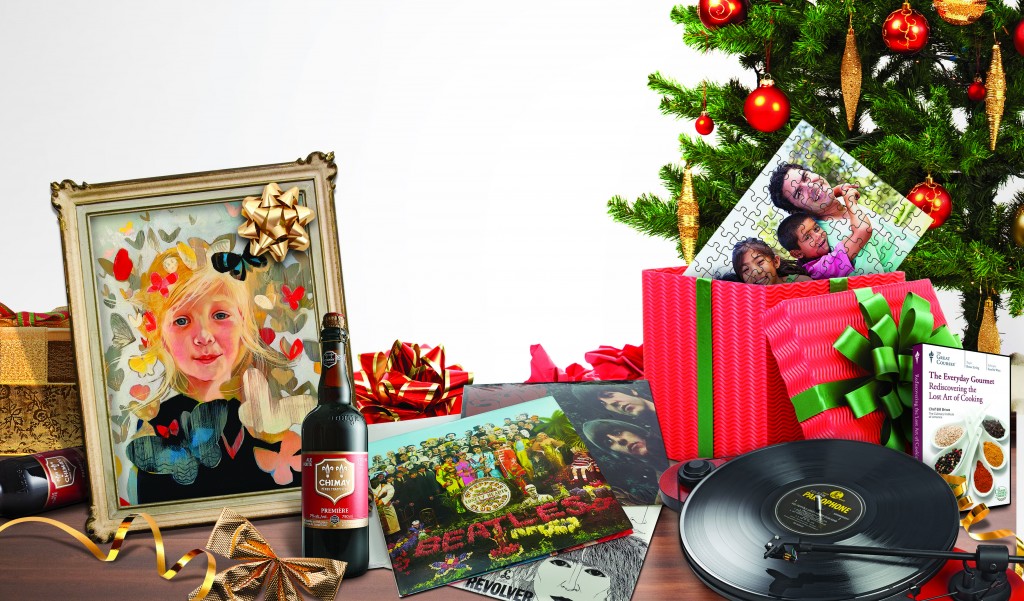 Canadians' spending on holiday gifts has steadily risen in recent years, and the outlay for the average adult threatens to top $700 this season. Yet who would suggest Christmas morning actually improves with each passing year? If all those shopping sprees are failing to ignite the holiday spirit, perhaps it's time for sensible gifts of substance to mount a comeback. For those who prize function over fad, value over volume and life over luxury, consider the gift suggestions below, which are meant to encourage togetherness and other analog pleasures.
1. Puzzle over 1,000 pieces—together.
Remember when not every activity was transacted through a screen? Introduce kids and grandkids to the fun-for-the-whole-family joys of the jigsaw puzzle. Jigsaw Jungle of Montreal (jigsawjungle.com) offers a staggering selection, including ones depicting locales from the Arctic to Arizona, so you can find an image that has special meaning to your recipient. Spend a little more and you can turn any photo—say, a favourite holiday snap—into a custom puzzle: A 1,000-piece custom job costs $48 at puzzlesprint.ca.
2. Dish out for a cooking class.
Everyone knows someone who loves to cook but can never find the time. Cooking courses make a thoughtful gift because they offer friends an excuse to get out and flip a pan. Plus, encouraging your friends to cook will lead to more dinner invitations. Help the hint ring loud and clear by tossing in a gift card to a local gourmet food shop, and a nice bottle of wine. For giftees who can't attend an in-person class, The Great Courses offers a 24-part online course backed by The Culinary Institute of America called The Everyday Gourmet. Regular price is $235 to purchase for download or $270 for a set of DVDs, but you could benefit from steep periodic discounts depending on your timing (www.thegreatcourses.com).
3. Have them painted by a master.
The more we share digital pictures of ourselves via social media, the less each photo means. Give a loved one a painted portrait he or she can hang on the wall and you'll help to create something far more valuable. Starting from $1,500, artist Julia Breckenreid, recipient of a gold medal from the Society of Illustrators Museum in New York, will paint a custom conceptual portrait just for you. Her acrylics capture the subject's personality as well as appearance, creating a likeness that's certain to become a family treasure (www.breckenreid.com). If a real artist's fee is too steep, look for a local photo service that will transfer an image to canvas and mount it, often for less than $50. You can often find a steep discount on deal promotion sites such as Groupon.
4. Jump on the craft beer wagon.
Looking for an alternative to the standard bottle of wine as your holiday "go to" gift? Why not jump on the craft beer wagon. Many local and European brewers offer high-end suds in large-format bottles, so you celebrate in Champagne style at beer-bottle prices. Take the widely available Chimay Première ($7.30 for a 750-ml bottle)—brewed by Belgian Trappist monks, this bottle-conditioned copper-coloured beer features a silky mouthfeel, hints of spice, balanced notes of dark fruit and caramel malts, and a refreshing bitterness.
5. Listen to the real deal.
Many music lovers pine for the warm crackle of vinyl. Among turntables, audiophiles swear by the Elemental, a minimalist model from Austrian manufacturer Pro-Ject ($282). Building a collection from there is easy. Vinyl records in their leftover millions can be had for a song at vintage shops. Or you can help somebody who has a fancy for the Fab Four with the limited edition Beatles In Mono Vinyl Box Set ($370), a 14-LP collection remastered in pure, unadulterated analog—a rare chance to hear the Beatles' music the way it was intended to sound.