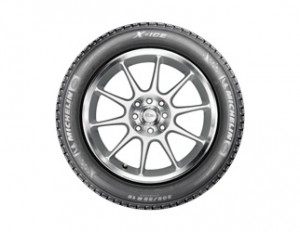 Winter driving can induce terror in even the most seasoned driver. Most of us have experienced that moment of sheer panic when you slam on the brakes and feel your car sliding inexorably towards the object you are desperately trying to avoid.
If that scenario sounds familiar, you may be among the majority of Canadians who drive year-round on the same set of factory-equipped "all-season" tires. Studies, in fact, have shown that winter tires boost braking power by up to 25% over regular tires. At 60 km per hour, that could mean stopping 18 metres sooner—the difference between a close call and a painful and expensive wreck.
Here are four top-rated winter tires that get our vote for good grip and good value. Prices are based on 195/65R15 size, suitable for compact cars.
Michelin X-Ice Xi3 ($157)
A top choice in Consumer Reports, the X-Ice rated highly in performance tests for its superior snow traction and stopping power on ice, as well as for ride comfort. The tire also has low "rolling resistance," which improves fuel economy. The X-Ice has a directional pattern on the tread so buyers should make sure the tire is installed to rotate in the direction shown on the sidewall.
The warranty for these tires covers 60,000 km of winter driving from September 1 to April 30. The Automobile Protection Association (APA) cautions, however, that the X-Ice warranty "requires the tires to be virtual banana peels before you can collect."
Bridgestone Blizzak WS70 ($157)
This is an excellent tire optimized for snow and ice, says the APA. Compared to the Michelin X-Ice Xi3 the Blizzak has a deeper tread and better traction in slush. CR says the Blizzak is a good overall performer and good choice for severe conditions.
In independent testing the Blizzak registered a 33% shorter stopping time than a typical all-season tire. It also scored well on handling and preventing hydroplaning. Bridgestone offers a 30-day money-back guarantee for customers who are not satisfied with the tires, but you must purchase a set of four to qualify.
General Altimax Arctic ($125)
The Altimax Arctic features an aggressive tread pattern that can be outfitted with studs. (Buyers should be aware studs are illegal in some parts of Canada because of the damage they inflict on roads.) These tires are great in deep snow and recommended for those who need to drive continually through the heavy stuff, but they're noisy on dry roads.
The Altimax Arctic scored better than the X-Ice on wet road braking but falls short on ride quality. General Tire offers a replacement warranty for the first 12 months or first 1.6 mm (1/16 in.) of treadwear. The warranty is pro-rated thereafter.
Toyo Observe G-02 Plus ($118)
While this tire doesn't accept studs, it offers value and impressive grip and handling in severe winter conditions. But CR says stopping on dry and wet pavement is a little compromised, and the aggressive tread pattern can be noisy. The APA says this is a good tire for heavier vehicles because it is made with a durable long-wearing rubber compound. For environmentalists, Toyo says it uses ground walnut shells in the rubber that dig into snow and ice to offer improved winter traction. (This tire is being phased out in favour of the Toyo GSi-5.)
Mail-in rebates of up to $80 based on tire diameter may be available if you buy four tires. Toyo offers a limited winter tire warranty with free replacement if there is a defect in material or workmanship within the first 25% of wear on the treads. After that, a pro-rated warranty carries on for up to 60 months.
Top pick:
Although Michelin X-Ice Xi3 tires are pricier than most brands, X-Ice offers excellent stopping power in winter conditions—particularly when you require superior snow traction handling and quick braking in icy conditions.